Crackdown on Yangtze sand mining stepped up
Share - WeChat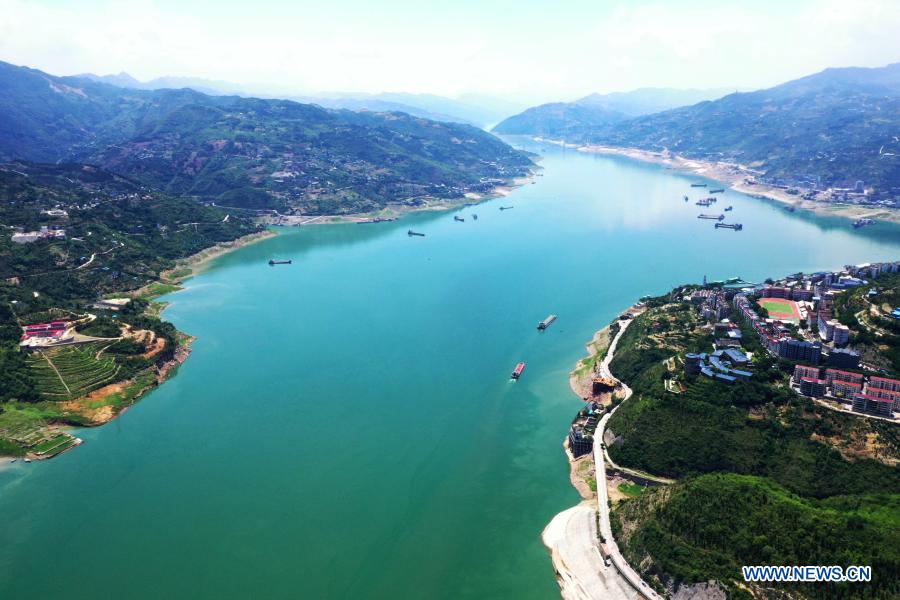 Police in provinces along the Yangtze River will enhance coordination to crack down on the illegal mining, transport and sale of river sand, the Ministry of Public Security said on Monday.
Joint efforts will be made by public security organs and other departments to improve information sharing and cross-department consultation and investigate "protective umbrellas" behind such crimes, said Li Jingsheng, director of the ministry's security administration.
Li said the Yangtze River Protection Law, which came into effect on Monday, provides a sound legal guarantee for the protection of the Yangtze, Asia's longest river.
Illegal sand mining could endanger ecosystems, flood-control efforts and the waterway itself, as well as coordinated environmental conservation, he said.
River sand has always been a hot commodity in the construction market. Large-scale illegal sand mining in the Yangtze River Basin has been significantly reduced in recent years due to a strict crackdown, but many people are still seduced by the prospect of high profits and have resorted to more advanced and secretive ways to commit crimes, Li said.
In January, the ministry launched a yearlong operation against illegal sand mining in the Yangtze River. Public security organs in the 10 provinces and municipalities along the Yangtze-Shanghai, Jiangsu, Anhui, Jiangxi, Hubei, Hunan, Chongqing, Sichuan, Guizhou and Yunnan-deployed personnel to bust criminals illegally mining, transporting and selling river sand.
Police have investigated 85 criminal cases related to sand mining and have arrested 236 suspects. They also busted 24 criminal gangs engaged in illegal sand mining, captured 73 ships, and seized other assets worth about 17 million yuan ($2.63 million).
As the authorities have stepped up their crackdown on illegal sand mining in the mainstream of the river, violators are shifting to its tributaries and lakes, mostly on provincial boundaries. Some hide in inaccessible branches and estuaries waiting for opportunities, said Tian Weijun, an official from the security administration.
Tian said violators use small vessels and work at night or on rainy or foggy days to avoid investigation. Some even refit their ships to resemble regular cargo ships, adding to the difficulties of law enforcement officers conducting inspections.
The illegal sand mining groups usually have fixed members and a clear division of labor, such as mining and monitoring posts, he said. Some members are responsible for monitoring the ships of law enforcement departments, and warn others once an operation is launched.
Members on the mining ships would then stop mining, leave the site or destroy evidence in advance by dumping river sand they had collected into the river, he said.
In one case in January, the Wuhu branch of the Yangtze River Shipping Public Security Bureau in Anhui province destroyed an illegal sand mining gang and captured 11 suspects and seized over 2,800 metric tons of sand.
From December to January, the group had illegally mined sand in the Yangtze's Tongling section in Anhui many times and had sold 20,000 tons of sand.