Support rises for vaccines but gaps exist
By ANGUS McNEICE in London | China Daily Global | Updated: 2021-03-02 09:11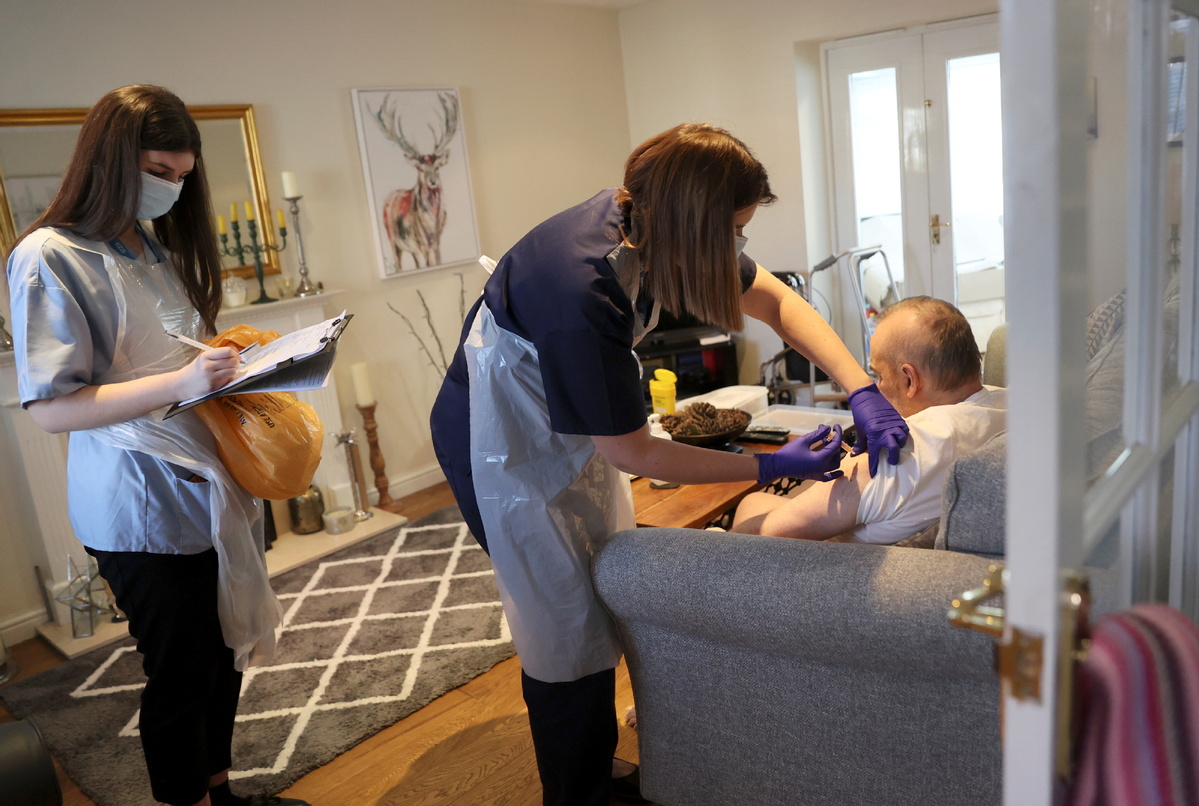 Experts warn hesitancy could emerge as a significant obstacle to herd immunity
Support for vaccinations against COVID-19 is growing in the United Kingdom and five other nations surveyed in a new study, which also showed that citizens in several countries are frustrated with the pace of vaccine rollout.
In the UK, 89 percent of respondents said they would choose to be vaccinated, or had been already, up from a figure of 65 percent in September. Sweden also showed a strong increase in acceptance, up to 76 percent from 51 percent in the fall.
There were more modest rises in the United States (up to 64 percent from 52 percent), Germany (up to 73 percent from 60 percent) and Japan (up to 64 percent from 53 percent), while France showed the smallest uptick in vaccine acceptance, climbing to 59 percent from 50 percent, according to the COVID-19 Opinion Tracker published by consultancy Kekst CNC on Monday.
Experts estimate that around 80 percent of any population would need to be immune to COVID-19 for it to reach so-called herd immunity level, which is where those who are not vaccinated receive indirect protection, because ongoing disease spread is so low.
As vaccine supply approaches demand, epidemiologists have warned that vaccine hesitancy could emerge as the most significant obstacle to herd immunity in nations where public confidence in authorities is low.
In a separate survey from Oxford University, more than three-quarters of UK respondents said they are "very likely" to agree to vaccination, up from 50 percent in October.
"People have become massively more supportive of taking the vaccine overall but important gaps remain, especially among groups whose trust in politicians is typically lower: non-voters, younger citizens, and poorer households," said Ben Ansell, who is a professor of comparative democratic institutions at Oxford University.
The Oxford survey found that levels of vaccine acceptance correlated with household income. Currently, 82 percent of respondents from households with an annual income of 20,000 pounds ($27,860) or less said they are likely or very likely to get vaccinated, up from 74 percent in October. This compares to 96 percent among households with income of 70,000 pounds or more, up from 87 percent in October.
"When so much of the UK government's lockdown exit strategy rests on successful vaccine rollout, these insights will be of immediate importance to policymakers in both their internal deliberation on policy, and their outward-facing communication with the public," Ansell said.
In the Kekst CNC survey, only UK citizens showed high levels of support for the pace of vaccine rollout in their country. Three out of four Britons are happy with the speed of the vaccination program in the UK, where 30 percent of the population has already received a first shot.
Majorities in Sweden (65 percent), France (60 percent) and Germany (53 percent) said their country's vaccine rollouts are too slow, while four in 10 say the same in the US and Japan.