Like father, like son
By Chen Nan | China Daily | Updated: 2021-03-04 08:07
Italian tenor Andrea Bocelli, and his youngest son Matteo, gave a virtual performance of two heartwarming songs, O Sole Mio and Fall on Me, during the 2021 CCTV Spring Festival gala.
The annual Spring Festival gala, broadcast live on Feb 11, attracted a total of 1.14 billion viewers this year.
"It's been a pleasure to have been part of the CCTV New Year's Eve Gala with Matteo Bocelli to celebrate the beginning of the Year of Ox, singing O Sole Mio and Fall on Me," wrote Andrea Bocelli on his Facebook on Feb 11.
Known as an international superstar whose music has bridged classical and pop genres, Andrea Bocelli, 63, learned to play piano at the age of 6 and later learned to play the flute and saxophone before he showed his talent of singing at the age of 12 when he enjoyed his first success in a singing competition: performing the song, O Sole Mio.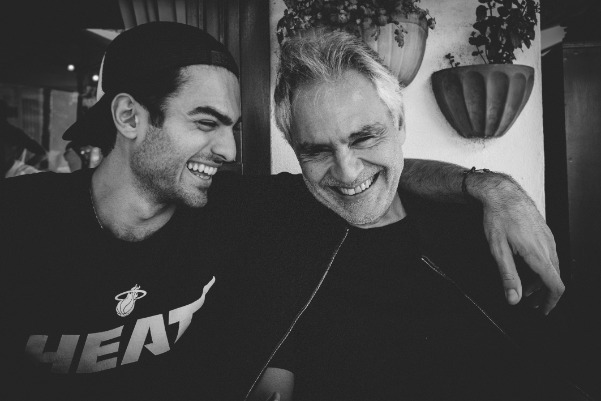 The Grammy-nominated tenor has a large fan base in China where he has performed and worked with musicians. In August 2020, the tenor teamed up with pop singer Na Ying, performing a song, titled Remembering, which is the theme song of The Eight Hundred, an epic Chinese war movie directed by award-winning filmmaker Guan Hu.
"Singing with my father is always a special experience and we were so happy to have the opportunity to welcome the Year of the Ox by performing together," adds Matteo Bocelli in an interview with China Daily recently. The song, Fall on Me, will be released with a new version performed by Matteo Bocelli, digitally on Friday.
The father and the son filmed their performances for the 2021 CCTV Spring Festival gala at their home in Tuscany, Italy. During the coronavirus pandemic, they spent time together at home, where they've sung together not just for fun but also for specially recorded performances, according to Matteo Bocelli.
Matteo Bocelli says he has never been to China but he has always been attracted by Chinese culture.
"My father and I are both big fans of Chinese cuisine," he says.