No one is safe until everyone else is
Share - WeChat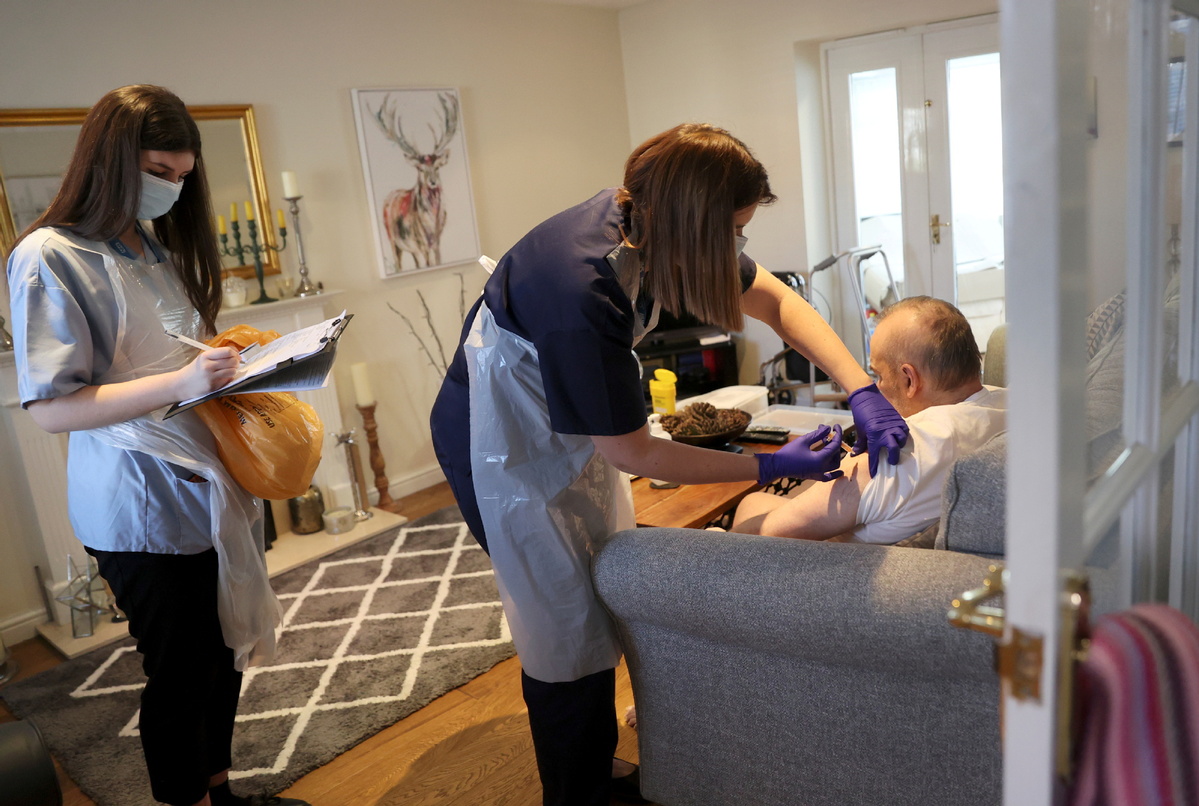 Thanks to a widely praised vaccine rollout, the government of the United Kingdom has promised that everyone over the age of 50 will receive their first COVID-19 jab by the middle of next month.
Although its former partners in the European Union are beginning to catch up, the UK's success prompted criticism that the European effort had been hamstrung by bureaucracy and protectionism.
With governments jostling in line for supplies of coronavirus vaccines, such outbreaks of vaccine nationalism among capitals were perhaps inevitable.
However, the spat involving the EU, the UK and the international drug companies was very much a first-world issue. It only served to underline the reality that poorer countries are at the back of the line as usual.
As the number of vaccinations administered in the UK topped 20 million, most countries in Africa had yet to administer their first dose.
While the UK was able to order 400 million doses-enough to vaccinate its adult population three times over-poorer countries will have to rely on the goodwill of others. The UK has pledged it will donate its excess supply.
It is among the developed nations that have committed to joining the COVAX program, which aims to deliver 2 billion doses of vaccine by the end of this year.
Poorer countries will get their inoculations, but they may have to wait. It was only at the end of last month that Ghana became the first country to receive vaccines from the program.
More than 180 countries have signed up to the COVAX initiative, on the basis that uniting countries in a single bloc gives them more power to negotiate with drug companies. Ninety-two low-or middle-income countries will have their vaccines paid for by donor states.
The public message from political leaders and scientists is that a pandemic, by definition, threatens everyone and that no one is protected until everyone is protected. In reality, however, governments are under pressure to look to the needs of their own citizens first.
A paper published in the British Medical Journal suggested that governments could learn a lesson from earlier pandemics in which they had sought to monopolize vaccine supply.
"In an ideal system, manufacturers would openly share patents and manufacturing technology and adopt transparent, nonprofit pricing," said the authors.
Manufacturing would be globalized, and countries worldwide would pool funding to buy and allocate vaccines free to everyone who needs them. The authors warned that vaccine nationalism was a major threat to reaching global herd immunity and a return of normal social and economic activity.
However, in the real world, governments rushed to sign bilateral deals with drugmakers while vaccines were still in the early stages of development in order to ensure their own future domestic supplies.
The UK secured early vaccine deals that gave it a head start and helped the Conservative government overcome some of the criticism about its previous poor handling of the pandemic.
The EU was widely seen as bungling its response when it threatened export controls on doses produced on the continent.
This first-world squabbling tends to obscure the reality that in poorer countries the amount of vaccination needed to allow a return to normal life will not be possible before 2023 at the earliest.
The Oxfam charity reported at the turn of the year that wealthier nations had bought up enough doses to vaccinate their entire populations nearly three times over by the end of this year if those in clinical trials were all approved for use.
In contrast, some 70 poorer countries would only be able to vaccinate one in 10 of their people in the same time period.
If wealthier countries are not able to respond adequately to that moral challenge, they might at least respond to their own self-interest. Even if an individual country becomes COVID-free, things will not truly get back to normal until all countries are safe. Trade and international interchange will continue to be crippled until the pandemic is defeated on a global level.
Tedros Adhanom Ghebreyesus, director-general of the World Health Organization, warned of a "catastrophic moral failure" as a result of inequalities in vaccine availability.
"Ultimately, these actions will only prolong the pandemic, the restrictions needed to contain it, and human and economic suffering," he said, referring to a "me first" approach by wealthier states.
The author is a senior media consultant for China Daily UK. The views do not necessarily reflect those of China Daily.