La Liga 'able to cope' with billions in pandemic losses
Share - WeChat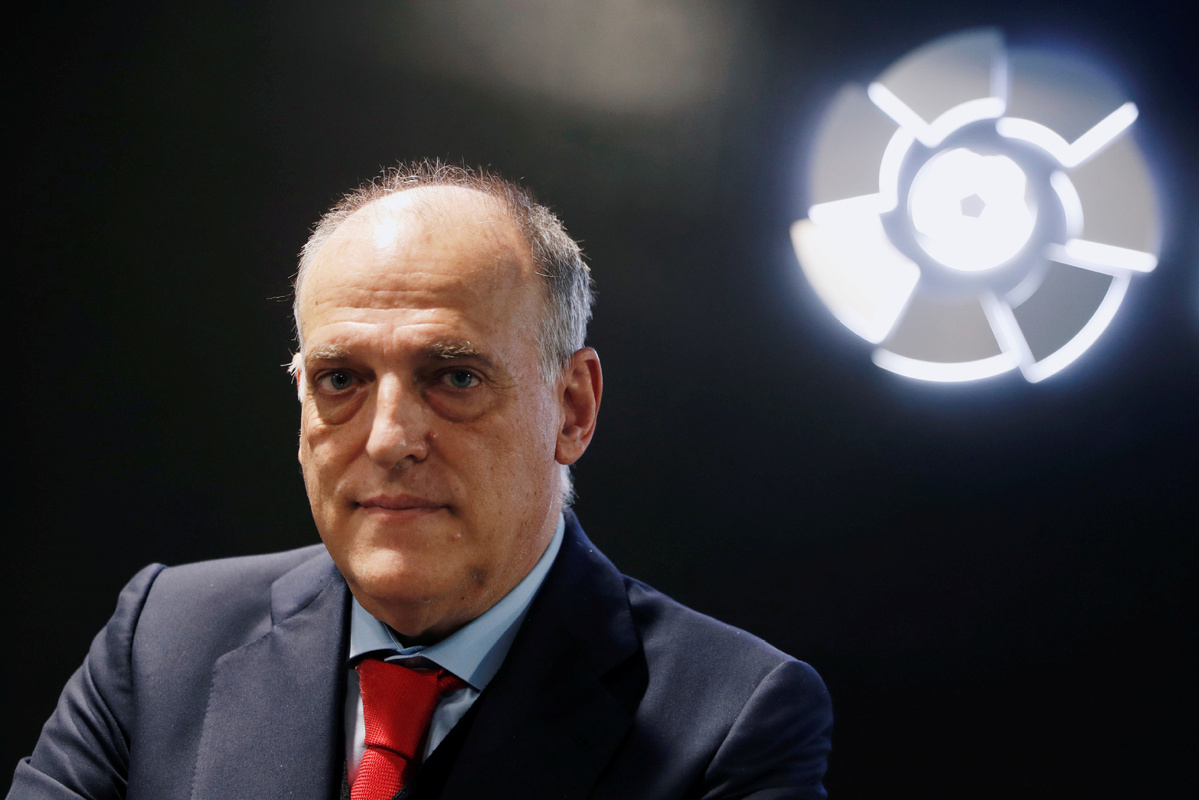 MADRID - Spanish clubs in the top two divisions suffered a loss of earnings totaling 2.013 billion euros ($2.43 billion) for the 2019-20 and 2020-21 seasons due to the impact of the COVID-19 pandemic, according to a league report published on Tuesday.
"Despite the two billion less in revenues, which is huge, the clubs, and above all the big clubs, have been able to cope," said La Liga chief Javier Tebas of the figures calculated after the last January transfer window closed.
For the 2019-20 campaign, clubs reported earnings of 4.8 billion euros, 366 million euros less than the 5.167 billion euros forecast, according to a report by global auditor PricewaterhouseCoopers.
For the current season, it estimates a shortfall of 1.647 billion euros based on the 5.269 billion euros initially expected, representing a loss of 31 percent for Spain's top two divisions.
However, clubs have reduced costs over the past two seasons by 984 million euros, resulting in a net loss of 1.03 billion euros that will be absorbed over future campaigns.
"This debt will be paid off over the course of the next three to five seasons, so the impact of COVID-19 will be made up for at a rate of 150-250 million euros per season," said La Liga managing director Jose Guerra.
"There are problems paying wages in other leagues. In Italy, in France and in the Premier League, several clubs have asked for state aid, us no," said Tebas, who predicted it would take two seasons for club revenues to return to pre-pandemic levels.
Meanwhile, the dip in revenues caused by the absence of supporters at stadiums has prompted the league to order Barcelona and Atletico Madrid to trim their budgets by around 35 million euros each.
Real Madrid has the largest salary limit, with the reigning champion's budget rising from 468.5 million euros to 473.3 euros as a result of profits made on transfers and their on-pitch success.
Barca saw its budget cut from 382.7 million euros to 347 million euros. Last season, the club spent 391.6 million euros on first-team wages.
Atletico will have to make savings of 35.4 million euros to meet its revised budget of 217.3 million euros.
The salary limits are calculated in line with revenues and are used by La Liga to help regulate the finances of the 42 clubs in Spain's first and second tiers.
Bartomeu released
Meanwhile, former Barcelona president Josep Maria Bartomeu was conditionally released on Tuesday after appearing before a judge looking into the "Barcagate" scandal, just days before the club was due to hold presidential elections.
Bartomeu and his former advisor Jaume Masferrer exercised their right not to speak when they were questioned by the judge following a night in jail, the Barcelona court said in a statement.
Police arrested the pair along with two other club officials, and searched Barcelona's Camp Nou stadium, on Monday as part of a probe into allegations the club carried out a defamation campaign against current and former players who were critical of Bartomeu.
Spanish radio station Cadena Ser claimed in February 2020 that Barca covered up inflated payments to a company called I3 Ventures which it hired to boost the image of the club on social media.
Part of that campaign included criticizing current and former players like Lionel Messi and Xavi Hernandez, and coach Pep Guardiola.
Messi described the controversy as "strange" in an interview with newspaper Mundo Deportivo.
Cadena Ser claimed Barca made its payments to I3 Ventures in smaller, separate amounts to avoid the club's financial controls.
Emili Rousaud, who resigned as Barcelona vice-president in March last year, said in an interview with RAC1 at the time: "If the auditors tell us the cost of these services is 100,000 euros and we have paid one million, it means someone has had their hand in the till."
The club took legal action against him. He was among six Barca executives to leave their posts last year, with a joint letter citing the scandal as a key issue needing to be resolved.
AFP