Ready to hold court
Share - WeChat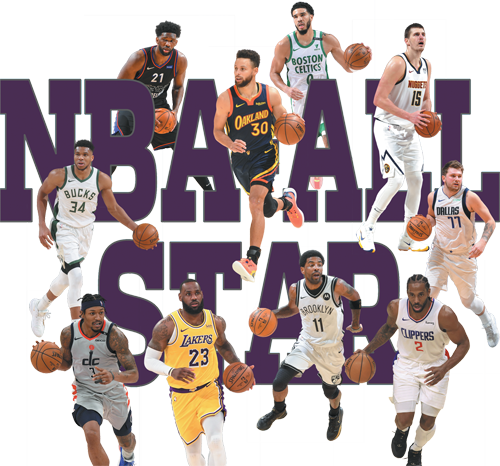 Return of annual showcase a timely treat for hoops fans in uncertain times
An exciting NBA All-Star Game is perhaps exactly what hoops fans need to show that the sports world is finally recovering from its stifling bout of COVID-19.
Just a few months ago, fans were still unsure if NBA All-Star 2021 would even go ahead. But, despite the challenges presented by the pandemic, the league has worked tirelessly to ensure its "global community" will not miss out on the annual showcase.
Sunday's starting lineups for the game at State Farm Arena in Atlanta certainly suggest another treat is in store.
"It's definitely been up and down. There's been some things we've had to go through and really adjust to," said Boston Celtics forward Jayson Tatum after replacing injured Brooklyn Nets star Kevin Durant as an Eastern Conference starter.
"But that's the entire league. Every team has gone through their fair share of ups and downs and just things everyone is trying to get accustomed to this season.
"I'm sure everyone needs a break and needs some rest, especially the teams that went deep in the bubble (last season)... I'm sure the few days for the All-Star break will do everyone some good. Until then, we're just trying to win some games."
Tatum will start alongside Joel Embiid of the Philadelphia 76ers, two-time reigning league MVP Giannis Antetokounmpo of the Milwaukee Bucks, Bradley Beal of the Washington Wizards and Brooklyn's Kyrie Irving. Durant remains the East's captain despite being not able to play due to injury.
"I didn't dream of being an NBA All-Star or a starter in the All-Star Game. I didn't dream any of that. I dreamed of making it here and that was pretty much it," said Beal.
"To go from being snubbed to starting this year is a huge honor... I don't take it for granted. It's definitely a motivation for me to continue to be a mentor, to be a better player. It's so many guys who are more than deserving to be where I am, so please believe I don't take it for granted."
The Western Conference squad is captained by Los Angeles Lakers megastar LeBron James. The other starters are Steph Curry of the Golden State Warriors, Luka Doncic of the Dallas Mavericks, Kawhi Leonard of the Los Angeles Clippers and Nikola Jokic of the Denver Nuggets.
As a curtain-raiser to the Team LeBron vs Team Durant showdown, the NBA will present its annual Skills Challenge-a three-round competition with a single-elimination tournament format. Two players will compete simultaneously on an identical course and the winner of each head-to-head matchup will advance to the next round. Six players, including Phoenix Suns star Chris Paul, will participate.
Fans will also be able to enjoy the 3-Point Contest. Each competitor will have 70 seconds to shoot as many as the 27 balls from different positions on the court, with a maximum possible score of 40 points per round. Warriors scoring machine Curry is among the six participants.
This year's two-round Slam Dunk competition will take place at halftime in the All-Star Game, and will be contested by Anfernee Simons of the Portland Trail Blazers, Cassius Stanley of the Indiana Pacers and Obi Toppin of the New York Knicks.
Meanwhile, the NBA Rising Stars, which usually showcases the league's premier young talent, will not be played this year due to the limitation of staging the All-Star events over the course of one night, as opposed to an entire weekend.
However, in keeping with previous years, the NBA's assistant coaches have voted for the Rising Stars roster, which comprises 10 first- and second-year NBA players from the United States (US Team) and 10 from outside the US(World Team).
Zion Williamson of the New Orleans Pelicans, who earned an NBA All-Star nod for the first time this year, and last season's NBA Rookie of the Year, Ja Morant of the Memphis Grizzlies, headline the selection.
"It's the largest factor, the amount of engagement we get from our fans around All-Star," NBA commissioner Adam Silver told Associated Press. "Historically, in the modern digital age, we have roughly 100 million people vote for our All-Stars, and we came out about the same this year even with a shortened voting period. The focus typically is having an opportunity during our season to bring the entire community together.
"Of course, we don't have the opportunity to do that in person this year, but the NBA community is 99 percent virtual. It's a global community on social media, representing close to 1.9 billion people who are engaged with us."
To guarantee the safety of everyone involved, the NBA and the National Basketball Players Association have established additional measures to supplement the league's current health and safety protocols.
These include private travel to and from Atlanta, the creation of a "mini bubble" environment within a single hotel for players and coaches, and enhanced testing for the coronavirus.
Additionally, there will be no fan activities, ticketed events or hospitality functions.
"There were obviously those who thought we shouldn't play without fans, thought we shouldn't play in the bubble," Silver said last month.
"And I'll lastly say it seems like no decisions during this pandemic come without uncertainty and come without risk. This is yet another one of them, and yet it's my job to balance all those interests, and ultimately, it feels like the right thing to do going forward."