Modified vaccines to be fast-tracked
By JONATHAN POWELL in London | China Daily Global | Updated: 2021-03-05 09:27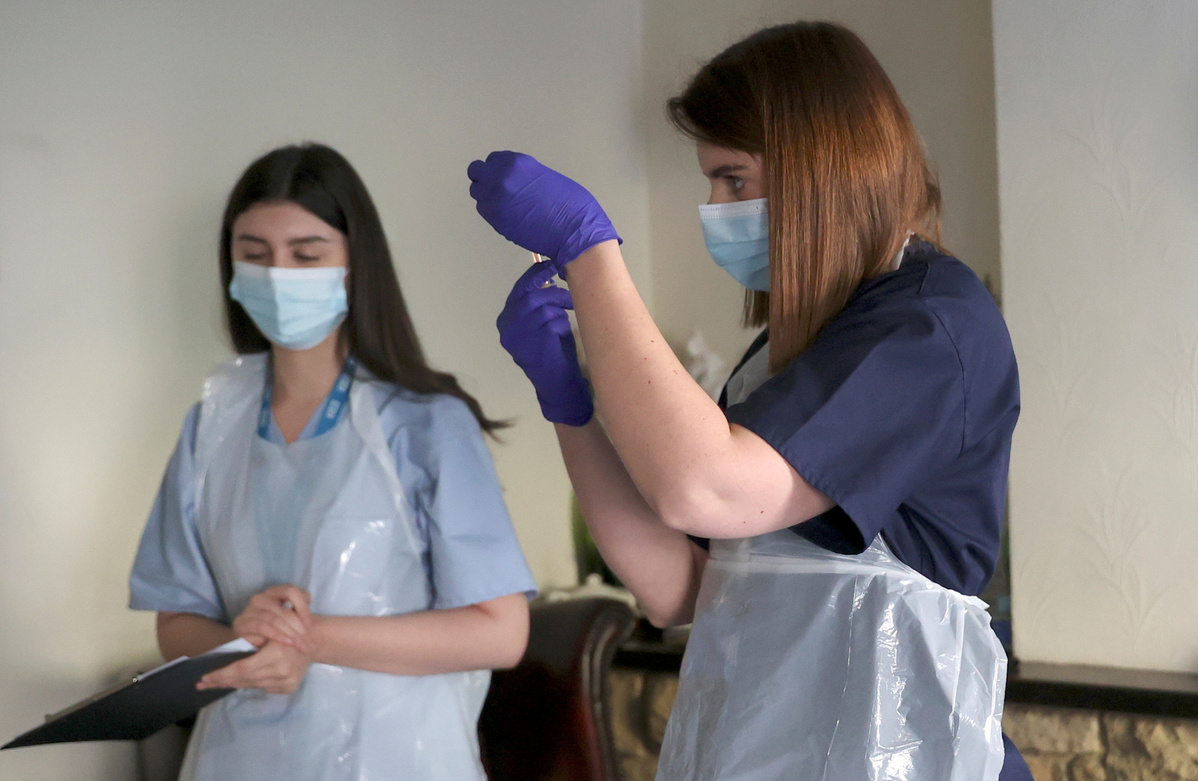 Britain's medicines regulator has said that COVID-19 vaccines altered to deal with variants will be fast-tracked through the approval system "without compromising on safety or effectiveness".
The Medicines and Healthcare products Regulatory Agency, known as the MHRA, said in a statement on Thursday that it would not require "lengthy" clinical studies "to assess modifications", a decision that would speed up their deployment if they were required.
Since the United Kingdom has left the European Medicines Agency post-Brexit, the guidance was developed by the MHRA with its ACCESS partners, a coalition of regulatory authorities from Australia, Canada, Singapore and Switzerland.
Speaking at a briefing, MHRA chief executive June Raine noted that there is not any current evidence that COVID-19 vaccines being used in the UK "are significantly lacking in effectiveness" against new variants.
Quoted by the BBC and other media outlets, she added: "They're effective against Kent and we believe South Africa (variants). We know that there has been some data from South Africa, we believe effectiveness here is maintained, and we're working hard on the Brazil variant. As of today there's no imperative that we fast-track a new variant-effective vaccine-but we are prepared."
She said manufacturers would still need to provide robust evidence that any modified vaccine produced an immune response, and that after a small trial to assess adverse effects, the MHRA could give approval "in a couple of weeks".
The rate of decline in COVID-19 infections in England has slowed, with one in every 213 people now testing positive, Imperial College London's REACT study found.
Researchers said that in some parts of the country, the rate of decline has plateaued and in other places there are hints that rates are increasing, the data suggests. Reuters reported that the study tested over 163,500 people across the country between Feb 4 and 23.
Paul Elliott, director of the REACT program, said: "The fall in infections our study has observed since January demonstrates that national public health measures are working. But these new findings showing that some areas are experiencing apparent growth reinforce the need for everyone to continue to stick to the rules and help keep infections down."
In Germany, Chancellor Angela Merkel has said the country's COVID-19 lockdown would be extended until March 28, but also revealed a five-step plan to allow non-essential stores and other businesses to reopen in areas with relatively low infection rates, reported broadcaster Deutsche Welle.
Most retail stores in Germany have been closed since Dec 16, while restaurants and leisure facilities have been closed since Nov 2.
Merkel said Germany's Standing Committee on Vaccination would likely reverse its ban on the use of the Oxford/AstraZeneca jab for people over age 65, and Health Minister Jens Spahn said once this decision was confirmed, the nation's vaccination process could accelerate.
Carsten Spohr, chief executive of Lufthansa, has called for an end to travel bans and quarantine, and said he hoped the global vaccine rollout would mean an uptick in demand for flying.
The German airline group has said it will not return to pre-crisis levels of business until at least the "middle of the decade", and that it had made an operating loss of 5.5 billion euros ($6.63 billion) for the past year, the worst in its history.
Global passenger traffic was down 72 percent in January, compared with the same month in 2019, according to the International Air Transport Association.