Graduates need govt help to get jobs
By Chen Yun | China Daily | Updated: 2021-03-09 07:36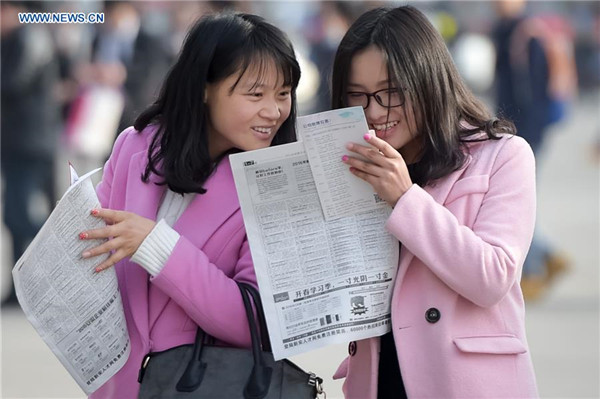 Young graduates may face more challenges in getting a suitable job this year because of the impact of the novel coronavirus outbreak on the Chinese economy, especially the imbalance in the number of job seekers and job openings.
Last year, about 8.74 million students graduated from China's universities, 400,000 more than in 2019, and a larger percentage of fresh graduates will enter the job market this year compared with previous years, because the pandemic prevented many of them from seeking further education overseas and Chinese returnees are more inclined to seek employment in the country.
If we add those youths who graduated before last year but did not seek jobs to pursue further studies either at home or abroad, the number of graduates seeking jobs will be comparatively high this year-especially in the service sector, small and medium-sized enterprises and on-site jobs-at a time when the impact of the pandemic on the job market is yet to wear off.
The cancellation of traditional job fairs during the pandemic, too, has minimized the chances of job seekers, with the most vulnerable groups being dazhuan ("junior college certificate holders"), women graduates and liberal arts graduates, as they are mostly hired by the tertiary industry and SMEs which incidentally have been severely hit by the pandemic.
But the fact that the Government Work Report, unveiled by Premier Li Keqiang on the opening day of the annual session of the National People's Congress on Friday, says more than 11 million new urban jobs will be created this year, and the government will take measures to increase personal income and keep the surveyed urban unemployment rate around 5.5 percent shows the employment situation is likely to be stable in 2021.
As the Government Work Report says: "Facing shocks of a severity rarely seen before, based on what we had done to ensure stability on 'six key fronts', we carried out the task of maintaining security in 'six key areas'…" The six fronts refer to employment, the financial sector, foreign trade, foreign investment, domestic investment, and expectations. And the six areas refer to job security, basic living needs, operations of market entities, food and energy security, stable industrial and supply chains, and the normal functioning of primary-level governments.
For the government, boosting employment of college graduates is critical to stabilizing the job market, accumulating human capital and achieving high-quality development. Stable employment is also necessary for youths' career development and family upkeep.
The government has implemented various policies to boost economic recovery while maintaining strict anti-pandemic measures. Fortunately, China's job market remains stable despite the impact of the COVID-19 pandemic. The unemployment rate in urban areas is under control after peaking at 6.2 percent in February 2020. It dropped to 5.2 percent in December.
China has always attached great importance to the employment of graduates. The implementation of tailor-made policies has led to a better-than-expected outlook-the employment rate of graduates was more than 90 percent at the end of last year.
But the government needs to adopt some stimulus measures such as expanding the recruitment scale, cutting taxes and fees, giving subsidies and trainings to prompt companies, especially SMEs, to hire more graduates.
The authorities should also raise the pay and subsidies for youths employed in grassroots government departments, in order to encourage more fresh graduates to work in rural areas.
There is a need to implement favorable policies, and provide training and subsidies for the self-employed too, so more college graduates launch their own business. In fact, about 820,000 graduates started their own business in 2020, up 11 percent year-on-year.
State-owned enterprises, on their part, should expand their recruitment scale, and universities and institutions should create more jobs to boost employment for graduates.
Also, companies should be encouraged to employ more graduates. Indeed, the government has helped many enterprises to hold "virtual career fairs" amid the pandemic, offering information on tens of millions jobs, and launched channels on government-funded online recruitment platforms for graduates. It is also important to organize free training programs for graduates, and offer them more high-quality internships.
Besides, universities should establish a database to track and provide subsidies for those who cannot find jobs, especially graduates from impoverished families. Every year, fresh graduates account for almost 60 percent of the new entrants to the job market, and the percentage will keep rising, as the number of college graduates this year is expected to increase to 9.09 million, according to official estimates, and rise further in 2022.
With the pandemic still raging in many parts of the world, the global economy is struggling to recover. And since there is an imbalance in the number of new job seekers and new vacancies in China, the government needs to adjust its macro-control policy and increase market demand to address the problem. The government should also devise favorable policies for enterprises that are more likely to recruit graduates, transform and upgrade the industrial structure, and promote new modes of businesses to achieve sustainable, high-quality development.
The author is a researcher at the Chinese Academy of Labor and Social Security.
The views don't necessarily reflect those of China Daily.
If you have a specific expertise and would like to contribute to China Daily, please contact us at opinion@chinadaily.com.cn, and comment@chinadaily.com.cn.