Eldercare fully embraces digital age
By ZHENG YIRAN | China Daily | Updated: 2021-03-09 11:08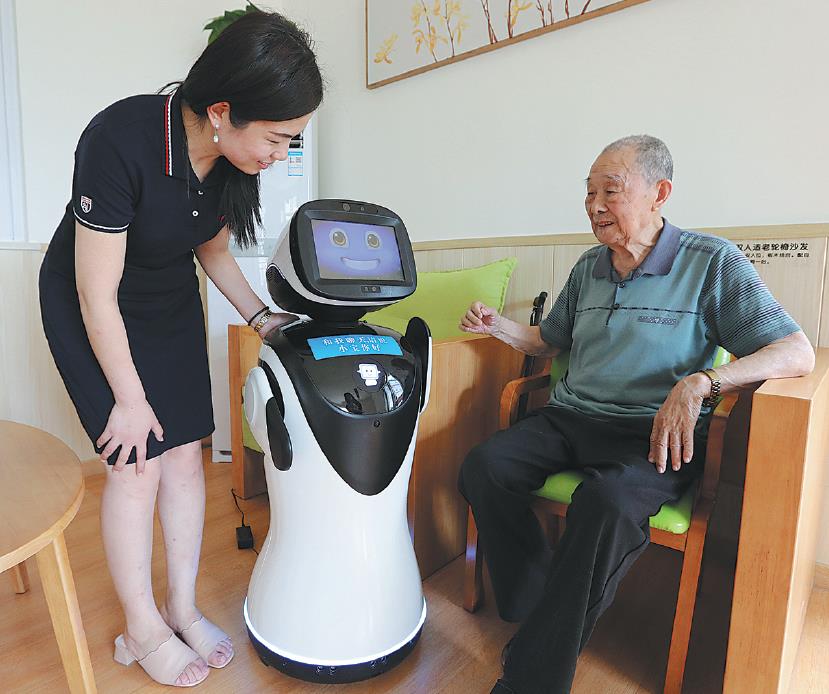 Advanced tech key to meeting diverse needs of senior citizens
At an eldercare facility in Lujiazui, Pudong district, Shanghai, senior citizens regularly interact with newcomers, in this case, three rehabilitation robots recently adopted by the center.
With the help of the automatons, those residents requiring rehabilitation can place their elbows or ankles into the corresponding positions on the robots and receive much-needed physical therapy simply by playing games with their battery-powered assistants.
"The rehabilitation plan is designed by physiotherapists and implemented by these rehabilitation robots. With their accompaniment, the process of rehabilitation is like playing games, and the senior residents are all fond of it," said Shi Junjie, an employee at the eldercare home.
"Training data can be stored in the robots' system, offering a reference for future PT sessions," she said.
And that is just the tip of the iceberg in the technology-powered eldercare sector. At a square in Gaoxin district, Xianning, Hubei province, crowds of people take part in various exercises-classical dancing, tai chi, square dancing and other aerobic activities.
What is interesting is that although they are dancing to different types of music, none of them are disturbing each other-they can only hear the specific type of music they are dancing to.
Tang Yunming, founder of Xianning Laserspeaker Technology Co Ltd, said: "Our directional sound transmission equipment enables sound to be transmitted in a certain area in a specific direction. For example, users can set the sound to be transmitted in the designated 600 square meter area, and people outside the area will not hear the sound."
Tang explained that the technology uses ultrasonic waves as carriers to transmit sounds to dancers' ears using specific qualities.
Community workers said that with the "black technology", seniors can enjoy square dancing as much as they want, without worrying about disturbing neighbors.
Other advanced technologies such as smart eldercare terminals that enable real-time positioning and emergency calling, and a transforming robot that can be either a bed or a wheelchair, are all bringing convenience and higher quality of life to the aged.
With the development of advanced technologies such as robotics, artificial intelligence, internet of things and 5G, the smart eldercare sector is on the ascent.
Data from the 2019 Smart Health Elderly Care Development Forum showed that in that year, the value of China's smart eldercare sector totaled nearly 3.2 trillion yuan ($490 billion), with the compound annual growth rate between 2017 and 2019 surpassing 18 percent. Market volume in 2020 is expected to surpass 4 trillion yuan.
"Compared with traditional eldercare methods, the combination of modern technology with eldercare involves an exploration of future modes of the sector. Rising demand from China's senior citizens has been boosting the advancement of caring-for-the-aged technology," said Zhang Jiaxin, founder of Beijing-based social services center See Young, during an interview with Xinhua News Agency.
The government's favorable policies were also boosting the development of the industry. In 2017, the Ministry of Industry and Information Technology, the Ministry of Civil Affairs and the then National Health Commission jointly issued an action plan on the development of smart eldercare, requiring that by 2020, the country should basically form a smart eldercare system covering the entire life cycle.
By 2020, at least 100 smart eldercare demonstration bases should be established, and at least 100 leading enterprises in the industry should be cultivated, according to the action plan.
Through joint efforts from the authorities, three batches of 394 pilot enterprises have since been selected, playing a leading role in the sector.
"The selected pilot enterprises were given privileged access to subsidies from local governments and social capital. They were also supported by local civil affairs bureaus and health commissions in terms of related project purchases," Lyu Boxuan, a senior executive from Potevio Information Technology Co Ltd, which was among the first batch of pilot enterprises, said during an interview with Oriental Outlook magazine.
Promising as the future is, problems in the industry still remain. Jiang Changcheng, deputy director-general of Beijing-based Cultural and Tourism Industry Integration Think Tank, said that smart eldercare must be integrated into an entire business ecology so that the sector can develop better.
"Isolated data and isolated functionality can hardly find development opportunities within the sector. Smart eldercare is an ecological and systematic sector. Nursing homes should be connected with local medical institutions and data should be connected with medical databases and treatment plans, to propel development of the sector. Favorable governmental policies and the infusion of social capital are needed to offer better support," Jiang said.