New book: How a town brought prosperity home
By Hu Dongmei | chinadaily.com.cn | Updated: 2021-04-01 13:56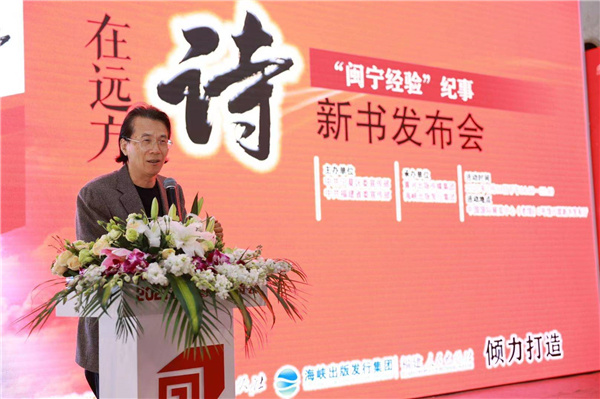 China Writers Association Vice-Chairman He Jianming promoted his new nonfiction book on Wednesday at news conference in Beijing.
The book — Poetry in the Distance: A Story about Minning Experience — is about how Minning, a once-poor town, in Yinchuan, Ningxia Hui autonomous region, took 25 years to get out of poverty and succeeded thanks to a cooperative poverty relief program run by Ningxia and Fujian province.
To tell authentic stories of Minning, He interviewed more than 80 people from different walks of life and read through piles of documents, including more than 100 books, 80 newspapers, 50 magazines and 200 meeting documents.
The title, "Poetry in the Distance", came to mind after he finished writing the book, he said. It means that people in Minning were longing for prosperous, poetic lives in big cities far away, but now life in Minning is flourishing, so their own hometown has become a poem of sorts.
After the news conference, a publication forum and a reading salon were held. The author told of his ups and downs in writing the book with other Chinese writers and scholars, as well as describing his encounters with people who participated in the poverty relief program and shared their life stories.
Tang Ziye contributed to the story.