Johnson sets out plans to restart UK economy
By JONATHAN POWELL in London | China Daily Global | Updated: 2021-04-06 09:00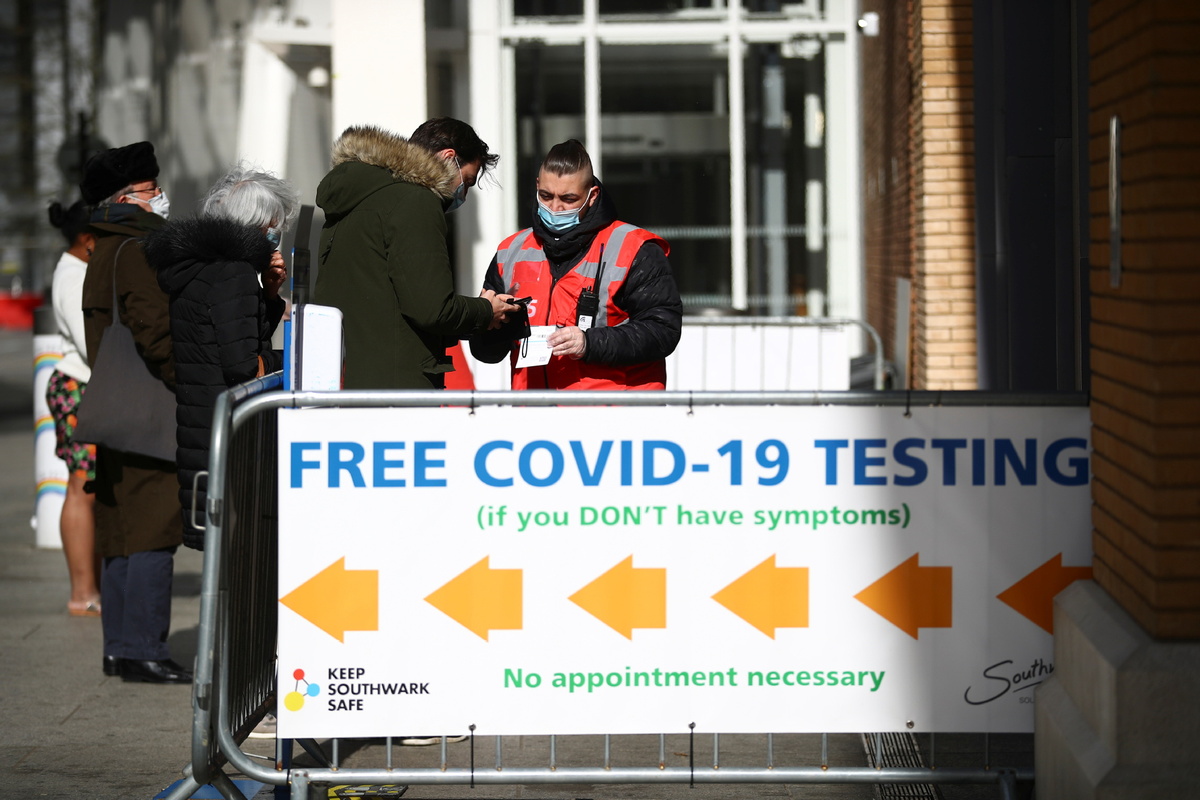 Rapid free testing to boost recovery but Europe still battling rising cases
The United Kingdom will introduce rapid free tests for COVID-19 as it continues on its path toward reopening its economy, while the rest of Europe battles rising infection rates.
Britain's Prime Minister Boris Johnson was due to set out plans to relaunch international travel on Monday when he updated the government's road map out of lockdown.
In a press release ahead of a news conference, Johnson said: "Massive efforts have been made by the British public to stop the spread of the virus.
"As we continue to make good progress on our vaccine program and with our road map to cautiously easing restrictions underway, regular rapid testing is even more important to make sure those efforts are not wasted.
"That's why we're now rolling out free rapid tests to everyone across England-helping us to stop outbreaks in their tracks, so we can get back to seeing the people we love and doing the things we enjoy."
The government said free testing would "pave the way for businesses and society reopening", and that anyone will be able to access free, rapid lateral fl ow tests, known as LFDs, "for themselves and their families to use twice a week, in line with clinical guidance".
So far, rapid testing has been available to those most at risk and people who need to leave home for work, including frontline health workers, care home staff and residents, and schoolchildren and their families.
The prime minister was also expected to confirm the next stage of easing restrictions in the UK will happen on April 12, when non-essential shops can reopen and pubs and restaurants can start serving outdoors, and that next month a "traffic light" system for foreign travel will be introduced.
Health Minister Edward Argar said on the BBC's Breakfast on Monday that the government was acting "very carefully and cautiously" on foreign travel due to the risk of importing new variants.
Foreign travel, which is currently banned in the UK with fines in place to discourage it, could be restarted with the use of COVID-19 certificates, he said. As it stands, the earliest date people in England could go abroad for a holiday would be May 17.
Argar admitted that plans for such vaccine passports are an "unpalatable" but useful way to speed up the reopening of society.
The Financial Times reported on Sunday that hospitalizations and deaths from COVID-19 are increasing in nations across Europe.
Countries are fighting "a more infectious variant, a shortage of vaccines and public weariness with lockdowns", it said.
The prime minister of France, Jean Castex, said on Thursday "the epidemic is spreading fast, and it's spreading everywhere".French hospitals warned they will soon be forced to prioritize which patients to treat, the Daily Telegraph reported.
President Emmanuel Macron announced the nation's third national lockdown last week as it battles the surge in cases. It means travel restrictions and school closures, and extends a 7pm-6am curfew.
Castex said new cases had risen 55 percent in the space of two weeks. The FT reported that in the same time frame, Belgium has noted a rise in cases of 95 percent and Netherlands has recorded an increase of 48 percent.
In Germany, there has been a rise of 75 percent, and the FT said the situation "was deteriorating" in Italy and Spain, and that Eastern Europe has been hit hard also.