Vaccines said key to reopen intl borders
Share - WeChat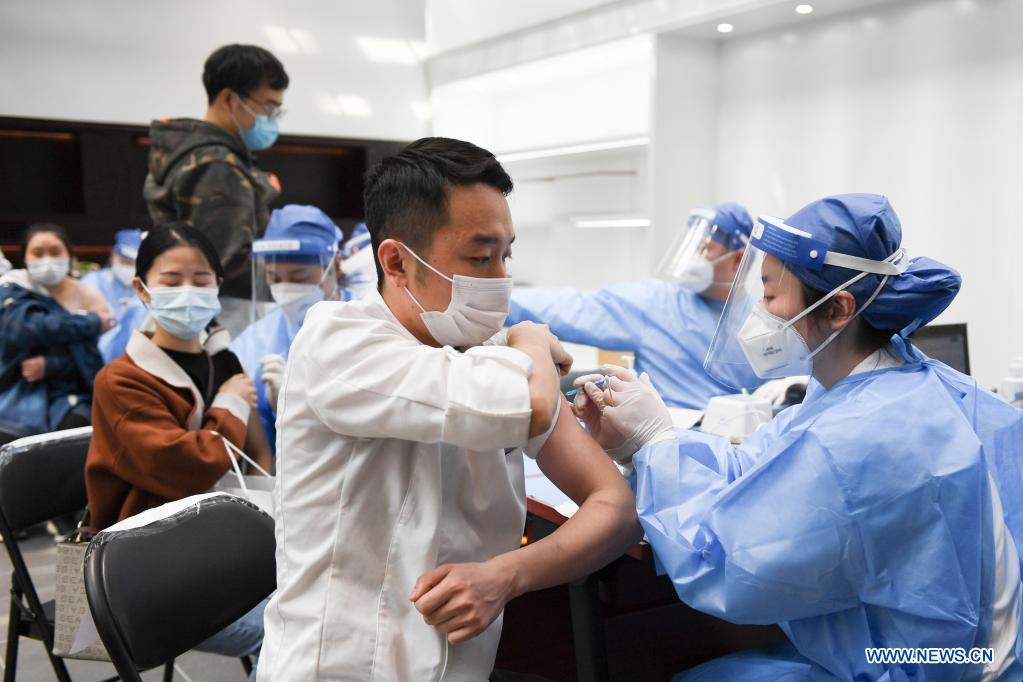 Quick rollout needs to continue to reach 70% inoculation rate for herd immunity
Mass vaccination is the only way for China to build herd immunity against the novel coronavirus and fully reopen to the world, a renowned health expert said.
The National Health Commission said that China had administered nearly 140 million doses as of Sunday, up by about 3.3 million from Saturday. The number of fully vaccinated people in China is still far from the estimated threshold for herd immunity of at least 70 percent.
By comparison, some major economies have outpaced the rest of the world in vaccinating their population, said Zhang Wenhong, head of the infectious disease center at Fudan University's Huashan Hospital in Shanghai.
He said Israel is very close to establishing herd immunity, and the United Kingdom is moving fast and has inoculated nearly all people above 40 years old. For the United States, with a total population of over 300 million and a daily rollout of 4 million shots, the goal of herd immunity is also on the horizon, he added.
"If China fails to successfully immunize its population and other countries begin to fully reopen their borders, the country will have to confront a serious barrier in resuming communication with the rest of the world," Zhang said during an interview with China Central Television that aired on Saturday.
China is now capable of suppressing local outbreaks and infection clusters with a series of nonpharmaceutical measures, such as swift testing and quarantine, and targeted lockdown policies.
Zhang said such a strategy is effective in clearing all domestic cases, but it cannot last for the long run. The speedy development and approval of vaccines has offered another safe and effective avenue for defeating the virus, he added.
Some regions that experienced local outbreaks after COVID-19 vaccines were first made available in July are now leading the race in terms of vaccination rates.
Beijing's Daxing district, which reported more than 30 local infections earlier this year, has become the country's first to immunize 80 percent of its population. Local authorities in Shijiazhuang, Hebei province, a city that recorded over 860 cases from January to February, said it aims to vaccinate 50 percent of residents by the end of June.
The local government of Ruili, a city in Yunnan province bordering Myanmar, also said it will inoculate all people eligible for vaccines by Tuesday. The city has reported dozens of locally-transmitted COVID-19 cases since March 30.
Beijing also announced on Friday that more than 10 million people in the city had received COVID-19 vaccinations by Friday afternoon, and it plans to vaccinate all local residents aged 18 and older by the end of May, according to the Beijing Daily newspaper.
Zhang said rolling out such fast vaccination campaign is a significant addition to China's existing virus-control tools.
Quality certificate
China has granted conditional approval for four domestically made vaccines and approved one vaccine for emergency use.
One of the approved vaccines that is produced by the State-owned Sinopharm's Beijing Institute of Biological Products obtained a Good Manufacturing Practice certificate from Hungarian authorities on Thursday, Sinopharm said on Saturday. The certificate attests to consistent quality of products manufactured by the company.
Sinopharm said the new certificate is the first of its kind to be issued to a vaccine developed by China and marks a step forward for homegrown COVID-19 vaccines to become a global public good.
The National Health Commission also released the first version of a guideline for the use of COVID-19 vaccines on March 29 to help overcome vaccine hesitancy and address common concerns among the public.
The document says all people aged 18 or older are cleared for vaccination. It also specifies five categories of contraindications to COVID-19 vaccines: allergic reaction to any vaccine component; severe reaction to other vaccines; uncontrolled epilepsy or other neurological disorder; fever, acute disease or acute chronic disease; pregnancy.