Staging high-tech, low-risk Games
Share - WeChat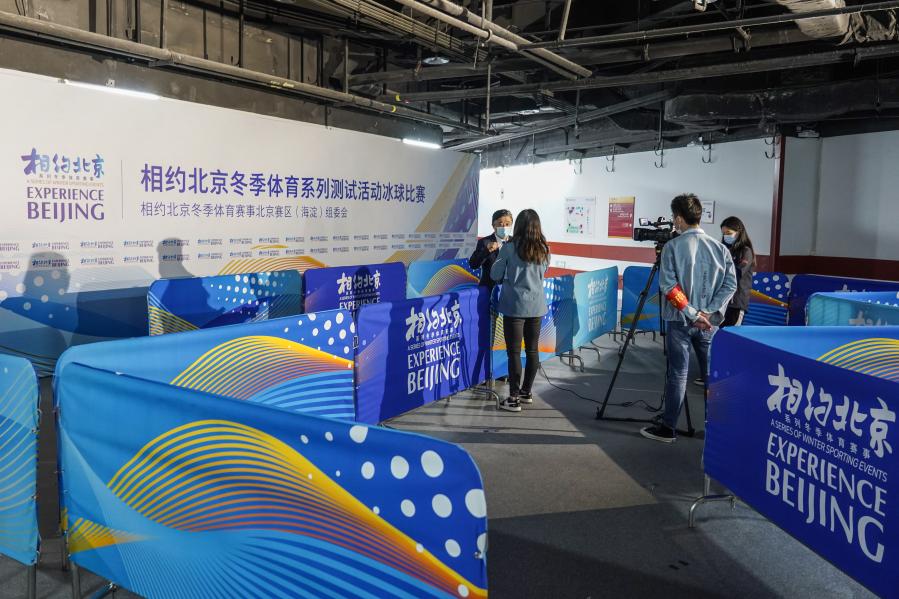 Organizers test advanced COVID-19 countermeasures to ensure safe and smooth experience for all
With robot volunteers, microchip thermometers and 5G-enabled videoconferencing at their disposal, Beijing 2022 organizers are confident their high-tech approach will ensure an ultra-safe Winter Olympics next year.
Fine-tuning COVID-19 protocols has been high on the agenda this week during an ice sports test program at five venues in downtown Beijing, with the rehearsal providing a glimpse into what participants can expect from their Olympic experience next year. The interaction between athletes and media is one aspect that is going to feel particularly different from past Games.
Following an ice hockey test game on Sunday at Wukesong Arena, coach Jin Tairi walked into an empty news conference room to share his post-game thoughts in online interviews, with reporters asking the questions from a separate room.
Facilitated by 5G networks, the interviews went smoothly on screens and speakers from both sides, with replays instantly available thanks to cloud computing.
"The entire conversation was loud and clear. It went without any delays on transmission. I think this is really necessary during the pandemic to keep everybody safe," said Jin.
Mixed zones have also been modified, with window shields as tall as three meters separating media from athletes at the National Indoor Stadium, and communication conducted via microphones and loudspeakers.
To reduce the number of operational staff and service volunteers, artificial intelligence robots will operate at both venues, delivering documents, carrying luggage and moving equipment along preset routes.
To address the challenge of monitoring people's body temperatures, Chinese organizers, supported by their high-tech healthcare partners, will implement the use of wearable thermometer chips.
Each chip-around the size of a fingernail-is stuck to a person's skin by an adhesive bandage and reports any significant rises in body temperature to the control center via an app on mobile devices. The system allows the venue's medical and epidemic control team to immediately identify any abnormal body temperatures among staff or spectators.
"The traditional method we used for body temperature monitoring at main entrances and key checkpoints now seems inefficient compared to using this device," said Yin Jinshu, deputy director of medical services and epidemic control at Wukesong Arena.
"With the new technology being tested and practiced during the rehearsals, we are confident that we can identify and deal with public health risks as early as possible."
Diplomats impressed
Meanwhile, the ice sports test program-entitled "Experience Beijing"-has won high praise from the foreign diplomats in attendance.
Tea Pirih, economic counselor at the Embassy of the Republic of Slovenia in Beijing, was highly impressed as Wukesong Arena welcomed spectators to an ice hockey game on Sunday.
"I must say that, from what we have seen so far, the preparations are going well," she said. "We just hope that soon our technical crew and athletes will have the chance to visit China and to see everything with their own eyes."
Converted from a basketball arena and concert venue to a hockey rink, Wukesong's multi-functionality wowed William Freyr Huntingdon-Williams, the first secretary and deputy head of mission at the Embassy of Iceland.
"That's very good for the whole sustainability of the Games and going forward," he said.
"Now the newest thing here of course is the technology in ice making, which we've been told is much more environmentally friendly, so we're very pleased about that."
According to Adam Daniel Breuer Zehevi, cultural attache at the Embassy of Hungary, the event organization in China "is very professionally done", and he expects everything to run smoothly next year despite the difficulties posed by the COVID-19 pandemic.
"Hopefully the Games will be one of a kind, just as we saw in 2008 during the Summer Olympics," said Zehevi. "Beijing has really done everything in its power to create very successful events. And we are hoping to see the same thing now."
Zehevi also commended China's ambition of engaging 300 million people in winter sports.
"I think it is a very good idea, because regardless of whether it is winter sports or summer sports, it is very important for living a healthy lifestyle," he said. "Especially considering most people work in the office nowadays, so I think it is very positive to change attitudes towards healthier living.
"We can already feel the excitement building up and we can see the organizers are really doing everything in their power to bring the Olympic spirit."
Xinhua contributed to this story.