Domestic handset market expects 2021 boom
By MA SI | China Daily | Updated: 2021-04-07 09:48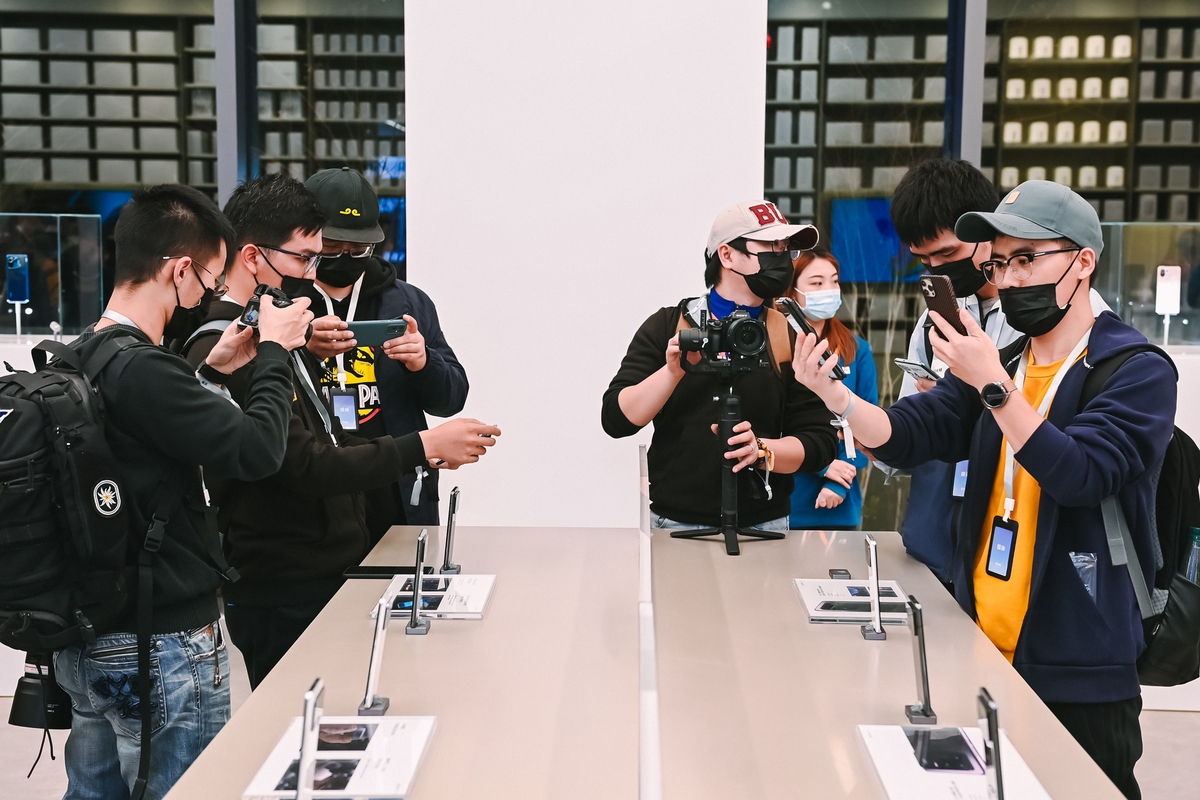 New high-end models, desire to upgrade fuel 236.6% year-on-year rise in country's smartphone shipments during February
Spring is in the air and Chinese smartphone makers are anticipating that the new season will help the industry to recover the ground it lost due to the COVID-19 epidemic fallout.
Companies are vying with each other to unveil the latest cutting-edge premium handsets after a new report showed that smartphone shipments in China rose by 236.6 percent on a yearly basis in February.
During the month when China's Spring Festival took place, more than 21.3 million smartphones were shipped out of factories to retailers across the country, said the China Academy of Information and Communications Technology, a Beijing-based government think tank.
That is in sharp contrast to February 2020 when the pandemic was paralyzing the nation and almost all smartphone shops struggled to keep their doors open.
Spring is a time of rebirth, renewal and awakening, and Chinese smartphone vendors now see the season as a perfect time to rekindle competition for top bragging rights in the nation.
In March, dozens of smartphone launch events were held. Vivo alone held three events to release three new phone series in the month and its rival Realme also held two. And because smartphone companies tend to select auspicious days to unveil new products, they often end up releasing phones on the same day.
For instance, Vivo and another smartphone maker Meizu both unveiled their new 5G phones on March 3. Realme and Nubia both held launches on March 4.
In the second half of March, the battle was even fiercer. From March 22-25, device makers Honor, Oppo and Vivo unveiled their new 5G smartphones one after another. Four days later, on March 29, Xiaomi unveiled its latest flagship models.
Such a frenzied smartphone release schedule has not been seen in recent years as the global smartphone market hit a saturation point and people did not have a desire to upgrade their handsets, said Fu Liang, an independent telecom expert who has been following the industry for more than a decade.
"Such a revival signals that the spring battle for 5G smartphone market supremacy in China is game on, especially in the high-end segment. This comes while Huawei, the former longtime champion of the local market, was impacted in its smartphone business following restrictions by the United States government," Fu said.
Sensing the opportunity left by Huawei in the $600-and-above premium segment, local smartphone makers are all beefing up resources to show consumers their advances in product design, research and development, as well as ambitions in expanding retail channels.
Liu Zuohu, founder and CEO of OnePlus, a Chinese smartphone vendor known for its dedication to design details, said the company will spare no efforts this year to expand its presence in the high-end segment.
"We will invest 1 billion yuan ($152.9 million) over the next three years to continuously seek breakthroughs in color and professional experience to create the ultimate mobile imaging experience," Liu said.
The company announced a partnership with Swedish professional camera maker Hasselblad in March under which Hasselblad will help its smartphones develop better photo-taking capabilities.
Such a commitment is already reflected in the latest OnePlus 9 series, unveiled on March 24, featuring cameras that Hasselblad helped develop.
OnePlus, which chiefly relies on e-commerce sites for sales, said it will ramp up efforts to expand its presence in the offline retail channels, with more than 1,000 employees now working in this area.
Rival Oppo made its ambitions even clearer after the brand rose through the ranks to become the top smartphone brand in China for the first time in January, with a market share of 21 percent, said Counterpoint Research.