EU leaders make rare Turkey visit to mend ties
By JULIAN SHEA in London | China Daily Global | Updated: 2021-04-08 09:31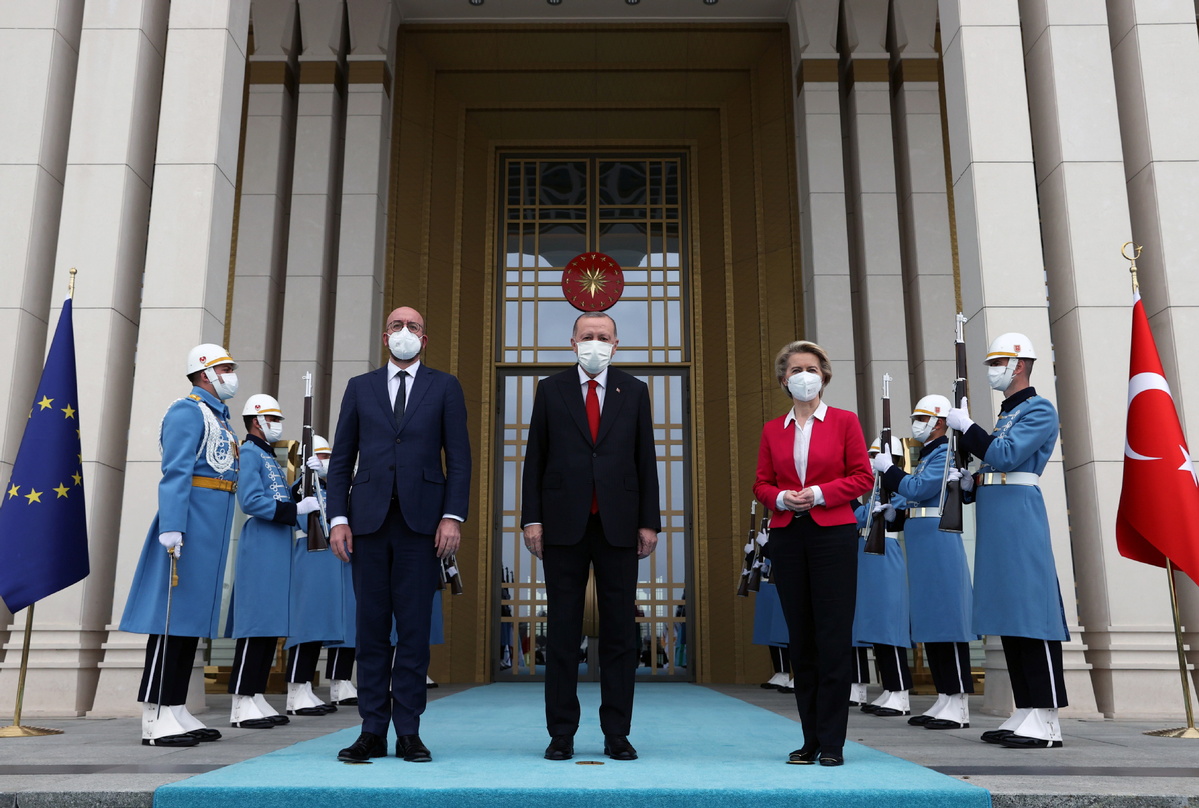 European Union leaders on Tuesday said the bloc is ready to support a positive agenda with Turkey, especially in the areas of economic cooperation and migration.
European Council President Charles Michel and the head of the European Commission, Ursula von der Leyen, were in Ankara to discuss bilateral ties with President Recep Tayyip Erdogan to seek a way to resolve tensions between Turkey and EU members Greece and Cyprus.
A newly-reached deal aimed at encouraging Turkey to limit the number of asylum seekers arriving in the EU through the Greek islands, close to western Turkey, has created a more positive atmosphere. But Michel said the bloc needs to see improvements in other fields from Turkey, which has long been a candidate for bloc membership.
"The sustainability of what we've seen over the last weeks has to be proven," added von der Leyen, referring to the more positive diplomatic climate.
"The EU strategic interest remains a stable and secure environment in the eastern Mediterranean and a mutually beneficial and positive relationship with Turkey," Michel said after the meeting.
"Sustained de-escalation is needed to build a more constructive agenda," he said on Twitter.
A dispute arose over territorial issues last summer, when Turkey sent navy ships to support its energy exploration in waters claimed by EU members Greece and Cyprus. Turkey later withdrew the vessels and started talks with Greece this year, the first such talks since 2016.
'Positive agenda'
A spokesperson of Erdogan was quoted by Turkey's Daily Sabah newspaper as saying the president had reiterated his intention that the country's goal remained full accession to the bloc, and the EU should take "concrete steps to support the positive agenda".
Another development in Turkey that has caused concern is the country's withdrawal from the Istanbul Convention on violence against women.
The BBC reported that conservatives in Erdogan's AK Party had become increasingly unhappy at what they perceived to be more liberal attitudes toward issues such as divorce.
Von der Leyen was quick to make her position on the issue clear. "We need allies in the global fight against violence against women and children," she said.
Turkey said everybody must respect the country's judicial processes. Erdogan said violence against women is a global problem and Turkey will continue to fight it decisively, a Daily Sabah report said.
Another issue of dispute between the two sides is Turkey's move to ban the left-wing Kurdish-rooted Peoples' Democratic Party, the country's third-largest opposition party.