Tech drives Beijing 2022 towards green and safe
Share - WeChat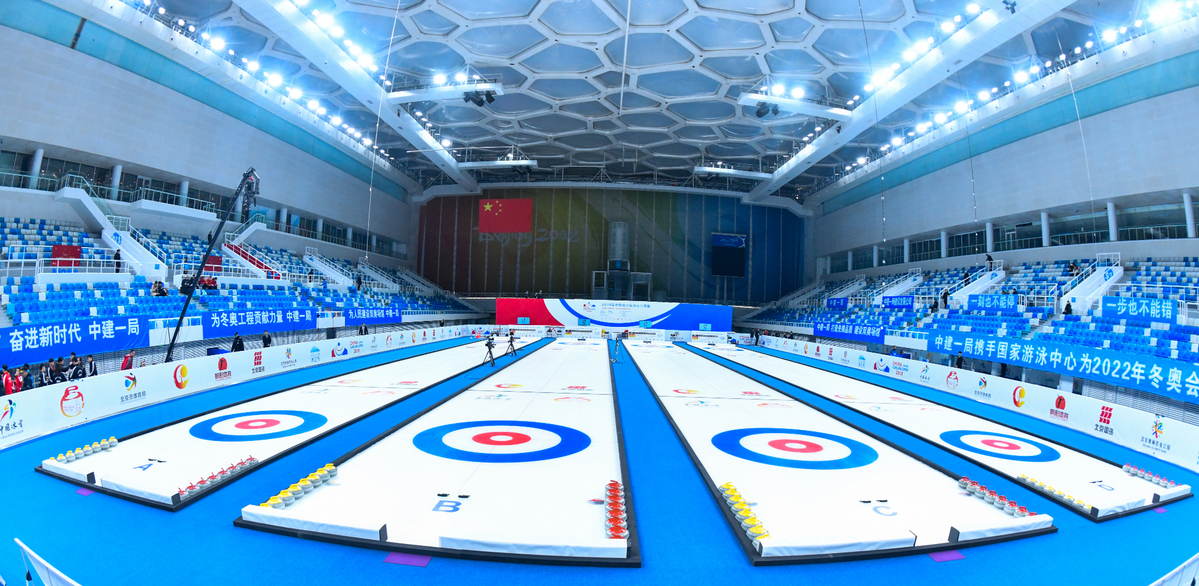 BEIJING - The "Experience Beijing" ice sports testing program came to a successful end on Saturday as Beijing 2022 welcomed its 300-day countdown. Events of six ice sports were staged in five Olympic venues in downtown Beijing during the 10-day tests.
With three of the venues being legacies of the 2008 Summer Games and advanced technologies in place, Beijing manifests its determination to host an environmentally-friendly Games that are also safe under COVID-19 scenarios through the testing program.
Transferable stadiums
How long does it take for a basketball court to be converted into an ice hockey rink?
The answer from the Wukesong Sports Center is -- six hours.
In six hours, the stadium that once witnessed Team US beat Spain for men's basketball gold in 2008 can set the stage for women's ice hockey competitions, with quick ice-making and adjustment in the dehumidification system.
"That's very good for the whole sustainability of the games and going forward," said William Freyr Huntingdon-Williams, a diplomat invited to watch a test game at the venue.
"Now the newest thing here, of course, is the new technology in ice-making, which we've been told is much more environmentally friendly, which we're very pleased," the first secretary and deputy head of mission at the Embassy of Iceland added.
Huntingdon-Williams is referring to using carbon dioxide instead of ozone layer-harming Freon as refrigerants in ice-making, which will reduce carbon emission equivalent to that of 3,900 cars a year, cutting the number to nearly zero.
The technology is also applied in the Capital Gymnasium, a 53-year-old venue renovated to host figure skating and short-track speed skating competitions. Both events' top skaters will compete on the same rink, but with different requirements of the ice surface.
According to Remy Boehler, head of the ice-making team, in preparation for the Beijing 2022 Winter Games, figure skaters need "softer" ice to better support jumps, while short track speed skaters favor harder ice for more speed.
With the two sports being contested only five hours and a half apart on Day 3 and taking turns to put on a show on the rest of the competition days as the latest Beijing 2022 schedule indicates, a smooth transition is essential to setting the stage for skating feasts.
"This is the only venue that has to switch between two sports in the middle of a day, which gives us huge stress during these testing events," said Ding Dong, head of the Capital Gymnasium venue operation team.
That's why the transition was conducted seven times in six days during the testing program to get fully prepared for the game-time scenario, and Boehler and his team only needed two hours to do so.
Also undergoing transformation was the National Aquatic Center, where Michael Phelps completed his eight-gold-winning epic back in 2008. The "Water Cube" was frozen into an "Ice Cube" for the first time in 2019 and later melted back in May 2020. In the past 10 days, it hosted test runs of curling events after the transferable rink was put up for curling events.
"Thanks to the Winter Games, the venue got its facility upgraded, and energy consumption lowered. Its new form will bring new income, and the cost of water-ice conversion is much lower than building a new venue," said Yang Qiyong, general manager of the venue.
Post-game utilization
Making stadiums transferrable is not only preparing for a successful Olympic Winter Games but also making sure they can satisfy people's different needs in different seasons.
Like Beijing 2008 did in leaving legacies for the city and the development of the sport across China, Beijing 2022 hopes to help fuel the passion for winter sports in the country and provide them with enough facilities to enjoy themselves.
As the only newly built ice sports venue in the Beijing competition zone, the National Speed Skating Oval boasts an ice surface of around 12,000 square meters. It can seat 12,000 spectators, making it the largest speed skating venue in Asia.
Apart from technology highlights, including using carbon dioxide in ice-making and precise controlling temperature and thickness of ice surfaces, the venue's multi-functionality also sets the example in post-game utilization.
Ma Jin, the design director of the ice-making project, told Xinhua that the ice in the oval had adopted a submodule control unit, dividing the ice surface into several areas and making ice according to varying standards.
During ordinary times, it can receive more than 2,000 citizens at the same time and be utilized for ice hockey, speed skating, figure skating, curling, and other ice sports at the same time.
"The purpose is to give full consideration to post-competition utilization and provide hardware support for mass fitness and to meet various needs," he said.
Similarly, the National Indoor Stadium features ice surfaces that can change size for standard ice hockey or figure skating field of play. In fact, the two surfaces were newly added to the 2008 gymnastics, trampoline, and handball venue for men's ice hockey competitions during Beijing 2022.
Hi-tech makes games safe and fun
Apart from Beijing's promise to host a "fantastic, extraordinary and excellent" Olympic Winter Games, "safe" is also a keyword as the COVID-19 pandemic is still ongoing. To ensure everyone involved is safe and provide the audience with the best possible watching experience, the organizers employed state-of-the-art technologies during the testing program.
Smart watch-like intelligent thermometers with chips inside are employed in the Wukesong Sports Center to monitor personnel's real-time body temperature. They can achieve preciseness of 0.05 degree Celsius and users can check their body temperature with taps on their phone.
In the National Indoor Stadium, with the help of 40 cameras and a 3D reconstruction of the visual, "free visual angle" technology allows spectators to choose their angle of watching matches. It also functions in refereeing and players and coaches reviewing the game.
There's also good news for broadcasters. With self-help obstacle avoidance navigation, they don't have to carry themselves heavy equipment thanks to logistics robots shuttling within the working area and canteen to transport items.
In fact, they don't need to bring them on-site in the first place. Cloud broadcast system enables them to edit, distribute and store all their materials remotely on the cloud and even live stream events with their program directors back in their own country.
Apart from that, journalists can interview athletes from a different room to avoid contact, and mix zones can also be set up remotely.
"We believe these technological innovations will bring Beijing 2022 to spectators all over the world in a more spectacular way," said Gao Bo from the media operations department of the BOCOG.