110-year-old school drives toward future
By XING WEN | China Daily | Updated: 2021-04-21 09:32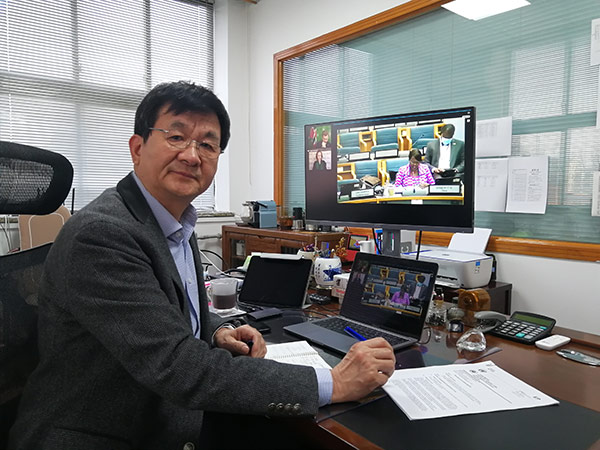 After spending a decade at Tsinghua University as a professor with the Department of Civil Engineering, Wu Jianping realizes it is a good time for reflection and, considering the department he is in, looking back on the bridges of communication he has symbolically built with the international community.
Indeed, what impresses him most about the university is its international outlook.
"That helps to prepare students for global environments and also inspires its research groups to carry out creative productions that make a positive contribution to the world," he says.
Wu, 64, is an expert who is leading the country's adoption, use and study of intelligent transportation systems, traffic simulation and understanding driving behavior.
Born in Zhejiang province's Lishui city, Wu sat the gaokao, or the national college entrance exam, when it resumed in 1977. He says he would probably have become a farmer had he not taken the gaokao.
The following year, he entered Zhejiang University where, for the next six years, he studied civil engineering.
To keep abreast of China's reform and opening-up, he successfully applied for the Sino-British Friendship Scholarship Scheme and then went to study his doctorate at the University of Southampton in the United Kingdom in 1989.
As highway projects began to take shape in his homeland in the late 1980s, Wu was eager to learn about advanced technologies and the techniques of their construction from the UK and other countries.
However, he found that highway construction did not fully satisfy his academic curiosity. "I want to study abroad to gain knowledge in frontier fields. Back then, research on intelligent traffic systems was taking off, so I decided to study the subject further," he recalls.
Over time, other areas of study grabbed his attention, such as cloud computing and big data. These and other technologies were vital in providing people with detailed transportation information to shorten commutes, ensure safety and reduce traffic jams.
Since the mid-1990s, China has been conducting its own studies in the field. In 2000, Wu was invited to be a distinguished professor at Beijing Jiaotong University under the Chang Jiang Scholars Program and would fly back and forth between the UK and China to promote academic exchanges in the field of intelligent transportation.
In 2002, an intelligent transportation center was founded by the two governments to boost collaboration in intelligent transportation research, training and consulting. Wu was appointed as the center's director. "We hope to spread the ideas of intelligent transportation in China through frequent academic exchanges between countries," he says.
In 2011, he opted to stay in his homeland and become a full-time teacher at Tsinghua University, which also provided favorable conditions for conducting research that would benefit the country.
Last year, Tsinghua jumped from the 16th place to 15th in the world university rankings, a record high ranking for the institution. Wu holds that the university's engagement in fundamental research and cultivation of creative talent made a significant contribution to its enhanced reputation.
He is also actively engaged in encouraging students to be more creative. For instance, he runs a course that gathers a multidisciplinary and cross-cultural group of students to discuss the same topic and put forth solutions from various perspectives.
Another important direction of Wu's research is the transport of the future.
In November 2013, under Wu's direction, a transportation research center was jointly launched by Tsinghua University, the University of Cambridge in the UK and the Massachusetts Institute of Technology in the United States. The center aims to boost international academic exchanges on future transportation, aiming to address traffic-related air pollution, traffic jams and other challenges.
Wu and his research team is exploring the possibility of reducing congestion via the use of driverless vehicles. He says that when cars navigate by themselves, they drive more efficiently than people.
"That might help ease traffic congestion in the future," he says, adding that self-driving cars could also help to avoid the dangers arising from, say, driving fatigue.
Accidents, congestion, air pollution and other traffic-related problems, he warns, cannot be solved within a short period of time. It takes patience, he adds, for a country to embrace green and intelligent transportation.