US Senate passes bill targeting anti-Asian hate crimes
By AI HEPING in New York | China Daily Global | Updated: 2021-04-23 10:45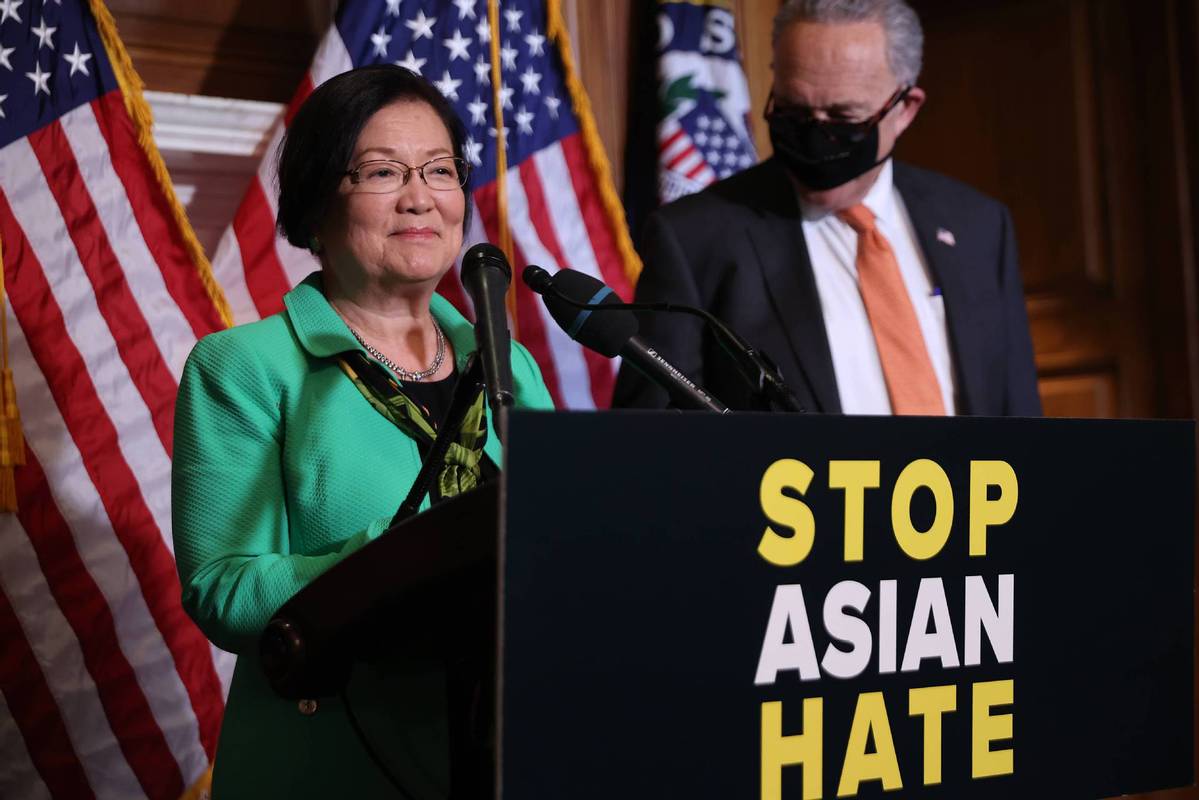 In a rare display of bipartisanship, the US Senate on Thursday passed legislation to expedite the Justice Department's review of hate crimes in response to the recent wave of violence against Asian Americans.
The COVID-19 Hate Crimes Act passed in a roll call vote of 94-1 without a filibuster, an exceedingly rare situation in today's Senate. The legislation is the first action either chamber of Congress has taken to bolster law enforcement's response to rising attacks on people of Asian descent.
It now goes to the Democratic-controlled House. If it approved there without changes, it would then go to President Joe Biden for his signature.
The bill would expedite the Justice Department's (DOJ) review of hate crimes and would designate a DOJ official to oversee the effort.
It would increase state and local hate-crime reporting. It also would task the department with coordinating with local law enforcement groups and community-based organizations to facilitate and raise awareness about hate crime reporting, including establishing an online hate-crime reporting system in multiple languages.
According to the advocacy group Stop AAPI Hate, between March 2020 through February 2021, there were nearly 3,800 firsthand anti-Asian bias incidents in the US.
Many Democrats expected a legislative fight, but Republicans signaled early their willingness to compromise on the legislation, and senators from both parties have been negotiating for weeks.
The legislation, spearheaded by Senator Mazie Hirono, a Hawaii Democrat, underwent several bipartisan changes before its final passage. The bill originally addressed hate crimes related only to the pandemic, a link that Republicans and others viewed as potentially too onerous for law enforcement to make.
Senator Susan Collins, Republican of Maine, and Hirono struck a compromise on the bill's language. Collins and other Republicans had raised concerns that the original text too narrowly defined the types of hate crimes addressed.
Collins took to the Senate floor on Thursday to urge her colleagues to support the legislation, calling on them to join her in sending "an unmistakably strong signal that crimes targeting Asian-Americans and Pacific Islanders in our country will not be tolerated".
A series of Republican-led amendments, such as one from Utah Republican Senator Mike Lee requiring a report on religious freedom during the pandemic, were all voted down.
Passing the bill sent a "solid message of solidarity that the Senate will not be a bystander as anti-Asian violence surges in our country", said Hirono.
Democratic Senator Tammy Duckworth of Illinois, one of two Asian Americans in the Senate along with Hirono, recounted how her elderly mother had been harassed at the grocery store while trying to buy grapes and told reporters, "This bill will allow me to go home to my mom and say we did something."
"The vote today is proof that when the Senate is given the opportunity to work, the Senate can work to solve important issues," Democratic Senate Majority Leader Chuck Schumer of New York said from the Senate floor ahead of the bill's passage.
Republican Senate Minority Leader Mitch McConnell of Kentucky said last week that as the "proud husband of an Asian American woman, I think this discrimination against Asian Americans is a real problem''. McConnell is the husband of Elaine Chao, the former US transportation secretary who was born in Taiwan.
Missouri Republican Senator Josh Hawley was the only vote against the bill. "I just am concerned the bill is hugely broad, hugely open-ended, mandates all of this data collection in expansive categories that the federal government will collect," he said.
Agencies contributed to this story.