Experts: China, US share similar goals in tackling climate change
By LIU YINMENG in Los Angeles | CHINA DAILY | Updated: 2021-05-10 07:55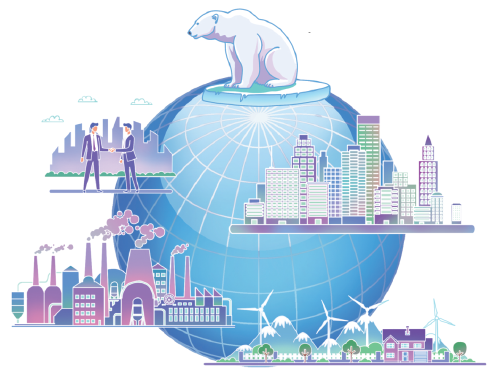 China and the United States share a set of similar goals when it comes to climate change, which could help advance collaboration and inspire others around the world to work together toward curbing greenhouse gas emissions, according to a recent report and climate experts.
"Climate is important in itself, and it's also important because it's going to show us how to develop habits and how to work those habits of cooperation, of dialogues, of working together for the total humanity," said former California Governor Jerry Brown during a webinar in April hosted by the California-China Climate Institute at the UC Berkeley School of Law.
The institute, chaired by Brown, released a report in April that detailed shared pathways for the world's two largest economies to achieve carbon neutrality.
Collectively, China and the US make up more than 40 percent of global fossil fuel-related carbon emissions, which contributes to global warming and climate change.
"I can tell you from speaking from my ranch in Northern California, where it's drier than ever before. It's May, but it feels like August. … We got a problem as the people of the whole planet," Brown said.
Researchers at the institute identified similarities in approaches by the two nations in achieving carbon neutrality, namely the "six pillars" of reducing energy demand, electricity decarbonization, fuels decarbonization, electrification, non-energy carbon emission reductions and carbon sequestration.
For instance, both countries need to reduce carbon dioxide emissions from electricity generation by more than 95 percent, in order to achieve carbon neutrality.
These similarities across strategies reflect a convergence in technologies between the US and China, despite the two nations' political differences, said Fritz Kahrl, a research affiliate at the institute who worked on the report.
If both China and the US share the same emissions reduction goals, and similar strategies in achieving them, they could conceivably come up with a set of common goals, he said.
Having these goals could be a powerful way of conveying the expected pace of change to industry and consumers.
Both nations are on a similar trajectory when it comes to zero-emission vehicle sales, with a target of them accounting for 50 percent of total vehicle sales by 2030, the researcher said.
Working toward such a milestone would help drive innovation and market growth by providing a standard for governments, automakers and consumers in other countries.
David Vance Wagner, vice-president of strategic partnerships at Energy Foundation China, another speaker at the webinar, referenced the joint statement made by China and the US on April 17 following US climate envoy John Kerry's Shanghai trip to meet with his Chinese counterpart, Xie Zhenhua.
The two countries said in the statement that they are committed to cooperating with each other and with other countries to tackle the climate crisis.
"The very fact of the joint statement notably signals to both domestic and international audiences the clear willingness of both sides to engage constructively to advance climate ambition, even as other issues in the bilateral relationship remain tense," Wagner said.