World mourns over death of an African icon
China Daily | Updated: 2021-06-19 08:11
China calls Kaunda, first president of Zambia, as an old friend of its people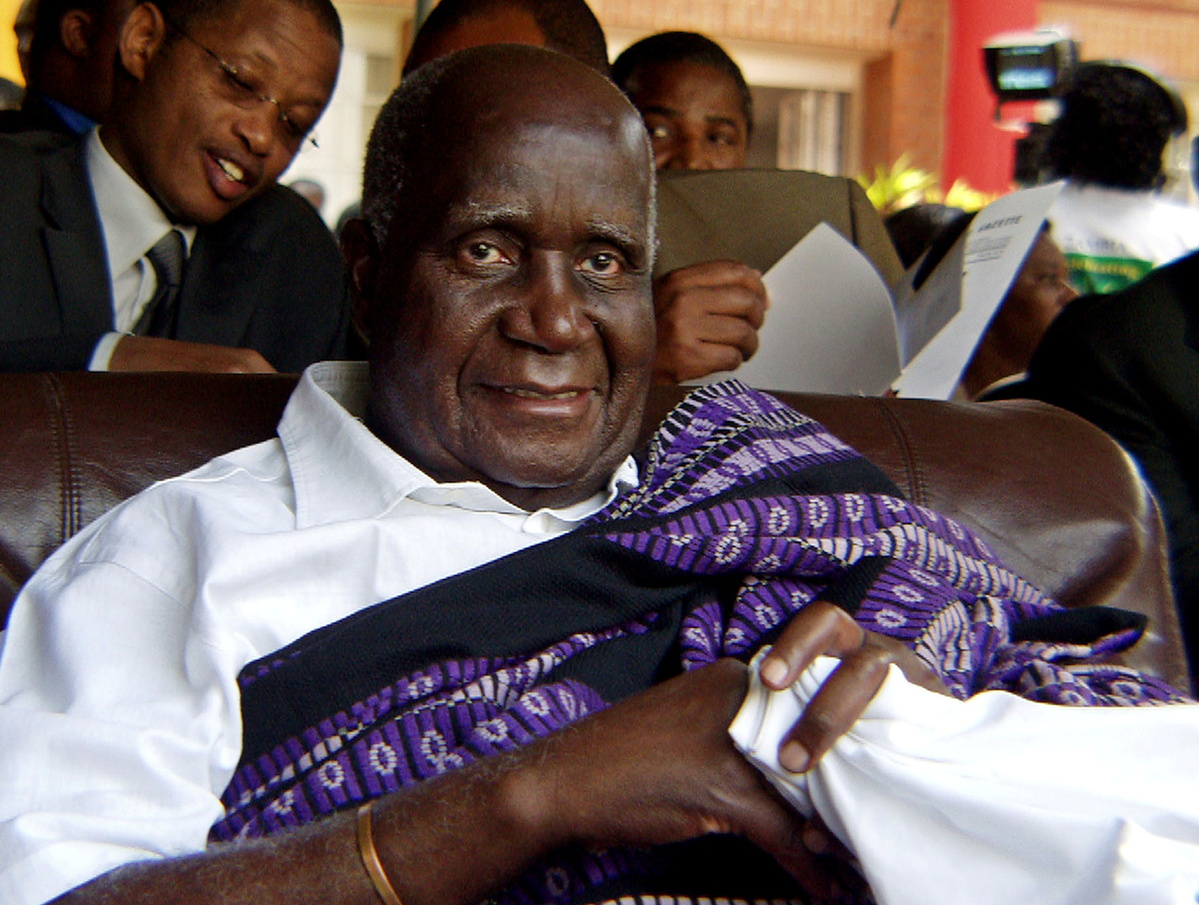 Messages of condolences from all over the world have continued pouring in to honor Kenneth Kaunda, Zambia's first president, who died on Thursday at the age of 97. He was the last surviving member of leaders who fought for the liberation of African from colonial oppression.
Zambian President Edgar Lungu declared 21 days of national mourning, ordered flags to fly at half-mast and banned all entertainment in honor of the "icon and global statesman".
"On behalf of the entire nation and on my own behalf, I pray that the entire Kaunda family is comforted as we mourn our First President and true African icon," Lungu said on social media on Thursday.
Secretary to the Cabinet Simon Miti said on Thursday Kaunda died at a military hospital, where he had been admitted since Monday, in Lusaka, the country's capital.
News of his death started filtering through social media and by the time government announced it, somber Zambians had been anxiously glued to television screens in public places.
China's Foreign Ministry spokesman Zhao Lijian on Friday expressed condolences over the death of Kaunda and expressed sympathies to the government and people of Zambia as well as his family members.
Being a global-renowned leader of the African independence movements, a politician and a social activist, Kaunda has made historical contribution to the Zambian independence and Southern African Liberation Movements, Zhao said.
Calling Kaunda an old and good friend of the Chinese people, Zhao said he laid the foundation of the bilateral ties and has long been committed to the cause of the Sino-Zambian friendship. He vividly and accurately defined bilateral relations by creatively putting forward the phrase "all-weather friends", Zhao said.
He noted that the Three Worlds Theory which is familiar to all was proposed by Chairman Mao Zedong when he met with Kaunda in 1974.
In a statement, the Chinese embassy in Zambia said the friendship between China and Zambia established by Kaunda and the older generation is all-weather in nature and has an important status and wide-ranging influence.
United Nations Secretary-General Antonio Guterres is "deeply saddened to learn of the passing of former President of the Republic of Zambia, Kenneth Kaunda," a UN spokesman said on Thursday.
British Foreign Secretary Dominic Raab also sent his government's condolences on the death of Kaunda.
Charismatic, selfless man
In neighboring Botswana, President Mokgweetsi Masisi declared seven days of mourning in honor of the "charismatic" and "selfless" Kaunda, whom he described as an "iconic statesman of the highest credentials".
The Chairman of the African Union Commission, Moussa Faki-Mahamat, said Kaunda "embodied the true sense of Pan-Africanism, placing his own country Zambia at grave risk to provide safe harbor" for liberation movements.
The ANC described him as a "giant of the liberation struggle", while South Africa's ex-president Thabo Mbeki called him "a people's person".
Kaunda, born in 1924, led Zambia's independence struggle with Britain and served as the first president of the country from 1964 to 1991.
While in power, Kaunda hosted many of the movements fighting for independence and black equality in other countries around the region. He was nicknamed by some "Africa's Gandhi" for his nonviolent, independence-related activism in the 1960s.
During the commemoration of this year's Africa Day, the African Union honored him with a special award for the role he played and the immense contribution he made to the liberation of Africa and its people, according to Zambia's Ministry of Foreign Affairs.
Xinhua, agencies and Zhao Jia in Beijing contributed to this story.