NEVs to play key factor in reducing emissions
By ZHANG DANDAN | China Daily | Updated: 2021-06-21 08:00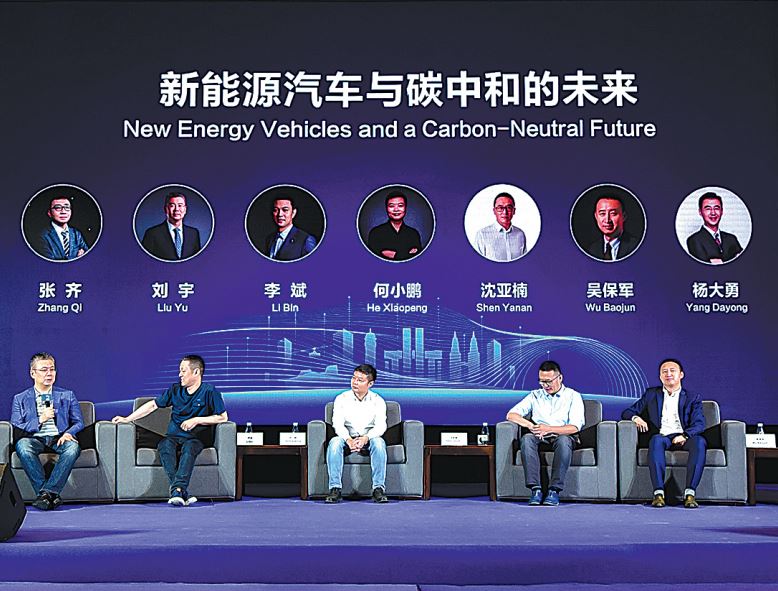 Motor industry making a huge transition from internal combustion and can play leading role
The new energy vehicle industry is set to play a major role in reducing future carbon emissions, as it gradually moves toward replacing conventional combustion, agreed industry figures at a recent auto forum held in Chongqing.
The 2021 China Auto Chongqing Summit, held from June 12-13, coincides with the 2021 Chongqing International Auto Exhibition, held from June 12-20, which is a highly influential auto show in Southwest China.
At a parallel forum with the theme of "the future of NEVs and carbon neutrality" held on June 13, Liu Yu, chairman of BAIC Bluepark New Energy Technology, said: "Carbon neutrality has become an irreversible trend … as for companies, the total amount of carbon emissions (reduction) has become a measure of whether a business is successful or not."
The automobile industry, which is at the turning point transitioning from the internal combustion engine to the electric motor, should play a pioneering role in terms of energy conservation and emission reduction, Liu added.
BAIC Bluepark has sold more than 540,000 electric vehicles in the past 11 years. In the future, the company will continue to facilitate the application and promotion of electric vehicles, according to Liu.
In the eyes of William Li, founder and CEO of Chinese NEV startup Nio, 2021 is a critical year for the NEV industry, as "the (market) penetration rate of NEVs is increasing faster than we expected".
The market penetration rate of NEVs in China's first-tier cities-Beijing, Shanghai, Guangzhou and Shenzhen in Guangdong province-reached 22.3 percent in the first quarter of 2021, according to Li.
Sales of NEVs accounted for 10.5 percent of passenger vehicle sales nationwide in the first three months of 2021, rising to 11.5 percent in May.
Li added that intelligent electric vehicles have entered a stage of rapid popularity and are expected to account for more than 90 percent of new cars by 2030.
He Xiaopeng, founder and chairman of NEV startup Xpeng Motors, said that intelligence will help facilitate environmental protection.
He said, in the future, there may be autonomous vehicles heading to charging stations early in the morning and driving back home after being fully charged.
Shen Yanan, co-founder and president of Li Auto, another NEV startup in China, said at the forum that for car companies, if they want to achieve carbon neutrality, they should pay more attention to how to build a low-carbon car that consumers are willing to buy, as most customers will not choose an NEV just because they have lower emissions.
The Li ONE, the sole model of the startup, is a range-extended vehicle, which cannot achieve zero emissions, but can help reduce fuel consumption by around 60 percent, according to Shen.
Li Auto is researching and developing high-voltage and high-speed charging technology, which could achieve a 400-kilometer charge in just 10 minutes. The technology will hit the market by 2023, Shen said.