China's migrating elephant herd heads southeast
Xinhua | Updated: 2021-06-29 10:06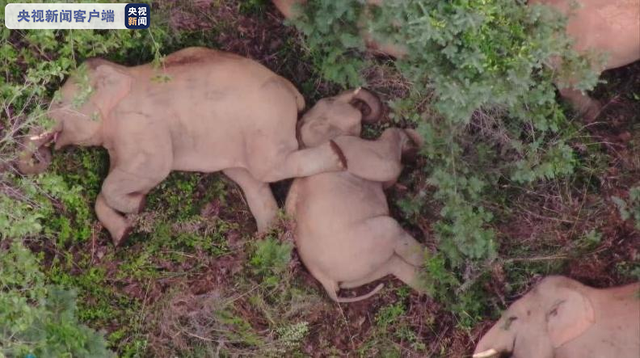 KUNMING -- The herd of 14 wandering wild Asian elephants in Southwest China's Yunnan province have headed about 4.6 km southeast, said authorities on Monday.
The movement took place from 5 pm Sunday to the same time on Monday, with the herd remaining within the forest area of Tadian township under the city of Yuxi, where it had been the previous day, the headquarters in charge of monitoring the elephants' migration said.
A male elephant, which strayed 23 days ago, is now 52 km away from the herd in the forest area of Hongta district in the city of Yuxi.
The animals have traveled about 500 km north from their forest home in southern Yunnan's Xishuangbanna Dai autonomous prefecture. The herd had migrated southward for five consecutive days before moving slightly to the northeast on Sunday.
Thunderstorms and foggy weather have made it difficult for drones to monitor and track the elephants.
The headquarters has organized experts to conduct on-the-spot investigations and formulate plans on assisting the animals' migration. More drones and personnel have been dispatched to the Hongta district of Yuxi to monitor the movement of the elephants, according to the headquarters.
Precautions have been put in place to ensure the safety of both the animals and residents for over a month. On Monday, 209 people were mobilized, 1,573 residents evacuated, and one tonne of food and 3.6 kg of salt were provided to the elephants.
Asian elephants are primarily found in Yunnan and are under A-level state protection in China. Thanks to enhanced protection efforts, the wild-elephant population in the province has grown to about 300, up from 193 in the 1980s.