Amid chip woes, Nexperia ups Newport stake to 100%
By HE WEI in Shanghai | China Daily | Updated: 2021-07-07 09:47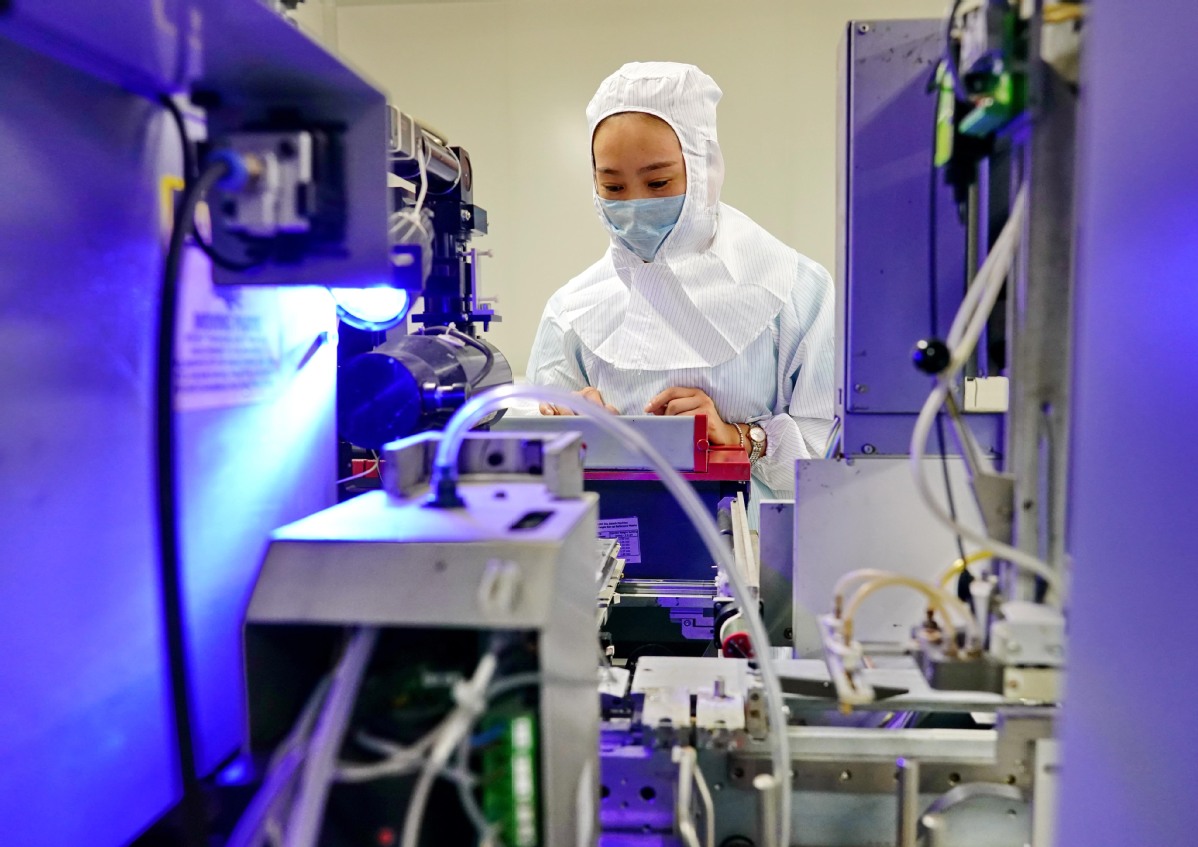 Amid an unmitigated global chip shortage, Nexperia, a semiconductor firm owned by China's Wingtech Technology Co Ltd, confirmed on Monday its outright acquisition of the UK-based chipmaker Newport Wafer Fab, in which it has been the second-largest shareholder since 2019.
The acquisition of the 100 percent stake assumes significance as the global technology, automotive and appliance markets, including those in China, are facing a severe shortage of semiconductors.
Both Nexperia and Wingtech confirmed the buyout on their respective websites, saying Newport will help beef up their production and meet soaring chip demand.
Chipmaker Wingtech's notice to the Shanghai bourse, however, did not disclose financial details of the deal. Newport has a net loss of 18.61 billion pounds ($25.8 million) and negative net assets of 5.18 million pounds, Wingtech said.
If a company's total assets are less than total liabilities, the business is deemed to have negative net assets.
But, Nexperia said it is "very excited" to have Newport "as part of our global manufacturing footprint".
Achim Kempe, Nexperia's chief operations officer, said in a news release, "Nexperia has ambitious growth plans and adding Newport supports the growing global demand for semiconductors."
Nexperia has been a customer of the foundry services offered by Newport. The Newport site complements Nexperia's other European manufacturing operations in Manchester in England, the United Kingdom, and Hamburg in Germany.
Once the deal is formalized, Newport will be renamed Nexperia Newport, Wingtech said.
Newport is capable of making power and compound semiconductor integrated circuits on 200mm-diameter wafers. It boasts a capacity of 35,000 wafers a month. Its products can be used in power supply applications for the automotive industry, which is particularly hit hard by the chip shortage.
The severity of the global chip shortage has gone up a notch since COVID-19 broke out. From Samsung to LG, major technology companies admitted the shortage is damping television and appliance production.
According to a Bain & Co analysis, semiconductor companies have few quick-fix options at their disposal, making it increasingly likely that the shortage will extend into 2022.
Peter Hanbury, a partner at Bain, said, "For example, semiconductor manufacturers can increase their factory utilization to maximum capacity in order to boost output by a few percentage points, but then production throughput times will suffer, increasing from a typical three months to up to six months."
The automotive industry is perhaps more vulnerable than consumer electronics due to weaker bargaining power and inventory, Hanbury noted.
The sector alone is likely to lose $6 billion this year due to the chip woes, he said.
Some analysts said they are more cautious about Nexperia's takeover of Newport.
Han Feng, an analyst with Chinese media outlet Wallstreet CN, said that even if Newport's capacity is expanded based on investment plans announced earlier this year, it will only be put on a par with production capacity of peers such as China Resources Microelectronics.
"The silicon chips produced by Nexperia should require stringent authentication. It normally takes at least two years for the products to be delivered to clients," said Han.
"And one should not ignore Newport's outstanding debts that shall be paid off following the sale, which could keep profitability to the parent company up in the air," Han added.
Earlier this year, Nexperia announced it will invest 12 billion yuan ($1.85 billion) to build a new 300mm (12-inch) power semiconductor wafer fab in Lingang, Shanghai.
The proposed factory is expected to start operations in 2022 with an estimated annual output of 400,000 wafers.