Driverless vehicles steer deliveries forward
By CHENG YU | CHINA DAILY | Updated: 2021-07-14 10:04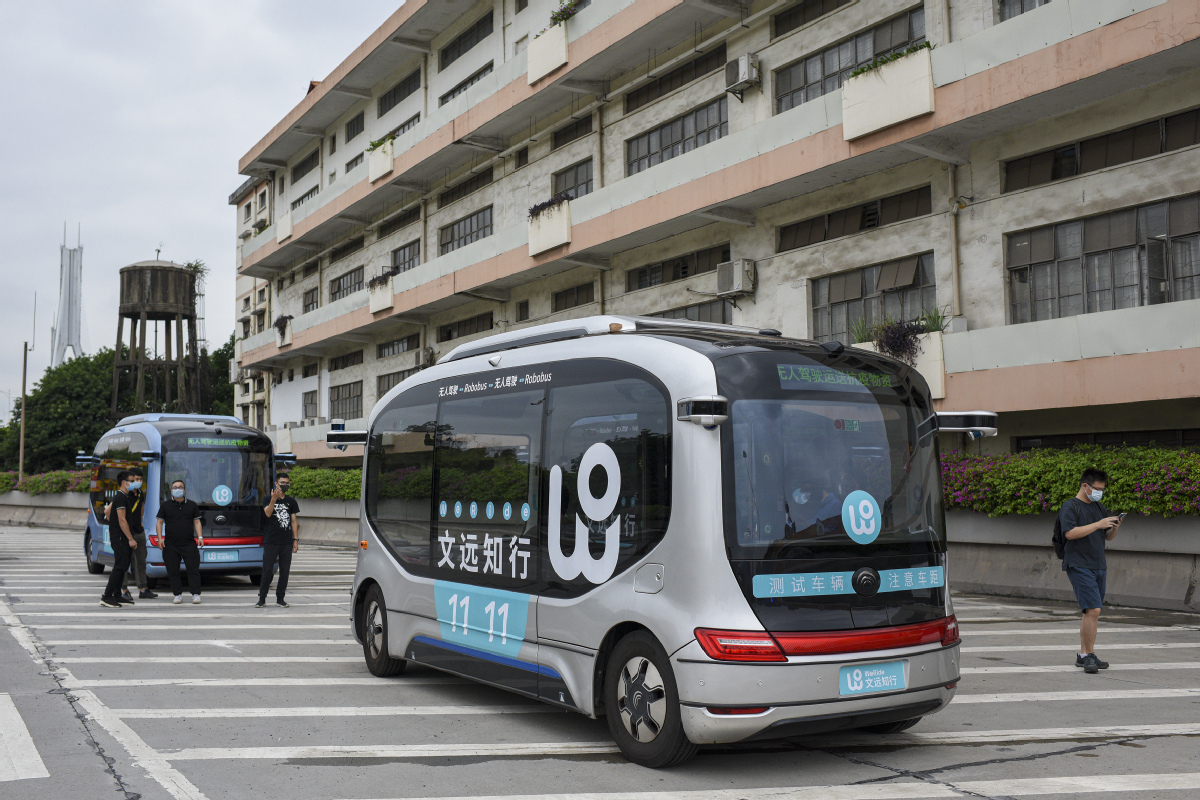 Commercialization of autonomous driving to generate huge value in sectors like food take-away, retail pharmaceuticals
As a minibus approached Hedong Bridge, Guangzhou, South China's Guangdong province, it slowed to a stop before picking up medical supplies and living necessities bound for the quarantined district of Liwan amid the latest COVID-19 outbreak in the city.
When the vehicle arrived at its designated pickup spot, workers were astonished to find it had no driver, steering wheel, accelerator or brake pedal.
"Unmanned deliveries have become effective supplements to ensuring supplies during the outbreak, and to some extent, are a major force in delivering necessities. They also help with diversified needs for food, milk powder, medicines and other urgently needed materials in the enclosed areas in a timely manner," said Gao Yuyue, deputy secretary-general of the Guangzhou government.
Developed by Chinese autonomous driving firm WeRide, the minibus is among dozens of unmanned vehicles from over 10 tech firms-including Pony.ai and Meituan-that were provided by companies to carry out unmanned deliveries during the anti-contagion battle in Guangzhou recently.
Gao said that more than 20 unmanned vehicles, including passenger cars, small logistics vehicles and heavy trucks, as well as 30 logistics vehicles, had delivered a total of 265 metric tons of necessities by the end of June since the recent outbreak.
Behind the unmanned deliveries is also broader momentum from Chinese companies in revving up autonomous driving commercialization, especially after recent increases in driverless applications.
"While players such as (United States-based) Waymo are halting their robotaxi pilots during the pandemic, over 30 companies are deploying autonomous delivery solutions in China," said Bill Russo, founder of Shanghai-based consultancy Automobility.
"A more dynamic system built upon autonomous and robotics technologies will allow economies and businesses to adapt to the rapidly transforming world and the new challenges it brings, such as more flexible and less centralized manufacturing," Russo said.
Zhong Hua, senior vice-president of engineering of WeRide, said: "Compared with manpower, unmanned deliveries avoid human contact and potential infection risks. Our self-driving vehicles can also work continuously in all-weather conditions to respond to urgent needs."
The first batch of autonomous firms entering into the quarantined area are WeRide's latest unmanned minibuses and robotaxis that have joined the battle against the outbreak. The Guangzhou-based company only needs two hours to finish collecting data from quarantined districts to get acquainted with the situation.
Many industry insiders believe this is the first time in the world that an autonomous driving vehicle has collected data independently without any human intervention, which demonstrates the mature technologies and application capabilities of current self-driving vehicles.
Zhong said the driverless minibuses, co-developed by Yutong Group, are able to run at an average speed of 40 kilometers per hour with a maximum load capacity of 1.2 tons.