Looks can be deceiving
By Zhang Kun | CHINA DAILY | Updated: 2021-07-16 07:47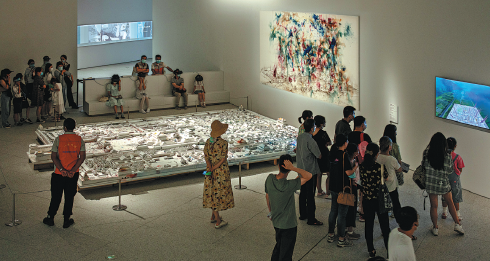 Visitors to Cai Guoqiang's exhibition Odyssey and Homecoming at the Museum of Art Pudong in Shanghai. CHINA DAILY
Since its opening on July 8, the Museum of Art Pudong has been packed to capacity every day. Designed by renowned French architecture firm Ateliers Jean Nouvel, MAP has a daily crowd limit of 4,000.
Long lines can be found outside the museum every morning before the official opening at 10 am. Due to the overwhelming summer heat, the museum staff have at times even opened the gates earlier to offer some reprieve to the elderly and visitors with special need.
Located next to the Oriental Pearl Tower in the heart of Lujiazui, the 13,000-square-meter museum has become a new landmark in Shanghai's cultural scene. Its inaugural exhibitions have also been popular among museumgoers.
In a recent interview with Shanghai-based Wenhui Daily, French architect Jean Nouvel said that he decided the new museum should "belong" to both the Lujiazui area and the Huangpu River rather than compete for prominence in the urban skyline as there are already several notable skyscrapers in the areas.