Light entertainment beckons for night owls
By Xu Lin and Liu Kun | China Daily | Updated: 2021-07-20 07:30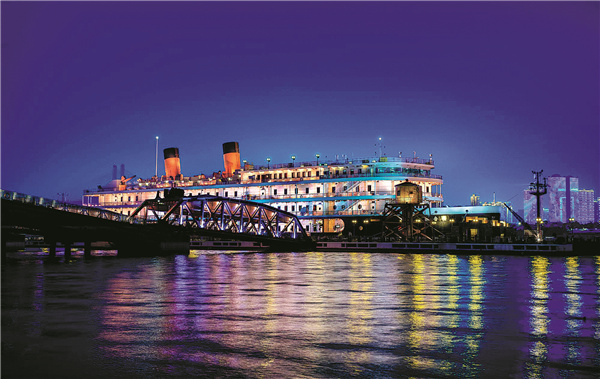 Stepping aboard the Zhiyin for a nighttime cruise almost makes time travel to China in the early 1930s possible.
While strolling the decks of the three-floor steamer, passengers can freely explore and watch any number of short scenes being played out by professional performers dressed up in period costume.
They're remarkable in both voice and expression, eager to pour out their life stories, expose love-hate relationships or boast about patriotic deeds. You can listen to their moving stories in one of the ship's cabins, or watch a passionate dance in an old-fashioned bar.
Some are historical figures such as bridge engineer Mao Yisheng (1896-1989) and composer Xian Xinghai (1905-45).
Before boarding, passengers, too, can don period clothing to immerse themselves more fully into the experience.
Since debuting in May 2017, the innovative, immersive show is held from Tuesday to Sunday in Wuhan, Central China's Hubei province, along the Yangtze River.
It's a popular evening activity among both group and independent travelers who want to enjoy something a little different after a day's sightseeing.
"The Zhiyin cruise ship vividly presents the culture of Wuhan, and its continuous success has contributed to the city's nighttime tourism," says Kang Haijun, general manager of Wuhan Chaozong Culture& Tourism Co, Ltd, which operates the Zhiyin. "The show has a regular upgrade every four months to cater to the demands of tourists."
Like the Zhiyin, the development of China's nighttime tourism in recent years has provided travelers with colorful activities and aroused their interest in further exploration.
Trip.com Group's recent report about China's nighttime tourism for the first half of 2021 revealed that its users had experienced nighttime activities 1.3 times on average, spending 187 yuan ($29).Sales of nighttime tickets for scenic areas and other tourism businesses increased by 106 percent over the same period in 2019.