US-Russia talks build momentum
By REN QI in Moscow | China Daily Global | Updated: 2021-07-30 09:39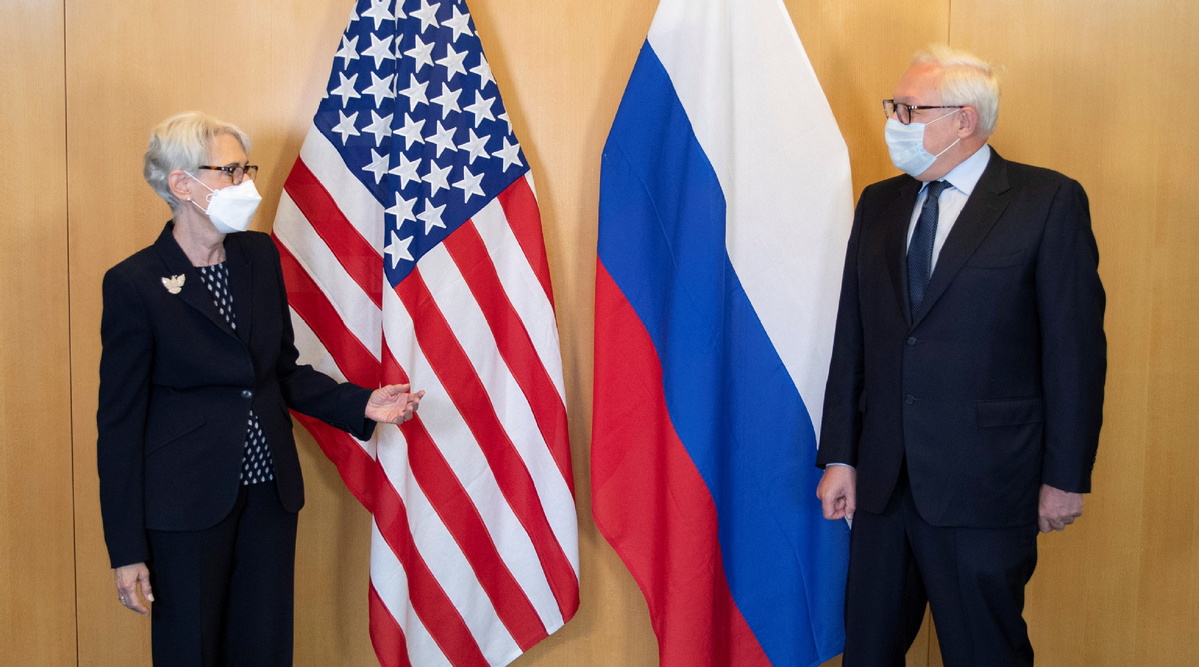 Progress declared in 'substantive' discussions headed by arms control
The United States and Russia said on Wednesday that they had businesslike and substantive talks in Geneva in their second effort in many months to bring stability to a fraught relationship.
The closed-door talks were a follow-up to last month's summit, also held in the Swiss diplomatic hub, between Russian President Vladimir Putin and US President Joe Biden, who both described their first encounter as productive despite soaring tensions on multiple fronts.
Senior Russian and US officials restarted talks on arms control for the arsenals of the world's largest nuclear weapons powers, with cybersecurity issues also covered. Russian Deputy Foreign Minister Sergei Ryabkov and US Deputy Secretary of State Wendy Sherman headed their delegations.
The two diplomats spoke mostly about arms control, one area where Biden has shown a willingness to engage with Russia, Agence France-Presse reported.
"On the mood of the meeting, I would call it very down-to-earth, very businesslike, very focused,"Ryabkov told reporters, as quoted by Russian news agencies.
Russian state TASS news agency quoted Ryabkov as saying that he was satisfied with the consultations and that the US showed readiness for a constructive dialogue.
US State Department spokesman Ned Price said the discussions were "professional and substantive".
"We remain committed, even in times of tension, to ensuring predictability and reducing the risk of armed conflict and threat of nuclear war," he said in a statement.
US officials would brief NATO allies on the discussions during a visit to Brussels on Thursday, Price said.
The exact scope of the one-day talks was not made public but analysts expected it to be the start of a process.
Andrey Baklitskiy, a research fellow at the Center for Advanced American Studies at the Moscow State Institute of International Relations, said: "It will be almost a year since the last meeting in this format. We are starting with a new US administration, starting pretty much from scratch. It's just meet-and-greet and try to establish some basic understandings."
Biden and Putin agreed in June to launch a dialogue on strategic stability to "lay the groundwork for future arms control and risk-reduction measures". The two countries hold nearly 90 percent of the world's nuclear weapons.
After informal consultations aimed at "determining topics for expert working groups" in the next round, the two sides agreed to reconvene in late September, Price said in the statement.
Common ground
The decision to meet again showed that both sides understand the need to resolve arms control disputes, Reuters quoted a senior US State Department official as saying, that has seen an end to several Cold War-era treaties, including one that limited intermediate-range missiles.
"We know we have a responsibility as the largest nuclear weapons states to find a way to improve strategic stability to deal with a deteriorating arms control architecture," the US official said on condition of anonymity.
But Wednesday's meeting was held as both sides expressed new animosity following derogatory comments from Biden about Russia and a retort from the Kremlin.
Biden said Putin was in "real trouble" because the Russian economy has "nuclear weapons and oil wells and nothing else" when speaking to members of the US intelligence community on Tuesday.
In response, Kremlin spokesman Dmitry Peskov said Biden's remarks were "inherently incorrect" and based on "erroneous knowledge and understanding of modern Russia".
Agencies contributed to this story.