Livelihoods drying up on Africa farms
By EDITH MUTETHYA in Nairobi, Kenya | China Daily | Updated: 2021-08-03 09:15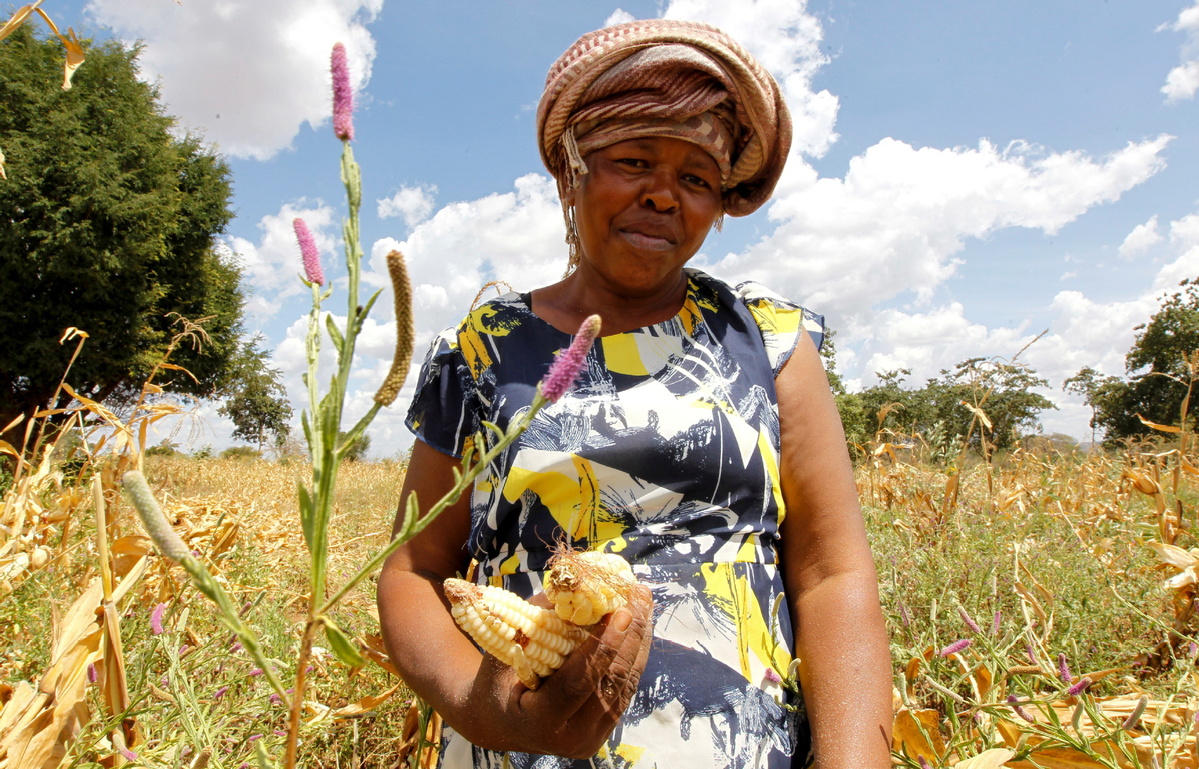 Shrinking harvests attest to growing struggle on the land as climate warms
For Rhoda Munee, a smallholder farmer in eastern Kenya, the days when the land was bountiful are a distant memory. Decades ago, farmers were assured of bumper harvests at both ends of the rainy season.
"I used to harvest 20 sacks of cereals and almost 8 sacks of legumes. Today, it's hard to harvest five sacks of combined cereals and legumes, because of the unfavorable weather patterns," the 70-year-old mother of 10 said.
Kenyans speak of the period from March to May as the "long rains", with "short rains" from October to December. But old certainties are being challenged.
Munee, who works the land in Machakos county, said that in addition to erratic weather conditions, agricultural production has further been hampered by a dramatic increase in emergent diseases and invasive species.
"Rain-fed agriculture has no future. Farmers will have to invest in irrigation," she said. "Innovation will also be key on pests and plant diseases management to reduce health complications linked to extensive use of chemicals."
The problems voiced by Munee resonate with Elizabeth Makulu, who was born and raised in a western part of Kenya. She likewise is troubled by the volatile weather patterns.
"Unlike three decades ago when long-rain onset was always in March or April, currently, the rains are delayed," she said. "This compels farmers in the region to have one planting season instead of two. Mushrooms that used to sprout everywhere after the rainfalls are now history."
Makulu said fall armyworms have infested the region and hit maize production, the main staple in Kenya.
Climate change impacts are part of the reason Kenya has moved from being a maize exporter in 1990s to maize importer today.
Elsewhere in East Africa, conflict and the growing climate crisis are pushing herders in Somalia to abandon their way of life, the International Committee of the Red Cross said in a statement on Thursday. Livestock farming is the main economic activity in the country.
Ahmed Mohamud, a herder who spoke to the organization, said he has lost 50 of his 70 camels while other herders have lost all their livestock.
"There's no food. The ground is dry. This country is known for its refugees," Mohamud said. "If you lose your animals, you sign up as a refugee, that's what we say. So, there are many people who lost their animals and signed up as refugees."
Mohamed Gure, another herder, said the drought has hit livestock hard, with the situation having been worsened by desert locust infestation that destroyed pastures.
Gure said lack of pasture killed their cattle, leaving them with 50 and as fate would have it, floods killed 30 of the remaining livestock.
The Red Cross said more than 30 climate-related hazards, including droughts and floods, have hit Somalia since 1990-a threefold increase compared to similar events between 1970 and 1990.
"The recurrent nature of such events makes recovery difficult for communities. These extreme weather events due to global warming, climate change are droughts, floods and cyclones. All these factors now are more frequent, first, and are worse in terms of intensity," the organization said.
Devastating impact
Many across Africa-just like Munee, Makulu, Mohamud and Gure-are bearing the devastating impacts of climate change. The crisis is pushing millions below the poverty line, estimates indicate.
Desert locust infestation linked to climate change destroyed hundreds of thousands of hectares of crop and pastureland in a swathe of eastern Africa between 2019 and early 2021. The countries affected are Ethiopia, Somalia, Kenya, Eritrea, Uganda, Sudan, Djibouti and South Sudan.
Madagascar is experiencing increased food shortages due to extreme weather conditions that have intensified due to climate change.
The country's southern region, is suffering from one of the worst droughts in more than 40 years, leaving many on the edge of starvation.
A report by Food and Agriculture Organization and the World Food Programme said a sustained deterioration of acute food insecurity in the region is expected to push 14,000 people into catastrophic acute food insecurity by September, with the figure expected to double by year end.