1 billion reasons to share vaccines
By ANGUS MCNEICE in London | China Daily | Updated: 2021-08-23 09:45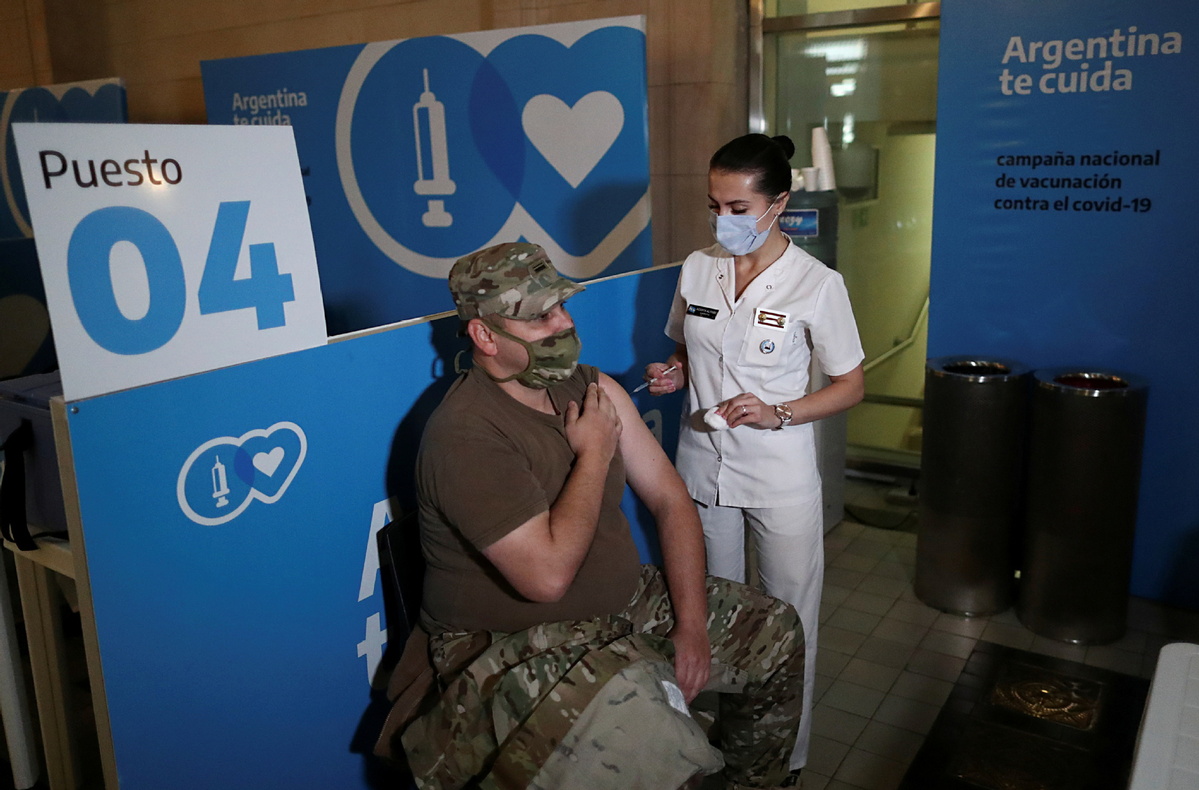 G7's stockpile on track to reach this mark as poorer countries are left adrift
The G7 group of nations will have stockpiled almost 1 billion spare COVID-19 vaccines by the end of this year, research shows.
Most of these rich countries have already fully vaccinated most of their people, and some are gearing up to give them booster shots. But just 1 percent of people in low-income countries have received a first shot.
The World Health Organization has labeled vaccine inequality a "catastrophic moral failure". Shocking, perhaps, but not surprising. This slow-moving train wreck has been easy to spot since last year, when rich countries responded to the pandemic by giving with one hand and taking with the other.
Wealthy economies and benefactors had pledged billions of dollars in COVID-19 aid by mid-2020, promising to vaccinate at least a fifth of the developing world by the end of this year through COVAX and other vaccine-donation facilities.
Concurrently, powerful governments were making this goal an impossibility. The United Kingdom, the United States, Japan and the European Union pumped tens of billions of dollars into deals with vaccine makers by the summer of 2020, when the US alone had committed $11 billion to the manufacture and stockpiling of hundreds of millions of doses, according to the World Economic Forum.
One year ago, WHO Director-General Tedros Adhanom Ghebreyesus urged rich countries to avoid COVID-19"vaccine nationalism".
Recent research from the health policy nonprofit the Kaiser Family Foundation shows that 51 percent of people have received at least one dose in high-income countries, against the 1 percent of people with this coverage in low-income countries.
COVAX's long-standing target has been to vaccinate 20 percent of the populations of partner nations by the end of this year. Many observers agree it is unlikely to reach 10 percent.
Meanwhile, G7 nations are on course to have stockpiled 1.72 billion vaccine doses by the end of this year, according to data from the science consultancy Airfinity. About 43 percent of these jabs have been promised to COVAX, leaving G7 nations with a surplus approaching 1 billion vaccines by the end of this year. Put another way, after COVAX donations, the G7 dose surplus will be larger than its combined population, the majority of which is already double vaccinated.
"Rich nations have presided over a system of vaccine apartheid. There's really no other way to look at it," Nick Dearden, director of campaign group Global Justice Now, told China Daily.
Beyond the rich countries buying up supply, Dearden said, vaccine makers have stood in the way of the Coronavirus Treatment Acceleration Program, a vaccine technology and intellectual property sharing mechanism.
"It could have allowed any factory that was able to safely produce vaccines to come and learn how to produce them," Dearden said.
Falling short of targets
Analysis from The Associated Press shows that large economies, with the exception of China, are falling well short of vaccine delivery targets for this year.
So far China has delivered 770 million doses, according to the analysis, which draws data from the WHO and Airfinity. This is more than the total delivered doses of the major other contributors combined.
COVAX has delivered 208 million of 1.9 billion promised doses, the US has managed 111 million of 280 million, the EU 62.1 million of 200 million, and the UK just 4.7 million of 30 million, according to the AP.
Dearden said the addition of doses from Chinese vaccine makers Sinovac Biotech and Sinopharm to the COVAX portfolio is "very significant". Last month, the drugmakers agreed to supply the program with more than half a billion doses after both formulations gained WHO approval.
"Alongside AstraZeneca, these drugs are very important in global vaccination-unlike say Pfizer and Moderna which are really rich country vaccines now," Dearden said.
But hope that vaccine inequality will ease when rollouts in rich countries approach total coverage is jeopardized by the booster campaigns.
WHO Chief Scientist Soumya Swaminathan said on Thursday that "the data does not indicate that boosters are needed", and that rich countries should instead share these vaccines with the world.
Michael Sheldrick, co-founder of the anti-poverty group Global Citizen, told China Daily there is "no scientific consensus on the need for booster shots this year".