Life after the cheering crowd
By Xu Lin | China Daily | Updated: 2021-08-25 07:39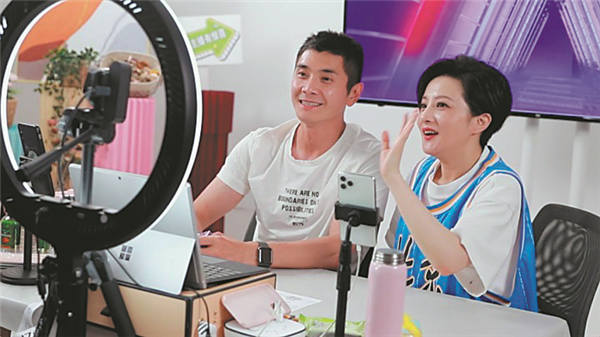 Former Olympian attempts to make his mark in a whole new online arena, Xu Lin reports.
Retired gymnast Xing Aowei, 39, carefully places a cosmetic mask on his face in front of a mirror. It's a scene from a short video interview about him that has gone viral on the internet. As an amateur livestream host-serving as a top salesperson on online shopping platforms-he is promoting masks and sharing his skin care secrets.
In 2000, Xing, together with his five teammates, won gold in the men's artistic gymnastics team final at the Sydney Olympics. It was the first Olympic gold medal that China won in the men's gymnastics team event.
People online have been actively discussing "the former Olympic champion who sells masks via livestreams after retirement", and views of the topic garnered more than 66.10 million hits on micro-blogging platform Sina Weibo.
According to the China Internet Network Information Center, the number of users watching livestreaming e-commerce shows in the country had been more than 388 million as of December 2020, accounting for nearly 40 percent of the entire online population.
"I like to challenge myself and experience something new," says Xing, who only started promoting and selling products via livestream in June." Livestreaming for four or five hours continuously is tiring, but it's also great fun.
"My life philosophy is simple-keep a healthy mind and try your best to do things that you like. That's what I'm doing right now," he says.
His life after retirement from competitive sport has been active and colorful. He has numerous hobbies, ranging from diving, climbing and racing, to global travel. He has left his footprints in remote places such as the Antarctic and Arctic regions. On his travels he often visits museums and landmarks.
He participates in reality shows and commercial events, for example, to promote gymnastics, and takes part in public-service activities. Now, his interest has shifted to being a livestream host.
"It's a part-time job. I've not only improved my eloquence, but also learned about various, well-designed products and developed new skills. I also enjoy working with my energetic team," he says.
He and his team choose items to promote carefully, ensuring that they are top quality, and he uses them before undertaking any promotional activity. He welcomes fans to ask questions about his expertise during livestreams, whether it pertains to gymnastics, fitness or even Chinese history.
He mainly promotes products related to fitness, such as low-calorie snacks and portable bodybuilding equipment, as he often uses these products in his daily life.
There are similarities between gymnastics and livestreaming. There is a burden of responsibility in both, but in a contest, there is much more pressure, and if he, as an athlete, made a mistake, he would rarely get a second chance.