Tang Dynasty temple reveals ancient treasures
By Yuan Shenggao | China Daily | Updated: 2021-08-27 08:04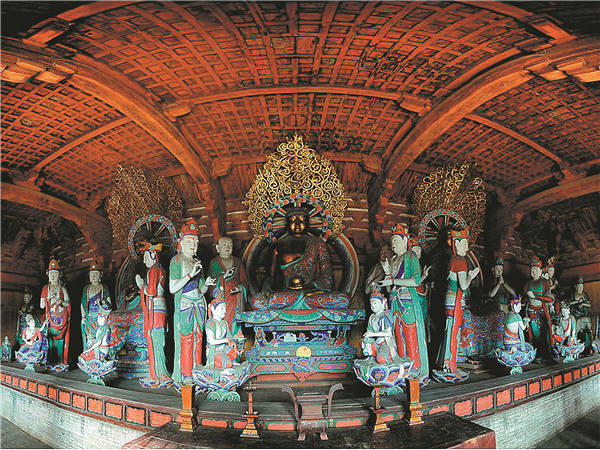 The Wutai Mountains in Wutai county are a renowned Buddhist holy land and top tourist destination in Shanxi province. They are said to be the venue where Bodhisattva Manjusri preached his teachings and are home to a great number of Buddhist temples.
One of the most ancient temples that is still well preserved to this day in the region, is Foguang Temple, some 30 kilometers from the county seat of Wutai.
This temple is not only one of the oldest in the region, but also one of the oldest temples found in China, according to researchers.
Inscriptions found in the temple show that it was originally built in the Northern Wei Dynasty (386-534) and was rebuilt in the late Tang Dynasty (618-907).
The preserved Grand Eastern Hall, the main hall of the temple, was built in 857, and has a history that rivals Nanchan Temple, which was built in 782 and is also in Wutai county.
Foguang Temple's wooden structure, statues, murals and inscriptions are regarded as the four treasures of Tang Dynasty Buddhist arts.
However, if it were not for a discovery by renowned architecture researchers Liang Sicheng and Lin Huiyin, who were also a couple, in the 1930s, the historical and cultural value of the temple could still be unknown to the world.
Before the 1930s, many researchers, especially those in Japan, asserted that there were no preserved Tang Dynasty wooden structures in China.
When examining photographs of the murals of Mogao Grottoes in Gansu province, Liang and Lin noticed there were complete maps of temples in Wutai including Foguang.
The couple then started a search for several months for Foguang Temple and they finally found it in June 1937.
Their intensive research, including studying the architectural style, structural details and inscriptions, proved that the Grand Eastern Hall in Foguang is the largest among the very few preserved Tang Dynasty structures in China.
In one report written by Liang, the researcher said he was shocked by the great number of Tang Dynasty statues in the hall.
The 34 statues, including the Three Buddhas of Past, Present and Future, two Bodhisattvas and their followers, constitute China's largest group of colored statues created in the Tang Dynasty.
Decades after Liang and Lin's discovery, there are still new findings to prove the temple's long history.
In the 1980s, archaeologists discovered Tang Dynasty tourists' inscriptions on the rear of the wooden gate of the grand hall, showing even the gate was more than 1,100 years old.
Despite its great historical significance, the temple in the remote area of Wutai is still not commonly frequented by tourists nowadays.
"This is a quiet holy land for true cultural enthusiasts," said Li Rui, a photographer. "Its serenity allows us to have a close and careful study of a grand Tang Dynasty architectural masterpiece and examine every detail of what is known as 'the light of Asian Buddhism'."