The doctor who defeated leprosy
By Wang Ru | China Daily | Updated: 2021-08-30 08:07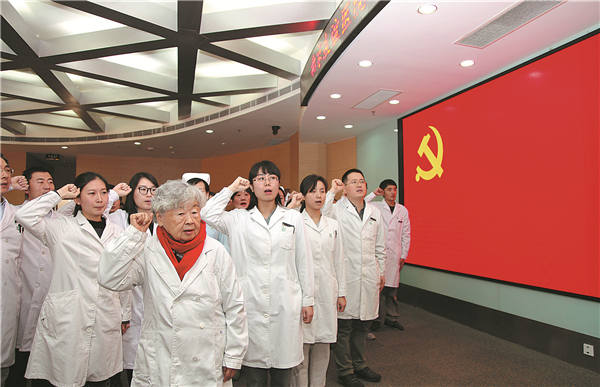 Centenarian made huge sacrifices as she devoted her life to treating those once shunned by society, Wang Ru reports.
In 1964, when Li Huanying went to Hong Kong to meet her parents for the first time in six years, they tried to persuade her to go to the United States with them instead of staying in China on her own. Six years before that meeting, the woman, then 37, concealed from her parents and siblings who had immigrated to the US, the fact that she had given up her well-paid job as an expert in contagious diseases at the World Health Organization and come to China.
She rejected her parents' advice. It was the last time that she saw them as they passed away in the US while she was working in China.
"I was born in Beijing, so I cannot forget my roots. It was just the proper time when I came back in my 30s, since I would get accustomed to my life in China. I wanted to spend the best of my years in my motherland," recalled Li in a CCTV-13 interview program One on One in 2019.
Decades after she came back to China, Li became a renowned expert in the prevention and treatment of leprosy. She celebrated her 100th birthday a few days ago, and was awarded the title of "role model of the times" by the Publicity Department of the Communist Party of China Central Committee.
Born into an intellectual family in 1921, Li was well-educated and admitted to Tongji University as a medical major in 1939. She pursued her master's degree at Johns Hopkins University in the US after enrolling in 1946, and was recommended by her tutor to work at the WHO after graduation in 1950.
Over the next several years, she worked in Indonesia and Myanmar on the prevention and control of contagious diseases, before she came back to China in 1958, and continued her research in the field.
In 1978, Li began work as a researcher specializing in leprosy with the newly established Beijing Tropical Medicine Research Institute affiliated with Beijing Friendship Hospital. The WHO had just developed the multidrug therapy. This entails using three medicines together in a relatively short time to cure leprosy, but due to lack of clinical tests, many experts did not believe in its ability to help patients. Li thought the therapy applicable and pioneered its use in China.
Leprosy is a long-term infection caused by a type of bacteria. Infection can lead to damage to the nerves, which results in disfigurement and disability. The disease has a long history, and since it is infectious without effective medicine, people who had it were often isolated by society in the cruelest manner before 1949.