Science with a comic touch
By Xu Lin | China Daily | Updated: 2021-08-31 09:15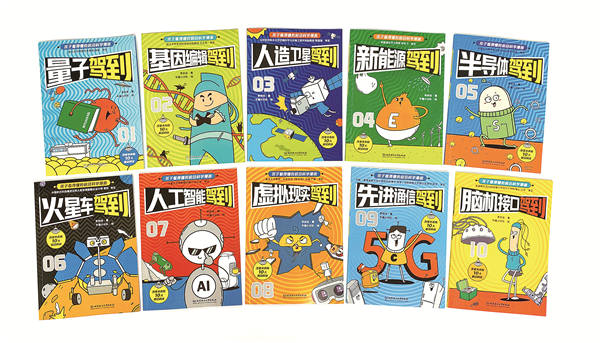 Fun approach to get young readers interested in subject is proving to be a successful formula, Xu Lin reports.
Wang Qiran, 6, is interested in some profound topics, which, to put it mildly, are not usual for someone of his tender years. These topics include gene editing and brain-computer interface.
It's because he's reading Hi, Tech-Frontier Science Comics for Children, a set of 10 booklets that introduce cutting-edge science in 10 fields, ranging from quantum physics and virtual reality to artificial intelligence.
"He loves the comics very much. The drawings use examples in daily life to explain complicated scientific issues. Exposure to science education in childhood is important-it will broaden one's horizon and arouse one's interest in science," says his mother Ying Shanshan, a material engineer and postdoctoral fellow in Hangzhou, Zhejiang province.
She often takes her son to science and technology museums and shows him short videos that popularize science.
Published by Beijing Institute of Technology Press, the collection attracting the boy is a new work by Li Jianlong and illustrating team Niu Mao Xiao Fen Dui.
"I hope that young readers will be interested in science and engineering subjects that they will learn in their later studies," says Li, 36, from Hangzhou, who has a doctorate in theoretical physics.
"When they learn physics and chemistry in junior middle school, they will know that these are foundational subjects for science knowledge that they read in the booklets. They may think that learning science can also be fun."
With more than 1.48 million followers on Sina Weibo, he has dedicated himself to promoting scientific knowledge via comics that are easy to understand.
He's responsible for ideas and content, from selecting a topic, reading related literature, to scriptwriting. He describes his thoughts about specific drawings, including details, to illustrators who then work on them.
He intends to include in the collection some forward-looking technologies, before they are widely applied in people's life, and important technologies that have made breakthroughs, like miniaturized artificial satellites for commercial purposes.