CPC's 100-year history key focus at book event
By FANG AIQING and YANG YANG | CHINA DAILY | Updated: 2021-09-15 07:52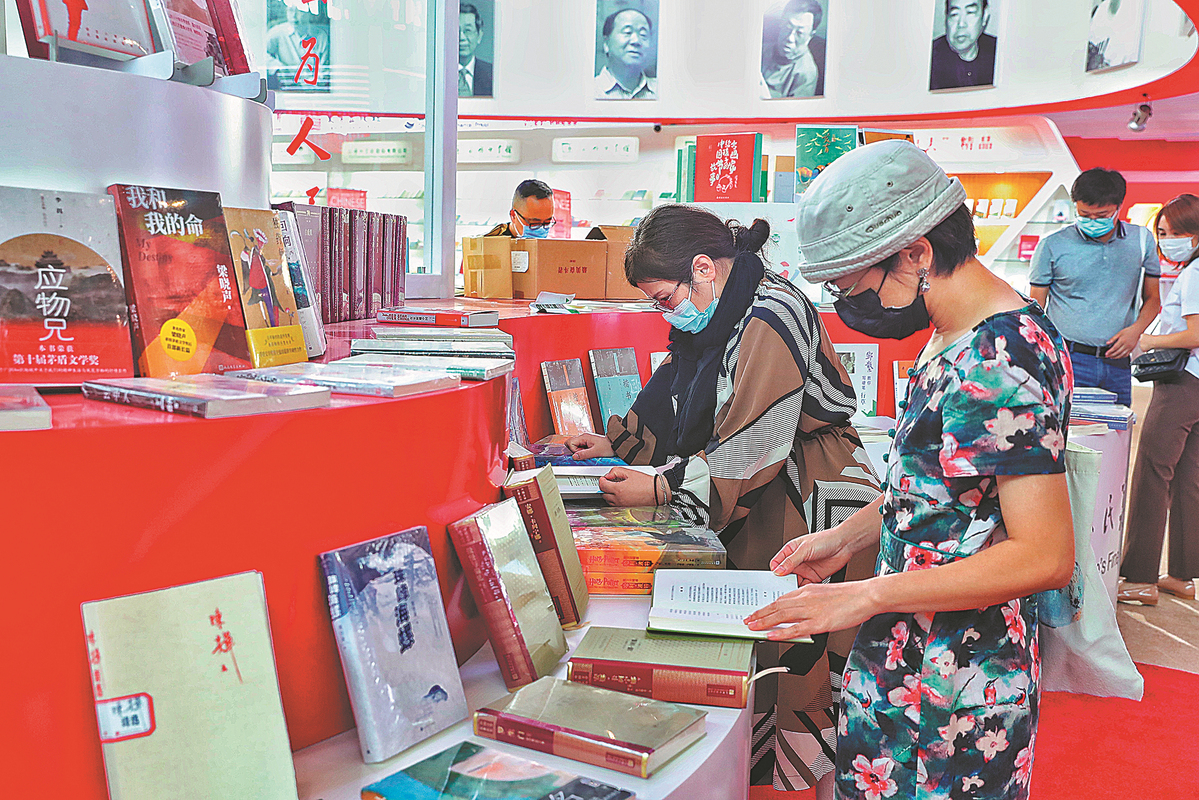 Books explaining the nation's progress and others celebrating the centenary of the founding of the Communist Party of China are being featured prominently at the 28th Beijing International Book Fair.
The five-day fair, which kicked off on Tuesday, has attracted 2,200 exhibitors, including 600 who are participating via online platforms.
A total of 300,000 publications are featured at the fair, including those that tell the story of China's transformation to a modern socialist society.
At the fair, Chinese publisher Commercial Press launched the English-language version of the China National Governance series, which was co-published with academic publisher Routledge from the London-based Taylor & Francis Group.
"It requires continuous efforts of generations to modernize China's system and capacity for governance. As a publisher, we want to contribute our part to the great rejuvenation of the Chinese nation and the promotion of communication among human beings," said Gu Qing, executive director of the Commercial Press.
At the book fair on Tuesday morning, Huang Kunming, a member of the Political Bureau of the CPC Central Committee and head of the Publicity Department of the CPC Central Committee, said Chinese publishing must continue to be guided by Xi Jinping Thought on Socialism with Chinese Characteristics for a New Era, using quality books to tell the world good stories about China and the CPC.
With more publications that fully represent Chinese characteristics, spirit and wisdom, publishers can contribute to presenting a reliable, admirable and respectable image of China, he said.
Part of the fair was an award ceremony on Tuesday. The 15th Special Book Award of China given by the National Press and Publication Administration, is the highest accolade for foreigners in publishing circles. Around 170 writers, translators and publishers from 60 countries and regions have won the award since 2005.
This year, the 15 winners from 14 countries included United States author Laurence Brahm, who has published more than 30 books on China over four decades, and David Ferguson, a translation and revision expert with the Beijing-based Foreign Languages Press.
Brahm's publications include An Incredible Journey: Reflections on Forty Years of China's Reform and Opening-up and China's Century: The Awakening of the Next Economic Powerhouse, which explains the transformation and progress in Chinese society over 40 years, applying a Sino-Western comparison perspective, and offering an example of how to explore a balanced model for future global governance.
Ferguson polished the first, second and third volumes of the English-language edition of Xi Jinping: The Governance of China.
Ferguson's work on the book helped contribute to a better understanding of Xi Jinping Thought on Socialism with Chinese Characteristics for a New Era and an objective image of the CPC in the international community.