Washington urged to stop harming relations
By ZHOU JIN | China Daily | Updated: 2021-09-15 11:14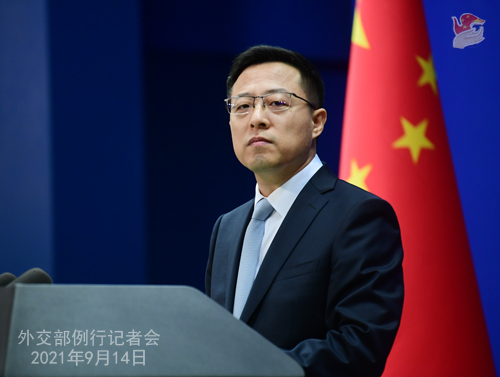 A growing number of people in the United States have realized that the so-called China Initiative is a tool to contain China, the Chinese Foreign Ministry said on Tuesday, urging Washington to stop interfering in normal bilateral cooperation in science, technology, and people-to-people exchanges.
Foreign Ministry spokesman Zhao Lijian made the remarks as a group of 177 Stanford University faculty members, in an open letter to US Attorney General Merrick Garland last week, requested that the US Department of Justice end its "China Initiative", which was launched in 2018 on so-called national security concerns.
They said in the letter that in most of the "China Initiative" cases involving academics, the alleged crime has nothing to do with scientific espionage or intellectual property theft, and that it is harming the research and technological competitiveness of the US and fueling biases that raise concerns about racial profiling.
"The 'China Initiative' is in essence a tool for a handful of anti-China politicians to abuse the concept of national security and go all out to contain and suppress China," Zhao told a daily news conference.
It not only has a severe impact on China-US relations, but also exacerbates racial discrimination in the US, severely harming Asian-American groups, Zhao said.
The letter came after more than 20 Asian-American groups in the US sent a joint letter to US President Joe Biden in August, urging the administration to stop the program.
The US media revealed that the so-called China Initiative unfairly placed targets first, and carried out investigations accordingly, Zhao said, adding that such acts, in total disregard of justice, will only result in wrongful convictions.
As of the end of March, none of these so-called compilation of typical China-related cases involved the theft of intellectual property or trade secrets, and the charges included fraud, misrepresentation and tax evasion, according to Zhao.
China urged the US to listen to the calls for justice from all sectors in the country and correct its wrongdoing of pushing forward the "China Initiative", he said.