Guochao, hanfu attracting attention from market-savvy labels
By HE WEI in Shanghai | China Daily | Updated: 2021-09-16 09:58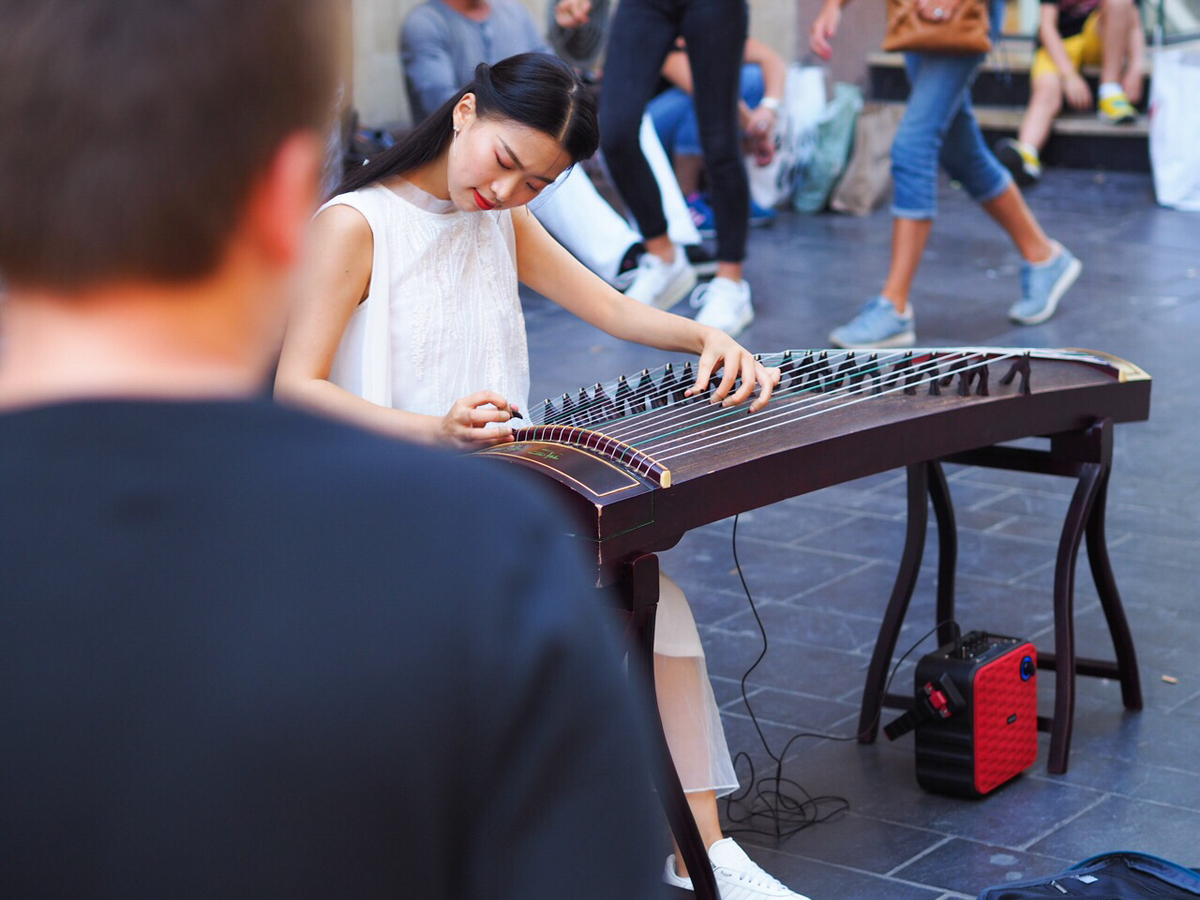 Peng Jingxuan, 26, did not expect her videos playing the guzheng on the streets of France to go viral.
A music major at the Bordeaux Montaigne University, Peng unexpectedly promoted the traditional Chinese musical instrument, similar to a plucked zither with between 21 and 25 strings, in the virtual sphere, both at home and abroad.
"When I first came to study in France four years ago, I found street performances to be very common forms of art expressions here, but few were playing Chinese musical instruments. That's what propelled me to take my guzheng to the streets in 2018 and give it a go," Peng said.
She typically spent two hours applying ancient Chinese-style makeup so as to match her well-tailored traditional Chinese hanfu apparel. A performance typically lasted one to two hours.
When Peng uploaded her performance clips to Bilibili, the short video platform popular among younger generations, she immediately drew a strong following. Today, her Bilibili channel has 1.5 million followers, with a number of videos having been played over 1 million times.
Of late, much discussion has revolved around guochao, or the rising China cultural tide. It typically refers to the sentiment that champions Chinese thoughts and elements, and manifests itself in Chinese consumers' newfound interest in national culture and a preference for homegrown brands.
Like Peng, Qianshan Jingyi, the avatar of a maker of traditional Chinese-style hair clasps, fans and makeup wear, is another advocate of guochao.
Passionate about traditional Chinese curios and longing for more flexibility at work, Qianshan said he quit his previous job as an art teacher and turned his hobby into a career.
"You will never get tired of this job because you can always create something new out of it," said Qianshan, who is actively promoting his art collections on QQ, another social media platform from Tencent popular among young Chinese.
He placed high value on the quality and originality of the works, some of which involve skills listed in the Intangible Cultural Heritage program. He is looking to take the collections up a notch and gain more recognition in this industry, and promote the traditional culture abroad, "just like Li Ziqi, who promoted traditional Chinese lifestyle on overseas social media platforms".