Fact sheet exposes US meddling in Hong Kong
Share - WeChat The Foreign Ministry on Friday issued a fact sheet revealing how the United States has interfered in Hong Kong affairs and supported anti-China and destabilizing forces, and said that China will make a firm and strong response.
The fact sheet listed 102 examples of US interference since the turbulence over the amendments to the Fugitive Offenders Ordinance in Hong Kong in 2019. Such measures taken by the US include enacting Hong Kong related acts, imposing sanctions, making unfounded charges, supporting anti-China and destabilizing forces, and colluding with some other countries to exert pressure.
The US attempt to play the Hong Kong card to undermine the prosperity and stability of the region and suppress China's development will not succeed, Foreign Ministry spokesman Zhao Lijian said on Friday.
Zhao called on Washington to respect China's sovereignty, abide by international law and the basic norms of international relations, and cease meddling in Hong Kong affairs, undermining the rule of law in Hong Kong or interfering in other internal affairs of China.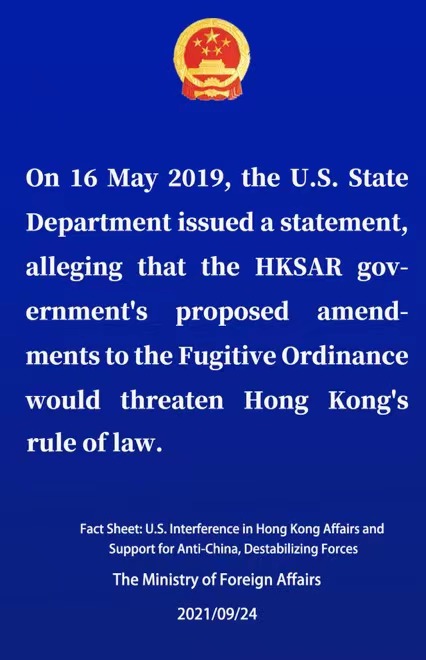 "The US must refrain from supporting and emboldening forces which are opposed to China and attempt to destabilize Hong Kong. Otherwise, it will only shoot itself in the foot and severely harm its own interests in Hong Kong," he said.
Through the fact sheet, people can clearly see the hypocrisy of the US in pursuing double standards on the issues of democracy, freedom, human rights and the rule of law, the Hong Kong and Macao Affairs Office of the State Council said in a statement on Friday.
The evidence also made it clear that the hegemonic nature of the US makes it lecture others, the office said.
No external interference can shake the Chinese government's firm determination to fully and faithfully implement and take forward the principle of "one country, two systems", the statement said.
Fact Sheet: US Interference in Hong Kong Affairs and Support for Anti-China, Destabilizing Forces