Disaster movie is supreme at box office
By Xu Fan | China Daily Global | Updated: 2021-09-27 07:38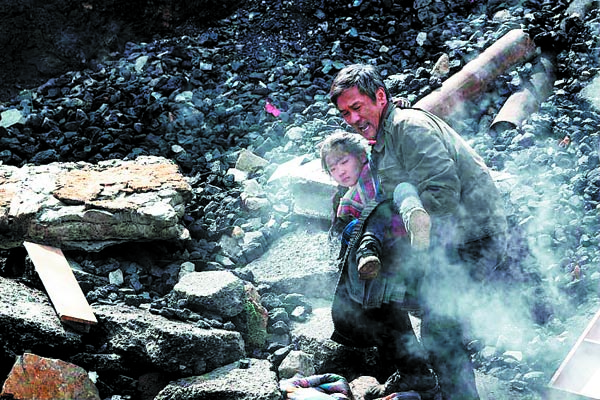 Aside from some scenes shot in a town in Zunyi, Guizhou, filming in the cave-which has several underground rivers-was conducted over 107 days earlier this year, with an average of more than 300 crew members and actors working on set. At the peak, there were more than 1,100 people in the cave.
"Sometimes we had to trek for a long time to get to the entrance of the cave, and then climb around one-and-a-half hours to reach the film sets. Even as a hiking enthusiast, eventually I was fed up with such an 'adventure'," recalls the director.
"It was my first time shooting a film in a cave. With limited light and other geological conditions, we encountered a lot of hurdles and challenges during filming. The good thing was that our cast was able to act more convincingly and realistically, thanks to the immersive environment," he adds.
When the movie rolls to the end, some clips of old documentaries are screened, featuring soldiers of the railway corps of the People's Liberation Army, a special subdivision which were devoted to the construction of New China's early railway network. Originally formed in 1945, the corps-with the number of its personnel exceeding 500,000 at one point-ended its service in 1984, and all the soldiers and officers were transferred to work at the Ministry of Railways.
Li reveals that his other impetus behind the film was to pay a tribute to those who risked their lives to construct railways in some of the most far-flung and geographically challenging areas in China.
Actor Zhu revealed at the Beijing premiere earlier this month that he, alongside actor Huang, went through an intense training period to ensure their free-climbing techniques looked convincing and realistic. Additionally, the crew spent 80 days constructing a 200-meter-long replica of a real-life tunnel, adds the director.
Some of China's most advanced technologies, ranging from the Beidou Navigation Satellite System to the 5G high-speed network, are also shown in the film as pivotal plot devices providing weather forecasts and aiding rescue operations.
In spite of the box-office bonanza, the film has received mixed reviews with the major criticizing voices centering on several "overly sentimental" scenes.
"The movie employs a commercial genre to touch on the rarely featured subject of Chinese veterans dedicated to railway construction. Coupled with the arresting visual effects, the tale would be fresh and appealing if not for some plot holes that create distractions," comments one user of Douban, one of the country's most popular reviewing sites.