Homeland chief: Up to 12,000 Haitians let in US
By HENG WEILI in New York | China Daily Global | Updated: 2021-09-27 10:29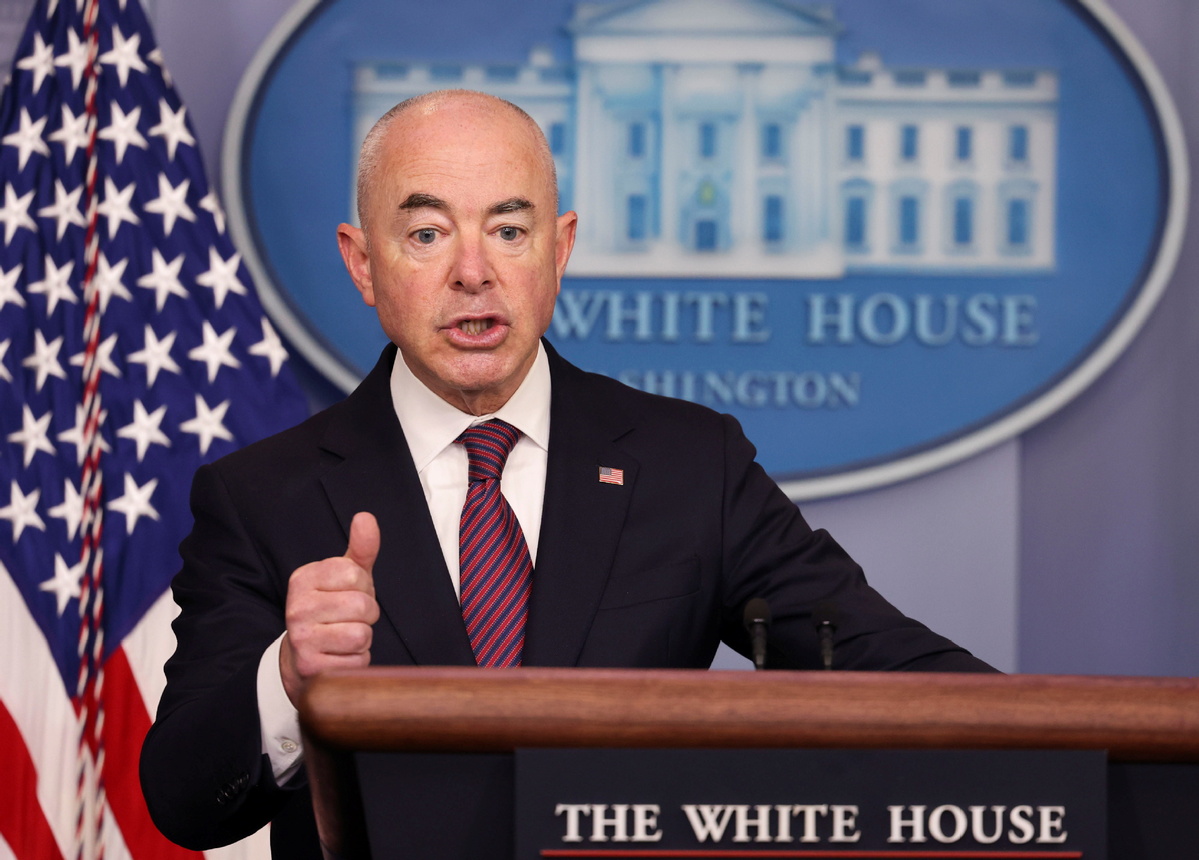 US Homeland Security Secretary Alejandro Mayorkas confirmed that thousands of Haitian migrants who crossed the US border into Texas from Mexico in recent weeks have been released into the United States, while the controversy over the tactics of Border Patrol agents continued to simmer.
So far, approximately 12,400 of the migrants are having their cases heard by immigration judges, while another 5,000 are being processed by Homeland Security. There are 3,000 Haitians being detained.
"Approximately, I think it's about 10,000 or so, 12,000," Mayorkas told Fox News Sunday when asked how many have been released.
He said that about 4,000 Haitians have been repatriated to their Caribbean country on flights under Title 42, a US public health authority that former president Donald Trump employed during the COVID-19 pandemic and which the Biden administration has kept in place.
Mayorkas said that those who are released "are monitored by us", and authorities "ensure their appearance in court as the law requires".
Host Chris Wallace said that according to the Department of Justice, 44 percent of migrants who are released do not show up for court hearings.
When asked if many of those released will stay in the US, Mayorkas said he had faith in the system.
"We have enforcement guidelines in place that provide the individuals who are recent border-crossers who do not show up for their hearings are enforcement priorities and will be removed," he said.
The Biden administration has confirmed that about 30,000 Haitians have crossed into Del Rio, Texas, since Sept 9, and were camped under an international bridge that leads to Ciudad Acuña, Mexico. The encampment has since been cleared.
Wallace asked why the migrants were not stopped at the border and why the US does not have a physical barrier in place.
"We do not agree with the building of the wall," Mayorkas said. "The law provides that individuals can make a claim for humanitarian relief. That is actually one of our proudest traditions."
Mayorkas also was asked about the assertion that Border Patrol (BP) agents were using whips against migrants, after some prominent politicians said a photograph of an agent holding the reins of his horse while chasing someone near the border looked like he was holding a whip. The horse patrols have since been suspended.
The secretary had said that the images "painfully conjured up the worst elements of our nation's ongoing battle against systemic racism".
The photographer who took the photos said that he has "never seen them (the agents) whip anyone".
President Joe Biden, speaking to reporters at the White House on Friday said: "It's horrible what you saw. To see people like they did, with horses, running them over, people being strapped, it's outrageous. I promise you; those people will pay. There is an investigation underway right now, and there will be consequences."
"Human beings should not be treated that way, and as we all know, it also evoked images of some of the worst moments of our history where that kind of behavior has been used against the indigenous people of our country, has been used against African Americans during times of slavery," Vice-President Kamala Harris said on ABC's The View on Friday.
Representative Maxine Waters, a California Democrat, has called the BP agents' activities "worse" than slavery.
Republican Texas Governor Greg Abbott, appearing on Fox News Sunday, said he would hire any BP agents if they were dismissed by Biden.
"If he takes any action against them whatsoever — I have worked side by side with those Border Patrol agents — I want them to know something. If they are at risk of losing their job by a president who is abandoning his duty to secure the border, you have a job in the state of Texas. I will hire you to help Texas secure our border."
George P. Bush, Texas land commissioner and the nephew of former president George W. Bush, visited with BP agents over the weekend and criticized how they were portrayed.
"After false outrage over a misinterpreted photo, Biden has stripped yet another tool from our men & women protecting this country. Enough is enough. Stop attacking our border patrol & give them the resources necessary to secure the border instead of setting them up for failure," he wrote on Twitter on Saturday. "It's split reins that help give the agents additional control over the horse that they are using as a tool-not a weapon. They're certainly not whips, as Biden and Kamala want us to believe."
Mayorkas also appeared on CNN's State of the Union on Sunday, where host Jake Tapper questioned him about the fairness of an investigation into the agents after what the president and other Democrats have said.
"Some of the initial descriptions of those images were just patently false," Tapper said. "There's now video out there that provides more context. Having seen the video, are you certain that there was actually wrongdoing?"
Mayorkas called Border Patrol agents "heroic" and "tireless".
"The nice words you said about [Border Patrol], you should probably share with President Biden — not just with me today," Tapper said.
Many of the Haitians who have traveled to the US border were coming from South America.
Tens of thousands of Haitians journeyed to Chile, Brazil and other South American countries after a 2010 earthquake near Port-au-Prince that killed more than 220,000 people.
But Chile's increasingly restrictive migration policies, and a belief that the United States has grown more welcoming to immigrants under Biden, have led many Haitians to abandon a country they once saw as a land of opportunity, The Washington Post reported.
"There's hardly anyone left here now," Wilbert Pierre told the Post from the "Little Haiti" section of Santiago, where he is training to be a hairdresser. "Of all the people I've known in my four years in Chile, more than 100 have gone to the US since March alone."
"It's often easier to buy bullets than food in Haiti," Emmanuel Louis, an artist from Port-au-Prince told the Post. "We were looking for somewhere safe to raise our son, so we came to Chile — the 'oasis' of South America. But we found that although Chileans themselves are good people, the system is racist, classist and elitist."