Booking for the future
By Yang Yang | China Daily | Updated: 2021-09-30 10:07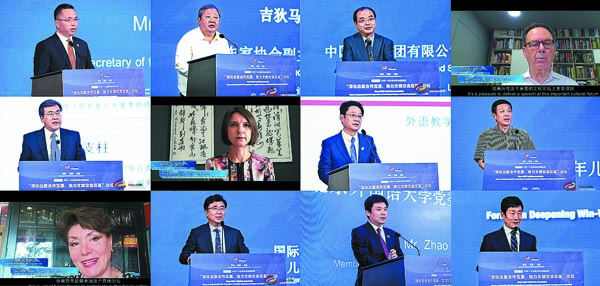 At the start of the 20th century, Hungarian poet Sandor Petofi's Freedom and Love inspired generations of Chinese young people to join the revolution. Younger Chinese, especially those in their 30s, are more familiar with the Czech cartoon Krtek, he said.
Although, in our globalized world, the internet has largely reduced the cost of communication, it has also made communication superficial. However, publishing, with its strength of producing systematic and profound cultural products, has played an irreplaceable role in intercultural communication, said Huang Zhijian, chairman and secretary of the leading Party members group of China Publishing Group.
"Even in the internet age, publishing is still the most important and fundamental way to systematically learn about a country, its nationhood and civilization, especially in today's world amid the COVID-19 pandemic," he added.
Speaking at the ceremony, Ivan Kandijas, charge d'affaires at the Serbian embassy in China, looked back at the history of the friendship between the two countries. Establishing diplomatic ties in 1955, China and Serbia enhanced cooperation in many respects in 2016, including culture and education, which marked a new start for the relationship between the two countries. China was the first country that offered its help to Serbia in the fight against the COVID-19 pandemic last year, he said.
Since 2017, China has become the biggest source of tourists to Serbia, and many Chinese students have chosen to study Serbian, while many Serbian students have also come to China to study, Kandijas said.
"Our cooperation in science, technology and culture has been developing prosperously. Culture transcends time and space. We hope that, in the near future, there will be more Serbian publishers coming to China to look for cooperation, not only in traditional publishing and copyright trade, but also in digital businesses, further promoting the cultural communication between the two countries," he added.
As one of the main publishing houses of books related to Central and Eastern European countries, Foreign Language Teaching and Research Press has signed more than 250 copyright agreements with Central and Eastern European countries in the last five years, growing by 50 percent per year, according to Wang Fang, president of the publishing house.
It has set up five editing teams in satellite centers overseas, planning publishing topics for local markets, which cover language study, history, culture and contemporary China, including four in Central and Eastern European countries. The publishing house is also implementing seven projects that will see the translation of classics between different countries, including those of Albania, Romania and Greece.
In today's China, literary works from Central and Eastern European countries are attracting more translators, publishers, critics, researchers and readers, said Zhao Gang, vice-president of Beijing Foreign Studies University.
"The China-CEEC cooperation has borne many fruits in the past, and will have a bright future. BFSU is willing to work together with CEEC partners, support the association's development and daily work, enabling it to advance stably and creatively, so that the association can be a win-win platform for intercultural communication and mutual learning, and to promote the mutual understanding and friendship between peoples," Zhao concluded.