Shenzhen bond debut in HK seen as milestone
By ZENG XINLAN in Hong Kong and CHEN JIA in Beijing | CHINA DAILY | Updated: 2021-10-13 07:06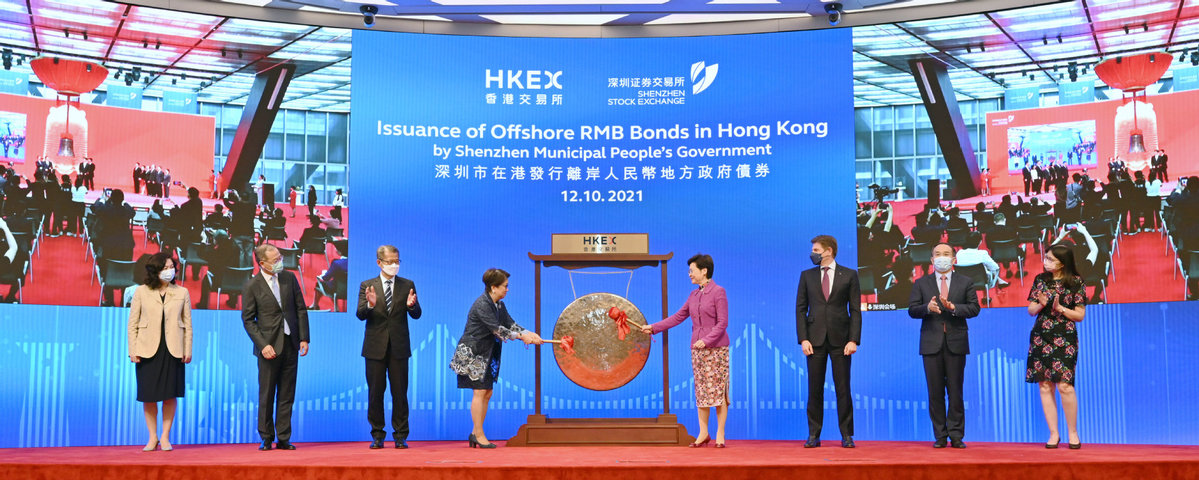 The issuance of a Shenzhen government bond in Hong Kong is a milestone in the country's local government bond history and deepens the financial opening-up and consolidation of the special administrative region's role as an offshore renminbi center, officials and bankers said.
It is the first time an offshore renminbi municipal government bond has been issued in Hong Kong.
The issuance of Shenzhen's "dim sum" bond will broaden funding channels for local governments, promote bond issuance innovation and advance the orderly opening-up of the government bond market, said Xu Hongcai, vice-minister of finance, at a ceremony celebrating the bond issuance on Tuesday. The ceremony, at which a gong was struck, was simultaneously held in Shenzhen, Guangdong province, via video link.
The issuance will also further diversify renminbi bond products in offshore markets and strengthen financial competitiveness, said Pan Gongsheng, deputy governor of the People's Bank of China, the country's central bank.
The Shenzhen city government announced earlier it will issue up to 5 billion yuan ($774 million) of offshore renminbi bonds in Hong Kong in October. A total of 1.1 billion yuan will be issued maturing in two years with a coupon rate set at 2.6 percent, 1.5 billion yuan maturing three years at 2.7 percent coupon rate and 2.4 billion yuan maturing in five years at 2.9 percent.
The three-year and five-year bonds are green bonds. The proceeds will be used for projects such as public high school construction, urban rail transit and water treatment.
The bond was oversubscribed by over 3 times, the equivalent of 17.4 billion yuan, an indication of investors' confidence in Shenzhen's development and a demonstration of Hong Kong's advantage in financing, said Shenzhen Mayor Qin Weizhong.
For local governments, issuing bonds offshore can attract foreign investors and expand financing channels, said Angus To, deputy head of the research department of ICBC International. Local governments issuing bonds is increasing as a way to control implicit debt, he said.
Shenzhen's bond debut may aid the country's Southbound Bond Connect and help boost global investors' demand in the fourth quarter, said Stephen Chiu, Asia FX and rates strategist of Bloomberg Intelligence. The southbound channel, which was launched last month, will enable institutional investors on the Chinese mainland to invest in the Hong Kong bond market through eligible institutions.
The upcoming inclusion of Chinese bonds in the FTSE Russell, a global index provider, may prompt global investors to increase their holding of China's government bonds.
Market sentiment has improved and the number of debut local government bond issuances in the offshore market increased in July and August, according to research by Moody's Investors Service. Local governments have issued a total of $9.5 billion bonds in the offshore market, mainly denominated in the US dollar, during the first two quarters of the year.
Hong Kong Chief Executive Carrie Lam Cheng Yuet-ngor said that the issuance is significant as it is the first time a mainland local government has issued bonds in Hong Kong as well as the first time a local government has issued bonds outside the mainland.
It also demonstrates the joint effort by Hong Kong and Shenzhen to contribute to the country's goal of peaking carbon emissions by 2030 and achieving carbon neutrality by 2060, she added.