Warm welcome eases passengers' anxiety, fatigue
By YANG ZEKUN | CHINA DAILY | Updated: 2021-10-18 09:20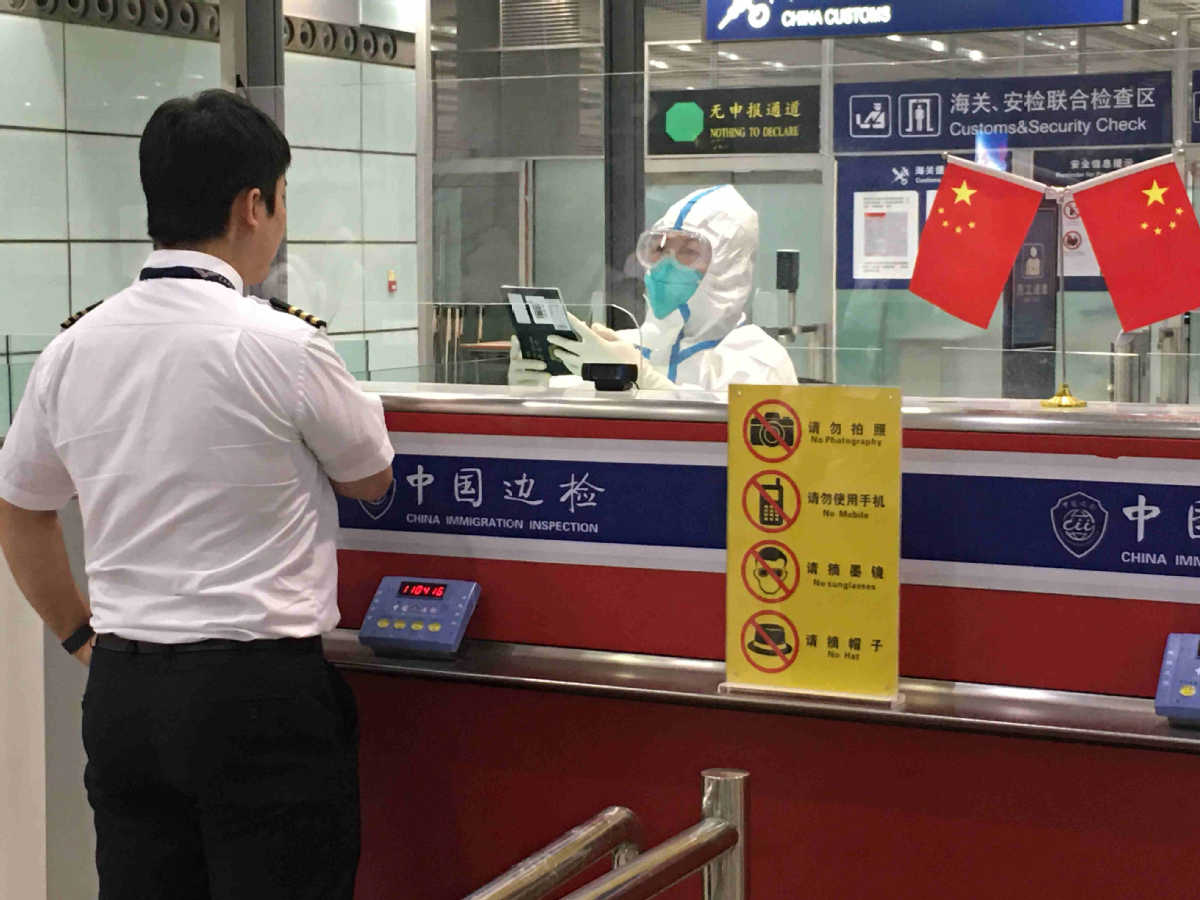 Overcoming the problems of a frozen shoulder, high blood pressure and an increased workload, immigration officer Xiao Hong completed a 14-day stretch at a special section for inbound passengers at the Beijing Capital International Airport in July.
After her shift, the 53-year-old was quarantined for a further 14 days. During that monthlong period, she did not meet anyone but her colleagues and passengers because her work meant she was at a high risk of infection after COVID-19 mutated into the Delta strain.
The Beijing native has worked for the immigration police for 34 years.
At the airport, she is responsible for verifying entry documents at a special section in Terminal 3, which processes passengers who want to enter the country.
She has stuck to her post since the novel coronavirus outbreak last year, and she was among the first batch of officers to work in the special section.
Covered by protective gear and taking a special bus to and from her dorm for work, she said she only saw the sun for about 20 minutes a day during the period.
"The lack of sunshine and the hot and humid environment meant I got eczema. I had a severely frozen shoulder, too. The mental strain was also high. At first, I thought I would be fine, but I still found it uncomfortable because of the high level of concentration required and the need to wear protective clothing every single day. Despite that, my colleagues and I overcame all the difficulties in the end," she said.
Before going to work at the section, Xiao prepared a large number of daily necessities for her parents, who are both in their 80s.
"I was worried about them, but everyone has family members they are concerned about, and tens of thousands of immigration officers, including the female ones, were sticking to their posts to fight the epidemic. Someone had to go to the special section, and I was willing to give it a go," she said.
Luckily, none of the passengers Xiao helped to process was later diagnosed as having the disease. Had that happened, she would have been forced to undergo nucleic acid tests and a 14-day quarantine to exclude the possibility of infection.
The procedure for handling Chinese passengers' documents takes about one minute, but the process takes longer for foreign passengers because more information has to be recorded.
"We need to ensure that all the information keyed into the immigration inspection system is absolutely correct. If not, the passengers may encounter problems, such as not being able to check in at their hotel," Xiao said.
"I have noticed an obvious change in the passengers' respect toward the epidemic prevention and control measures at the airport. Before, inbound passengers often asked us to open more service windows to speed up the handling of their documents, but now, they line up and wait patiently."
Xiao said immigration officers need to provide passengers with a pleasant, professional experience. "Although we all wear masks and protective suits, a positive attitude toward the passengers can help them feel a warm welcome from their motherland, especially those who have endured long journeys to get home," she said.