Suspect remains in custody as UK continues probe into death of MP
By JULIAN SHEA in London | China Daily Global | Updated: 2021-10-18 09:58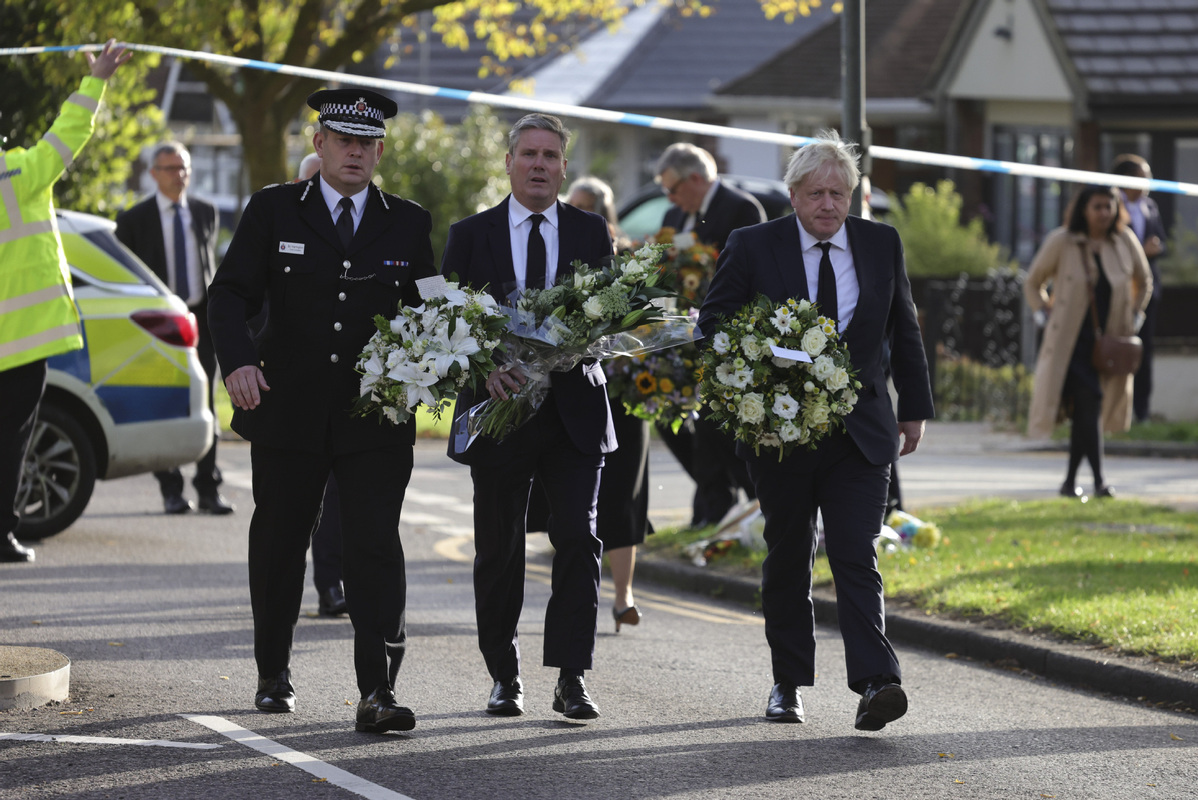 Officers from London's Metropolitan Police have searched three addresses across the capital as inquiries continue following the fatal stabbing of Conservative Party member of Parliament David Amess on Friday.
Amess, 69, had been in Parliament for 38 years and represented the constituency of Southend West, on the east coast of England.
He was attacked at a constituency surgery, which is a regular part of the life of MPs, where they make themselves available for face-to-face discussions with members of the public. The surgery was at a church hall in the town of Leigh-on-Sea.
He was treated by emergency services, but died at the scene.
A 25-year-old man called Ali Harbi Ali, who is believed to be a British citizen with Somali heritage, was arrested at the scene of the attack, and his detention in custody has been extended to Oct 22 under dispensation of the Terrorism Act.
The Guardian newspaper reports that the suspect had previously come to the attention of the government's Prevent program, which aims to stamp out radicalization, although his involvement with it, on a voluntary basis, was only short and he was never a formal subject of interest to the security services.
The killing has stunned the British political system, coming as it does five years after Labour Party MP Jo Cox was stabbed to death in the street, shortly before the 2016 Brexit referendum.
Before that, in 2000, Liberal Democrat MP Nigel Jones was attacked in his constituency office by someone armed with a sword, and one of his staff, Andrew Pennington, was killed in the incident, and in 2010, Labour MP Stephen Timms was stabbed twice at a constituency surgery, by a student radicalized by online videos.
Writing in The Observer newspaper, Lindsay Hoyle, the Speaker of the House of Commons, whose responsibilities include the security of MPs, said now was a time "to take stock and review whether those measures are adequate to safeguard members, staff and constituents, especially during surgeries", and that he was "working closely and at pace "with the police to find answers.
Public access to MPs is an important part of the British political system, and although the majority of MPs do not have close protection in their constituencies, following the death of Jo Cox, money spent on security measures rose from just over 170,000 pounds ($233,122) in the year 2015/16, to 4.5 million pounds two years later.
"We cannot be cowed by any individual or any motivation ... to stop us from functioning, to serve our elected democracy," said Home Secretary Priti Patel as she visited the scene of the attack.
She went on to say that there would be a comprehensive review of MPs' security but a balance would be struck to ensure face-to-face meetings could continue.
When a by-election is held to find Amess's successor, at a date yet to be set, Labour, the Liberal Democrats and Green Party have indicated they will not put up candidates, in the same way to how the major parties stood aside in 2016 when Jo Cox's successor was elected.