Heavy rain causes widespread flooding
By LI HONGYANG | China Daily | Updated: 2021-10-19 08:56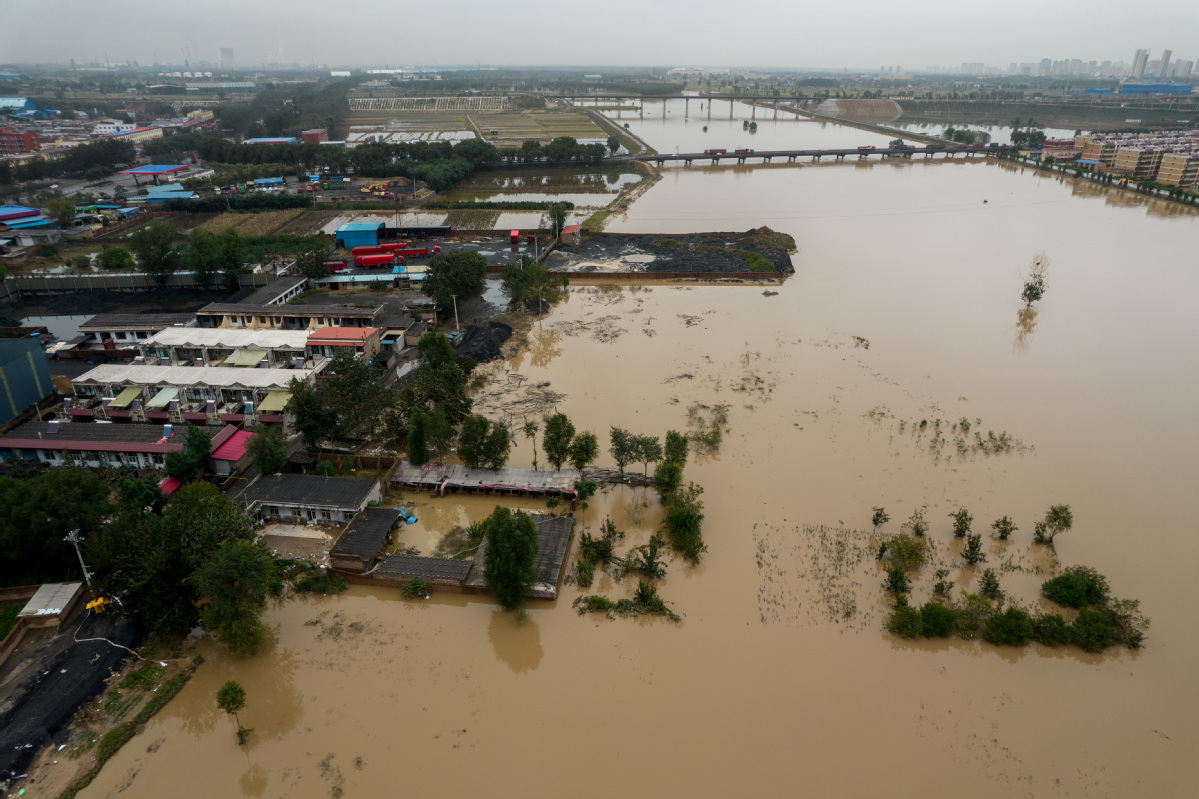 Rare floods that have ravaged areas along the middle and lower reaches of the Yellow River since last month were caused by heavy rain that hasn't been seen in the region at this time of year for decades, National Climate Center said.
Related departments in areas along the river should ensure the flooding causes no deaths, Water Resources Minister Li Guoying said during a visit to Shandong province on Sunday.
In the next few weeks, most of the Yellow River Basin is expected to have 10 to 20 percent more precipitation than normal years, the center said last week.
On Oct 5, the lower reaches of the Yellow River in Shandong experienced their heaviest autumn flooding in the past 36 years, the local authority said.
Four days later, the Fenhe Rivera major tributary of the Yellow River-in Hejin, Shanxi province, saw its worst flooding since 1964, the local water bureau said.
From Sept 27 through Oct 5, the Ministry of Water Resource's Yellow River Conservancy Commission released three alerts for flooding along the river as the amount of water flowing downstream each second exceeded the warning level.
The recent severe floods in Shanxi have affected 1.75 million people and damaged more than 17,000 houses, the provincial emergency management bureau said on Oct 10.
The National Climate Center said that autumn rain in West China caused the Yellow River Basin to flood in September and October.
In September, precipitation in the basin hit its highest level during the same period since 1961 and was nearly triple that of normal years, the center said.
Autumn rain in western China, a regular weather phenomenon, usually lasts from September to November and leads to autumn rainy seasons in Chongqing and the provinces of Sichuan, Yunnan and Guizhou.
A typical case was the autumn rain in 2003 that caused more than 10 rounds of flooding in the mainstream and tributaries of the Yellow River from August through October. Shandong and Henan were severely affected, the center said.
"This year's autumn rainfall in the basin was similar to that in 2003, but heavier," it said.
Jiang Enhui, deputy head of the Yellow River Institute of Hydraulic Research, told Science and Technology Daily: "The autumn flood this year is lasting longer, with a larger amount of water than normal years. It made the fight against the flood harder because water in both the mainstream and tributary swelled at the same time."
An outline released by the central government on Oct 8 said that floods caused by climate change and extreme weather still pose threats to nearly 1 million people in the basin's downstream areas despite improvement in the river's environment.
"China will improve its flood prevention system by having reservoirs stop excessive floodwater from upstream, managing waterways and creating flood detention areas beside banks," it said.