Exhibition celebrates scientific achievements
By Zhang Zhihao | CHINA DAILY | Updated: 2021-10-22 09:21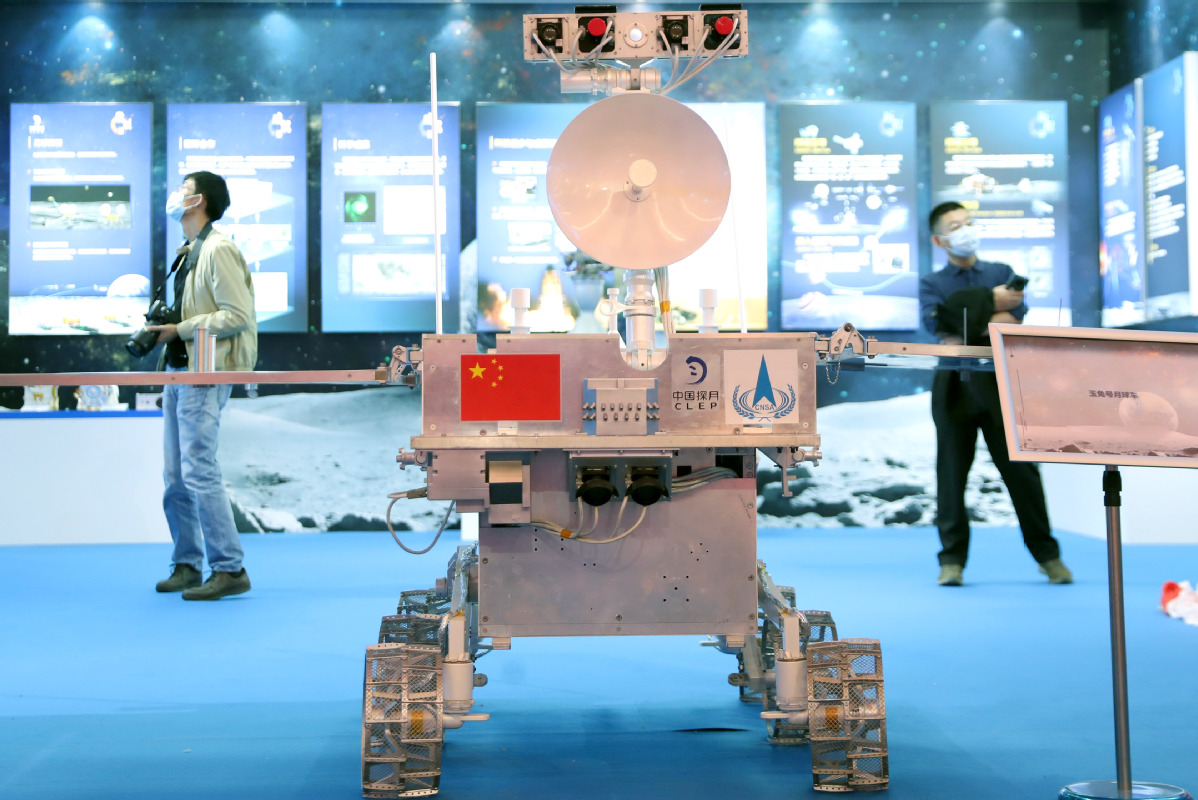 A massive exhibition celebrating China's recent scientific and technological achievements stands as testimony to the nation's growing research and engineering capabilities, and allows the public to learn and appreciate how innovations are benefiting their lives and the country's strategic needs, scientists said.
The science extravaganza, running until Wednesday at the Beijing Exhibition Center, has 12 themed sections and 1,740 exhibits, featuring notable achievements during the 13th Five-Year Plan (2016-20) such as quantum computers, China's Mars rover and deep-sea submersibles.
Minister of Science and Technology Wang Zhigang said at the opening ceremony on Thursday that China saw a steady increase in many major indicators measuring science, technology and innovation capabilities during the 13th Five-Year Plan period.
They included China's ranking in the Global Innovation Index rising from 29th in 2015 to 12th this year, while the country's research and development spending rose from 1.42 trillion yuan ($222 billion) in 2015 to 2.21 trillion yuan last year, he said.
The number of research personnel per 10,000 population increased from 49.3 in 2015 to 67.8 last year, and the number of high-tech firms swelled from 79,000 to 278,000 within the same period. Last year, 10.5 percent of the country's population was scientifically literate, up from 6.2 percent in 2015.
"Our country's leap in STI capabilities has provided strong support in various undertakings by the Party and nation," Wang said. "This year's exhibition will amply display the infinite charm of science and technology, as well as how innovations can serve as powerful drivers for humanity's pursuit of a better life."
A major highlight of the exhibition is that most of the showcased items are originals or life-size replicas. This includes an actual first-class passenger car from China's most recent magnetic levitation train that can run 600 kilometers per hour, the world's fastest public transportation.
Ding Sansan, deputy chief engineer at CRRC Qingdao Sifang Locomotive & Rolling Stock, said the new high-speed maglev train is safe, fast, reliable and green, and China has full independent intellectual property rights.
"It can enable one-hour swift transit within economically vibrant city clusters such as the Beijing-Tianjin-Hebei metropolitan region and the Guangdong-Hong Kong-Macao Greater Bay Area," he said.
In the process of making a highly sophisticated product like the maglev train, scientists and engineers can overcome many technical obstacles, Ding said, leading to the creation of new applications and services for multiple industries.
"Developing the high-speed maglev train will have great significance in transforming China into a transportation, sci-tech and manufacturing powerhouse," he added.
He Yuming, a professor at the University of Science and Technology of China's Hefei National Laboratory for Physical Sciences at the Microscale, said showcasing the Jiuzhang prototype quantum computer and other major innovations will improve the public's scientific knowledge and literacy.
"This will allow people to respect and love science even more," he said. "Meanwhile, this exhibition also serves as a platform and opportunity for researchers from different fields to exchange ideas for new innovations."
In the section on basic sciences, China National Building Material presented its cutting-edge solar panel technology in the form of a new photovoltaic glass-solar panels that look like glass.
Wang Chuan, deputy chief engineer at CNBM (Chengdu) Optoelectronic Materials' R&D Center, said that unlike conventional solar panels made from crystalline silicon, the photovoltaic glass is made from cadmium telluride films with the technology built into the glass structure rather than being added on top. That means its physical properties, like shape, color and transparency, are highly customizable.
According to the United Nations Intergovernmental Panel on Climate Change, the building and construction sector accounts for nearly 40 percent of global energy-related carbon dioxide emissions.
"If we can replace windows on a building's exterior with CdTe power glass, we can greatly reduce the building's operational energy cost," Wang Chuan said, adding that such glass has been used in various government and commercial buildings around China since 2017.
"This emerging technology may revolutionize the solar energy sector, and help China fulfill its carbon peak and neutrality goals."