Young professor's success an encouraging sign
Share - WeChat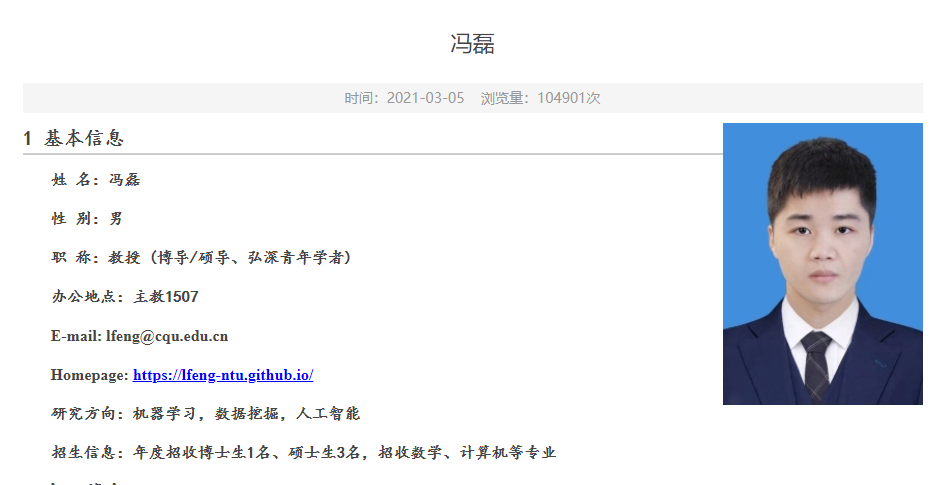 Feng Lei, who holds a doctorate in computer science and engineering from the Nanyang Technological University, surprised many netizens by landing a job as a doctoral supervisor at the Chongqing University at the young age of 25.
Chongqing University said Feng Lei is the youngest talent introduced to the College of Computer Science of the Chongqing University, and it is the first time for the University to grant the position of professor and doctoral supervisor to a fresh PhD graduate.
Feng's paper "Pointwise Binary Classification with Pairwise Confidence Comparisons" was published at the 38th International Conference on Machine Learning, according to the website of the Chongqing University. The conference is a top international academic event in the field of machine learning and enjoys a high reputation in academia.

For many, the title of professor should be earned through a tedious assessment of paper-publishing, teaching experience, project quality evaluation - all those nearly cost a decade. In that sense, the university did find the suitable person by breaking conventions.
Similar online buzz also happened to Wei Dongyi, an assistant professor at Peking University's School of Mathematical Sciences, when netizens found the somewhat shy and unsophisticated man had an extraordinary talent for mathematics.
In an era when post-90s and post-95s have gradually become the pillars of colleges and universities, it is indeed the university's right to recruit people with talent, instead of overstressing rigid qualifications.
As China aims to rank among the world's best as a strategic force in science by 2035, the role of national laboratories, research institutions, high-level universities and leading tech companies must be amplified to develop a large number of leading scholars and innovation teams. The nation must focus the strength of its talent policies on young specialists while enabling them to take major responsibility, said President Xi Jinping at a central work conference on human resources held at the end of September. Xi called for greater emphasis to be given to training talent and quicker steps to establish a competitive edge in human resources.
It is time for the younger generation to find higher standards of idols instead of chasing pop stars who are either caught using drugs or visiting prostitutes. Aren't young scholars like Feng Lei and Wei Dongyi who have won the hearts of all by their hard work and performance worth admiring?
The author is a writer with China Daily. The views are the author's own and don't necessarily reflect those of China Daily.
Most Viewed in 24 Hours
China Views