Asian Cup's arrival aids Shanghai's ambitions
Share - WeChat As a tournament host, city expects to build on game's grassroots gains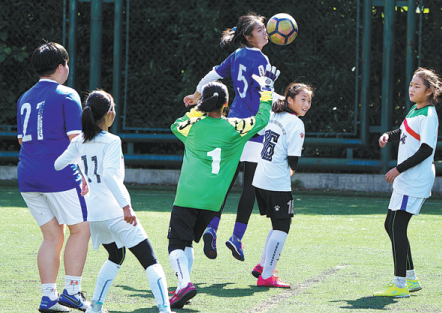 As one of the host cities of the 2023 Asian Cup, Shanghai is primed to take its soccer industry to the next level.
The city is already considered one of the country's main soccer hubs, in large part due to its renowned youth training academy-Genbao Soccer Base.
Inspired by English giant Manchester United's famed academy, the center was established in 2000 by the so-called "godfather of Shanghai soccer", Xu Genbao, on Chongming Island, located north of the city's downtown area.
The school's most famous graduate is Espanyol striker Wu Lei, currently the only Chinese playing in one of Europe's major leagues, while the likes of Team China internationals Yan Junling and Zhang Linpeng are among over 50 former pupils who ply their trade in the Chinese Super League and other domestic professional divisions.
Xu still adopts a hands-on approach at the training base as he focuses on unearthing the next generation of talent.
"Instead of being blockbuster, we want to be more grassroots, adhere to our technical style, and strive to cultivate another group of young players," Xu said.
During his time as head coach of CSL side Dalian Pro, Rafa Benitez said that the biggest challenge facing youth training in China was the relatively advanced age-often as late as 13-that youngsters begin playing soccer compared to kids in Europe.
The establishment of more soccer schools and institutions in recent years is attempting to address this issue.
Last year, 45 of Shanghai's primary and middle schools and 73 of the city's kindergartens were listed as specialized soccer schools.
Cheng Yaodong, who is the youth training director of CSL side Shanghai Port, said the club's youth training system is built on close cooperation with grassroots schools and organizations. The top talents are plucked from these institutions and then developed further by the club.
"The city has strong participation rates in soccer. From the perspective of society, there is a lot of enthusiasm for the game and it has strong government support," said Cheng, also a graduate of Genbao.