University alumni help realize dreams of rural children
By Zhou Wenting | China Daily | Updated: 2021-10-27 08:00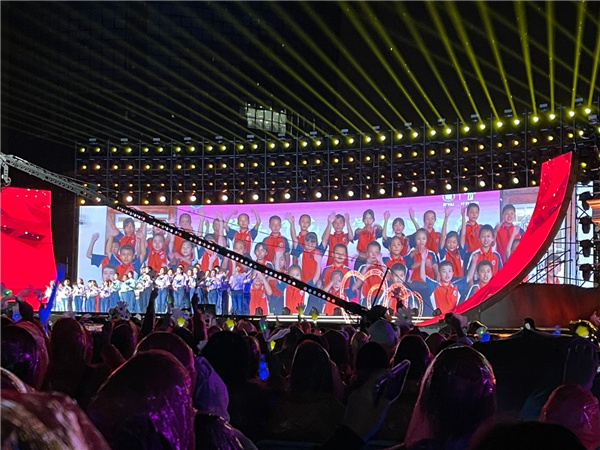 A children's chorus from a rural primary school in Central China's Hunan province took the spotlight at celebrations marking the 70th anniversary of the founding of East China Normal University on Oct 16.
Through video link, the voices of around 40 "left-behind" children of Fonian School in Dalin village in Liling city were heard by the university's alumni both in China and abroad.
"My dream is to become a musician in the future. I hope my parents can watch our performance over the internet," Yi Xiaoya, a third grade student at the school, whose parents are migrant workers, says.
"We enjoyed the classes and learned a lot. I like my friends from Shanghai and want to maintain a friendship with them for many years," she says about the vocal training.
In April, Yi and her schoolmates became members of the chorus, which was established as part of an initiative launched by the university to help rural students.
The university called upon its domestically based alumni in September 2020 "to find out about the dreams of youngsters, especially those in remote and mountainous areas, with disadvantaged conditions, and help to realize them".
Chen Lin from the publicity department of the university says the school received hundreds of responses from its past graduates and selected 70 as a first batch to proceed with. The suggestions included improving schools by introducing physical education lessons, building libraries and imparting skills to teachers. As a result, more than 1,000 teachers and students, mostly members of the Communist Party of China, visited rural schools. In addition, more than 50 teachers and students from these schools were invited to the university in Shanghai for training and research projects. Nearly 10,000 rural schools have benefited from the initiative, according to the university.
"We wanted to give full play to the advantages of the university program in education and teaching and raise resources from multiple sectors to assist teachers and students in remote rural regions to achieve all-round development," says Chen.
Ding Wenping, who graduated from ECNU in the 1980s and has been a teacher at Fonian School, is behind the chorus. He says many of the school's students are "left-behind" children and have limited opportunities to participate in meaningful activities in their spare time.
Some teachers from ECNU first arrived on April 25 when they gave a lecture on art education to the teachers at the primary school and selected members of the chorus from among 183 pupils. The selected students then learned the song A Happy Paradise, which conveys an inspiring message of overcoming challenges and reaching greater heights in life.
"I hope that, through the chorus, the children will be empowered and inspired to make strides from their remote mountain homes into the wider world," Ding says.
The university is currently planning the next batch of projects.