COVID-19 Playbooks 'keep everyone safe'
Share - WeChat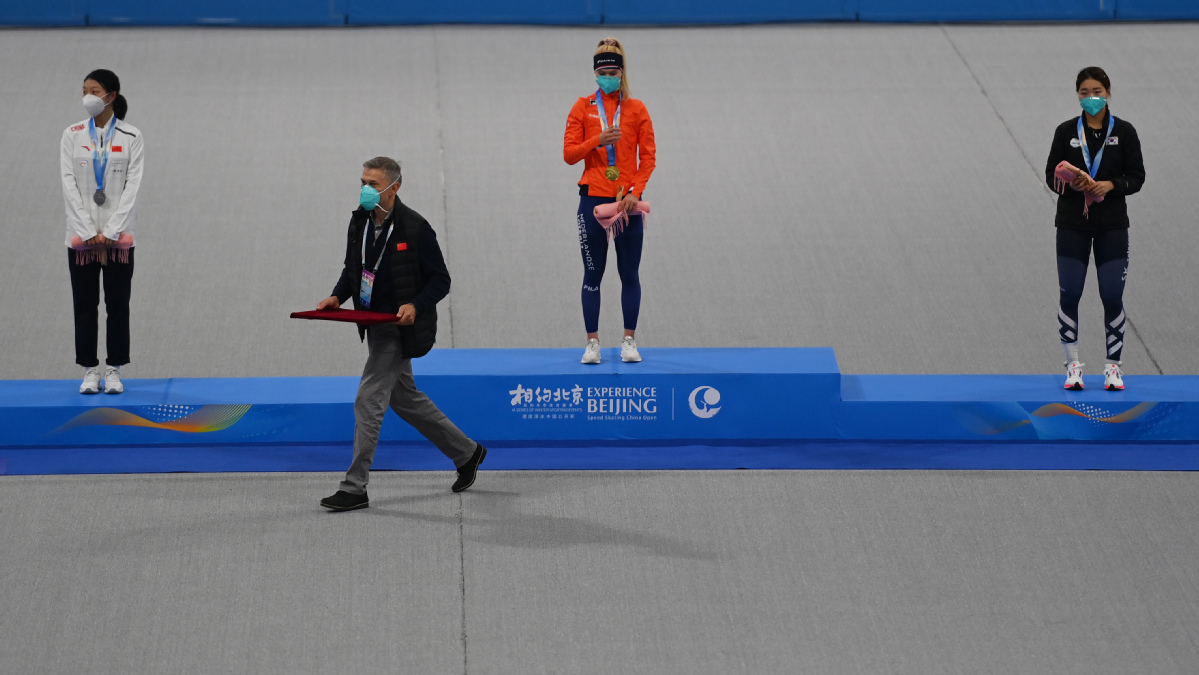 The International Olympic Committee, the International Paralympic Committee and the Beijing 2022 organizing committee on Monday published the first editions of the COVID-19 Playbooks for next year's Winter Games.
The two Playbooks, one for athletes and team officials, and one for all other stakeholders, provide comprehensive COVID-19 guidelines that will help participants prepare for traveling to and arriving in China, fulfilling their roles at the Olympic and Paralympic Winter Games, as well as their departure from Beijing.
Christophe Dubi, IOC Olympic Games executive director, said: "The Playbooks provide a game plan to help Olympic and Paralympic Games participants, and consequently the local population, stay safe and healthy during Games-time.
"They have been developed jointly by the IOC, the IPC and Beijing 2022, incorporating the very latest scientific advice and proven countermeasures implemented during the pandemic. These include important learnings from international sports events held in recent months.
"We want everyone at the Games to be safe, that's why we're asking all participants to follow these guidelines. Keeping everyone healthy will ensure the focus remains on the very fundamentals of the Olympic and Paralympic Games-the athletes and the sport."
The Playbooks cover the entire Winter Games journey of all participants, detailing the requirements for entry and the measures that will be in place within the closed-loop management system. These include further details of the key policies outlined at the recent IOC Executive Board meeting.
The key principles outlined in the Playbooks are: Closed-loop management will allow everyone to perform day-to-day activities that are essential to their roles during the Games. A special system has been devised to keep Games participants and people in China safe by reducing unnecessary interactions. This closed-loop system allows Games participants to enter China without undergoing a compulsory 21-day quarantine, provided they are fully vaccinated.
Notes:
Vaccination: Vaccines are proven to reduce infection and transmission of COVID-19 and are a key tool in enabling activities to be carried out safely. It will be mandatory to be fully vaccinated at least 14 days prior to departure for China in order to enter the closed-loop system without quarantining. Anyone not fully vaccinated will need to quarantine for 21 days upon arrival in Beijing. Exceptions may be granted for athletes and team officials on a case-by-case basis.
Test, trace and isolate: Strict protocols will be in place to identify who has the COVID-19 virus as early as possible through testing; to understand to whom the virus might have been passed through contact tracing; and to use isolation and quarantine to stop the virus from spreading further.
Minimize physical interaction: COVID-19 is mainly transmitted through small liquid particles in our breath exhaled by coughing, sneezing, talking, shouting or singing. That's why it's important to be vaccinated, minimize physical interaction, wear a mask, and avoid spaces that are enclosed, crowded or involve close contact.
Hygiene: The basics of good hygiene are important to keeping everyone safe-regularly and thoroughly cleaning our hands, disinfecting surfaces, avoiding touching our face, and wearing a face mask at all times.
COVID-19 liaison officers: Every organization taking part in the Games will soon be asked to nominate a COVID-19 liaison officer or officers. The CLO will support Games participants in making sure that they understand the contents of the Playbooks and the importance of complying with them.
The second edition of the Playbook is scheduled to be published later this year. The Winter Olympics will take place from Feb 4-20 next year, with the Winter Paralympics following from March 4-13.