Chinese-language courses and cultural events quick to attract participants
By ZHOU JIN | CHINA DAILY | Updated: 2021-10-28 09:05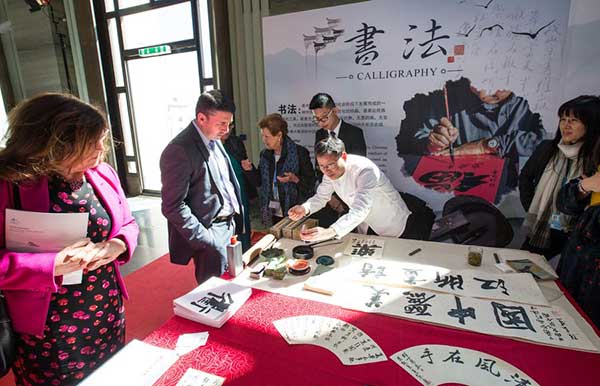 To promote its core value of multilingualism, the UN offers courses for staff members and diplomats in its six official languages-Arabic, Chinese, English, French, Russian and Spanish.
The UN Chinese Language Program offers face-to-face and blended courses for non-native Chinese speakers.
The program also holds cultural events, including those featuring calligraphy, photography and Chinese cultural relics, according to He Yong, the Chinese-language coordinator of the UN Chinese Language Program from 2002 to 2017.
When He joined the UN in 2002, about 70 staff members studied Chinese every semester, far fewer than the number choosing English, French and Spanish.
The number rose gradually in the next decade, one of the main reasons being China's improved status at UN, he said.
Since the beginning of the 21st century, China has worked to promote Chinese-language learning worldwide, attracting a growing number of UN staff members and diplomats to courses, He said.
Most of these students spend their spare time studying the language. The classes also attract senior diplomats such as Park In-kook, the Republic of Korea's former permanent representative to the UN, and Le Hoai Trung, a former Vietnamese permanent representative to the organization.
"As they learn the language, they are exposed to Chinese culture and get to understand the way in which Chinese people think," He said.
In addition to these courses, the program offers a three-week summer course at Nanjing University in Jiangsu province. Over the past 16 years, more than 800 UN staff members and foreign diplomats have taken part in the program, according to He.
Visits to China enabled the students to learn more about the situation in the country and to have closer contact with local people, which is an effective way to understand the nation, He said.
Events are also held at the UN to promote Chinese culture, ranging from celebrations for Chinese Language Day to hosting China-related lectures and activities such as tai chi and table tennis.
UN Chinese Language Day has been celebrated annually on April 20 since 2010.
"Cultural exhibitions and artistic performances have promoted the understanding and love of the Chinese language and characters among UN staff members and diplomats from around the world," He said.